Double Stuff Oreo Filling Fudge is made from the filling of Oreo's! So much more than your average cookies and cream fudge.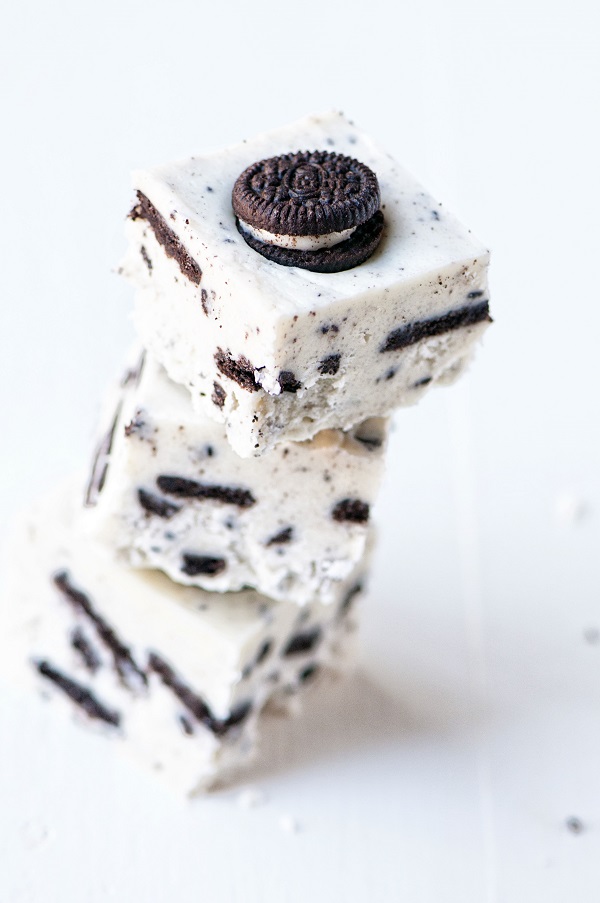 I eat potato chips with ketchup.
And I eat tortilla chips with ketchup.
It's a tomato based condiment just like salsa is. 🙂
Except I'm allergic to salsa…so ketchup.
At first people think it's gross but I have converted more than a few people in my lifetime. 😀
I put ketchup on my Kraft dinner as well.
Like to shove Cheez-It's in my mouth and then drink orange juice.
Melt American cheese slices over my Spaghettios (sliced franks).
When I open a can of pork and beans I always search for the little piece of pork fat…and eat it. Cold.
I only like to eat Twinkies if frozen.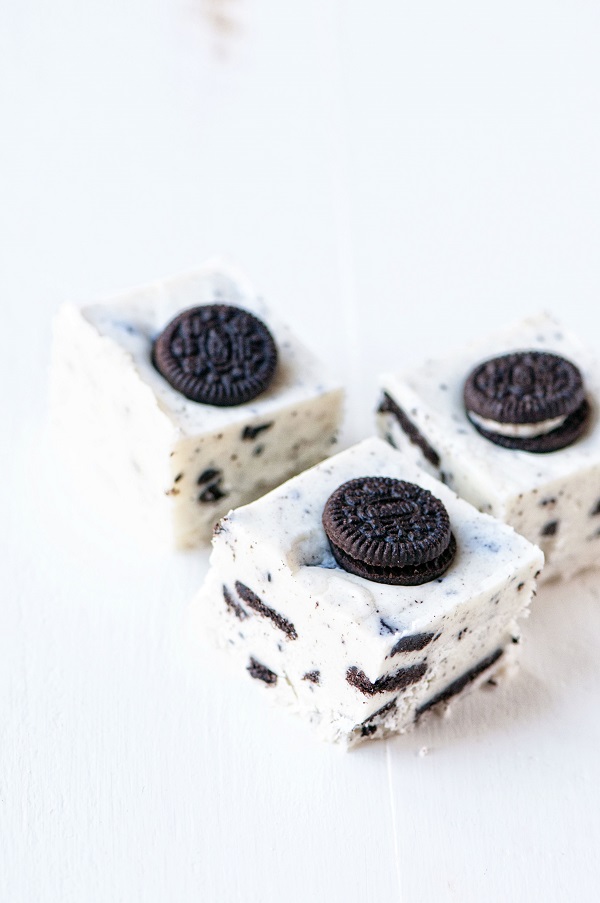 We all have some weird food things.
Many of mine are from when I was a kid. Like Oreo's.
I used to only eat the middle of Oreo's.
Didn't really like the chocolate cookie part.
Yes, the invention of the Golden Oreo was a good thing for me.
When they invented Double Stuffed Oreos I was in heaven.
And when they invented the Mega Stuff I thought…it's about time people.
If they would sell the filling in a jar I would totally buy it.
Are you listening Oreo?
Jar that stuff up!
Now they make cookies and cream fudge and Oreo fudge, and that's all well and good.
But what I wanted was fudge that tasted like I was eating the inside of an Oreo.
So that's what I made.
Double Stuff Oreo Filling Fudge.
You. Are. Welcome.
P.S. It's a great day to buy my cookbook Holy Sweet!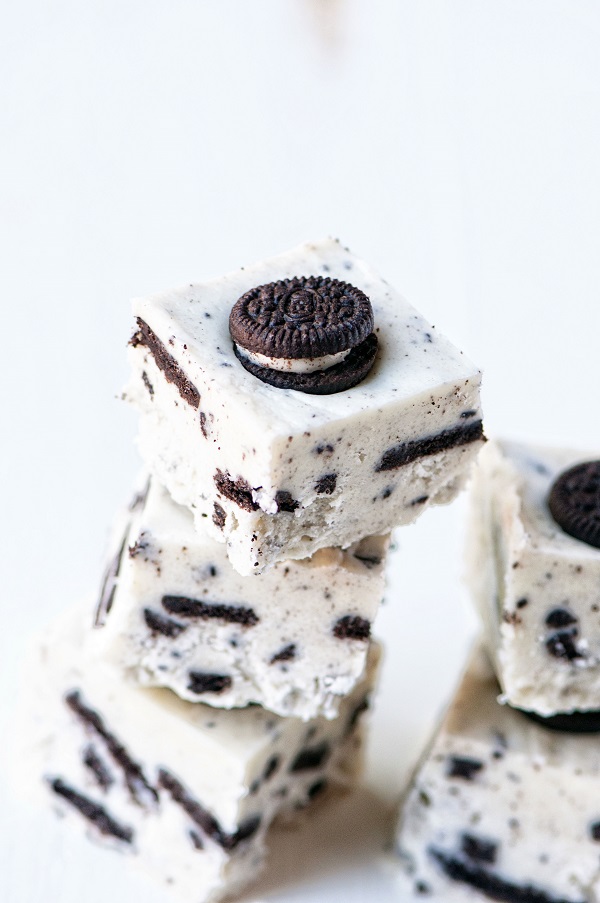 Want More Fudge Recipes?
Lemon Blueberry Mascarpone Fudge
Spiked Rum Raisin Chocolate Fudge
Monster Cookie Chocolate Fudge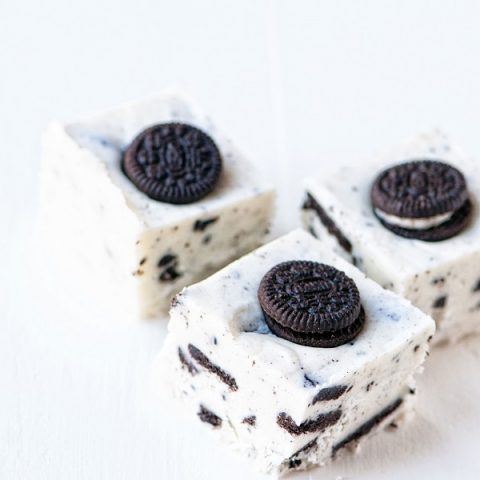 Double Stuff Oreo Filling Fudge
Ingredients
2 cups granulated sugar
3 oz. unsalted butter
10 Mega Stuffed Oreos (filling separated out)
1/3 cup heavy cream
2 cups white chocolate chips
1 tsp. vanilla bean paste (or extract)
7-ounce jar marshmallow crème
mini Oreos for garnish (optional)
Instructions
Line an 8×8 inch pan with parchment with an overhang so you can lift the fudge out later and coat with baking spray.
Chop the cookie part of the Oreo's that you removed the filling from. Set aside.
Combine sugar, butter, and heavy cream into a large heavy bottomed saucepan and bring to a boil over medium heat.
Once boiling, attach a candy thermometer and reduce the heat to a hair above medium low and cook for 7-10 minutes until your thermometer reads 234°F (soft ball stage) , stirring constantly.
Once you reach 234F remove from heat and add the white chocolate chips and Oreo filling, stirring vigorously with a wooden spoon until the white chocolate has melted and the mixture is smooth.
Add the vanilla bean paste and marshmallow crème and mix until well blended.
Fold in the Oreo cookie pieces.
Pour into prepared pan.
Add mini Oreos if using.Let cool to room temperature.
Then lift out of the pan and onto a cutting board.
Cut into whatever amount you want. I think I got about 24 pieces.