This Iced Oatmeal Cookie Apple Cobbler is made with sweetened apples topped with a crisp oatmeal cookie crust and vanilla icing.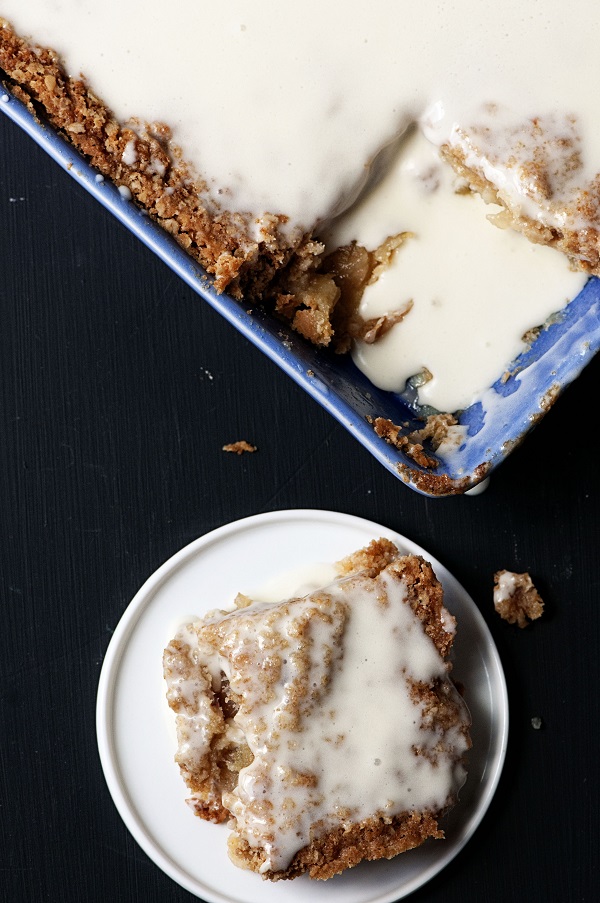 Dear Brain,
Remember when I typed Dear Brian instead of Dear Brain and realized people would wonder who Brian was?
Or remember when we used to walk into a room and we remembered why we went in there?
Yeah, I miss that.
How about when we bought a bunch of people early birthday cards and set them aside until their birthday?
Only to never find them again and just having to rush and find them a crappy card at Walgreens?
Remember when we used to put down our keys, wallet, etc and remembered exactly where they were when we went to go get them?
Yeah, I miss that.
Remember when we had 10 blog anniversaries and remembered to celebrate all of them?
And remember when we used to read email on our phone and then go home and email the person back instead of mentally thinking we had already responded?
Remember when we used to realize we had somehow sliced open our hand instead of just looking down and realizing hey, my finger is bleeding?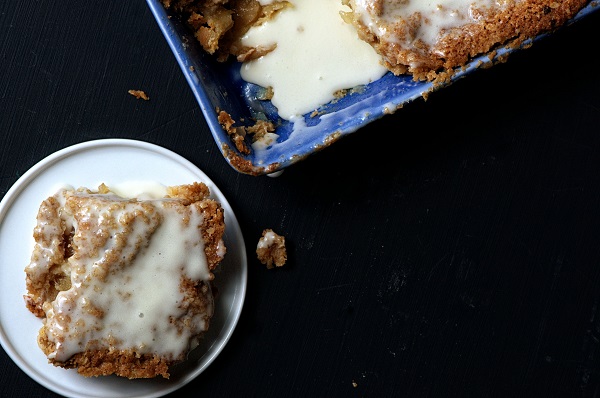 Think back to when we used to go to the fridge, open the door, and then take out what we went there for?
Instead of opening the door and just standing there staring?
Yeah, I miss that.
In case you haven't caught on my brain is on strike.
Having a chronic illness I often get what is called Brain Fog (not to be confused with Brian Fog…which I don't want to know what that would consist of).
However this has been one of the worst…and longest cases of it that I have had in a long while.
Or at least that I can remember. Haha.
I've missed two appointments.
Spaced that I was doing a podcast (which is totally awesome btw and can't wait for you to hear it…it's on body acceptance).
Missed an exit or two on the freeway.
Yeah, I'm awesome. 😀
Luckily, my brain is still thinking of things to make for this blog.
Stemilt had sent me some beautiful apples last week and I was trying to figure out what to do with them.
There were 4 different kinds so I used a medley of apples but feel free to use whatever apple or combo of apples you would like.
Last week at the doctor's office I sat next to a kid eating iced oatmeal cookies and I was like dang, I want one of those.
But apparently the rumor is that it's frowned upon to rip a cookie out of a kids hand and tell him to suck it.
Whatever. 😀
Enter the Iced Oatmeal Cookie Apple Cobbler.
Easy to make and very tasty (this is one of the things I broke the no sugar/carb for…and totally worth it FYI).
Last but not least…it's a great time to order my cookbook. 😀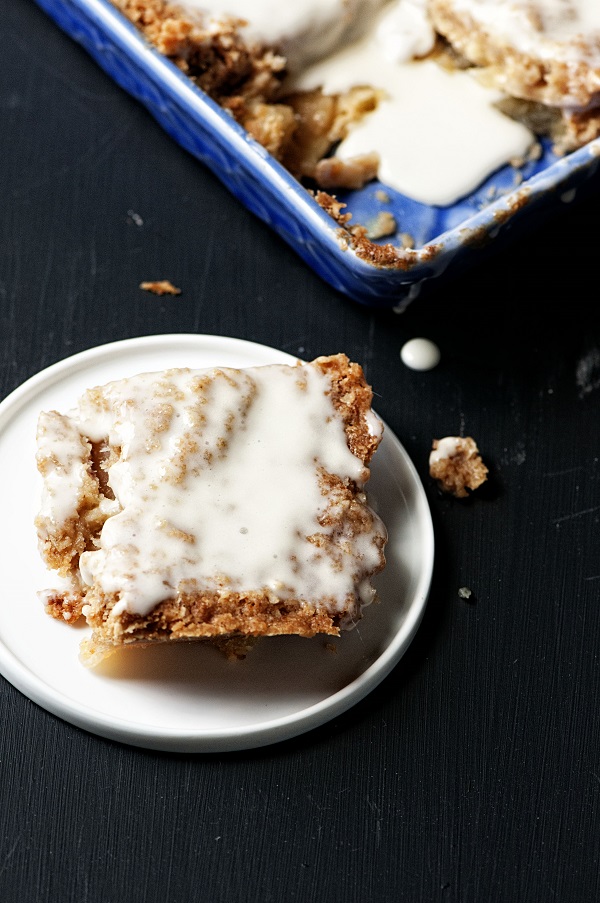 Want more Cobbler recipes?
Cherry Limeade Biscuit Cobbler
Mixed Berry Oatmeal Cookie Cobbler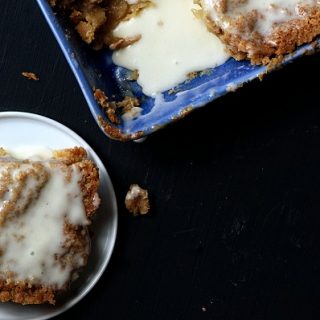 Iced Oatmeal Cookie Apple Cobbler
Ingredients
For the cobbler:
5 large apples (I had Gala, Pink Lady, and Granny Smith), peeled and diced
2/3 cup granulated sugar
1 tsp. lemon juice
1 package (17.5 oz.) Oatmeal Cookie Mix (I used Betty Crocker)
1 cup unsalted butter, melted (I used Darigold)
Icing:
1 cup powdered sugar
¼ tsp. vanilla extract
2-3 TBSP milk
Instructions
For the cobbler:In a large sauté pan over medium heat add apples, sugar, and lemon juice.
Let it cook down so that the apples are tender.
Spray 9-x-13-inch baking dish with baking spray or use butter.
I baked mine in an 8-x-8 for visual effect (aka I like that pan for photos).
Pour apple mixture into pan.
Sprinkle cookie mix over the top of the apples.
Pour melted butter over the cookie mix.
Bake at 350F for 45 minutes or until top is golden brown.Top with icing.
For the icing:
Whisk together the ingredients in a large bowl. If too thick add more milk.
Drizzle glaze over the cobbler.
Can be served warm or at room temperature.