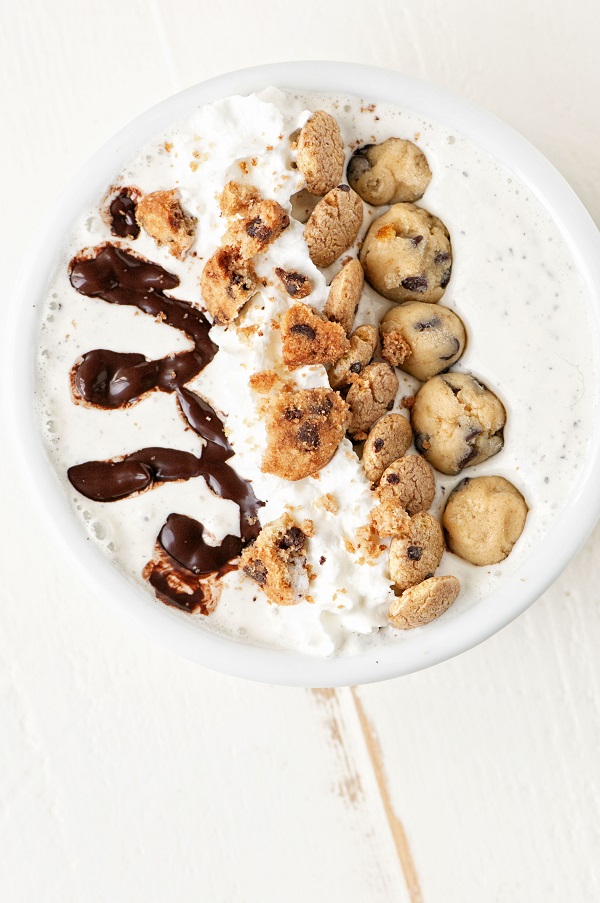 If you are following culinary trends, and by that I mean Buzzfeed, then you know all about the two most popular fads right now: the Smoothie Bowl and Outrageous Milkshakes. The Outrageous Milkshakes are just that, a milkshake that they then decided to add a giant lollipop, cotton candy, whole cupcake, piece of cake, side of a house, a small family from Honduras all clinging to the side of the milkshake. Basically, everything a 7-year-old eats at a birthday party all rolled into one milkshake…well, hopefully not the family from Honduras.
The other popular thing is the Smoothie Bowl. Which is total B.S. I want my smoothie in a drink cup…to go. It was invented to be a breakfast on the go. Now it's art on Instagram to make you feel bad for throwing Pop Tarts at your kids…and since it's the end of the school year you probably literally are throwing them at your kids. 🙂
To make matters worse the bloggers all say the same thing: Oh it's just something I threw together. Again, total B.S. Which okay, you probably did throw the fruit and yogurt into a blender and then pour it into a bowl, I'll give you that. But the rest of it you didn't just throw together. Neatly lined fruit, chia seeds (which serious grind that up in your smoothie), granola, nuts, one had edible flowers. That you did not just throw together. You threw that together like "I just woke up this way" and the model who claims "I eat whatever I want I just have a great metabolism".
So I thought hey, let's start a new trend combining the latest trends that I don't like. 🙂 The Milkshake Bowl. Makes just as much sense as any of it. I thought about making a giant chocolate chip cookie to have clinging to the side but I just didn't want to put the effort in. 😛
I suggest getting a few straws and sharing it with someone. Then when you get to the toppings, get out spoons, and have an ultimate death match fight to get the last cookie dough truffle.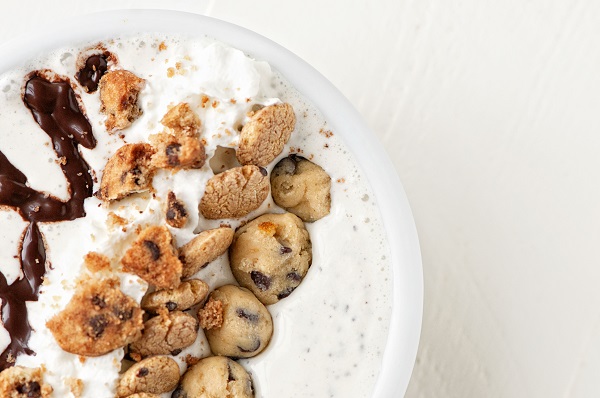 Chocolate Chip Cookie Milkshake Bowl
1-pint chocolate chip ice cream
heavy cream to thin out milkshake
a handful of Cookie Crisp Cereal
a handful of Chocolate Chip Cookie Dough Truffles
a handful of crushed chocolate chip cookies
whipped cream
chocolate sauce
In a blender add the ice cream and add cream 1 TBSP at a time until you reach your desired milkshake consistency…I find this is different for every person.
Pour into a bowl.
Add cereal, cookies, whipped cream, cookie dough truffles, and chocolate sauce all in a pattern similar to that of a corn maze to make people think aliens landed and made this.