Everyone has their own version of Italian Wedding Soup…mine has hearty meatballs, chicken stock, spinach, egg, and cheese.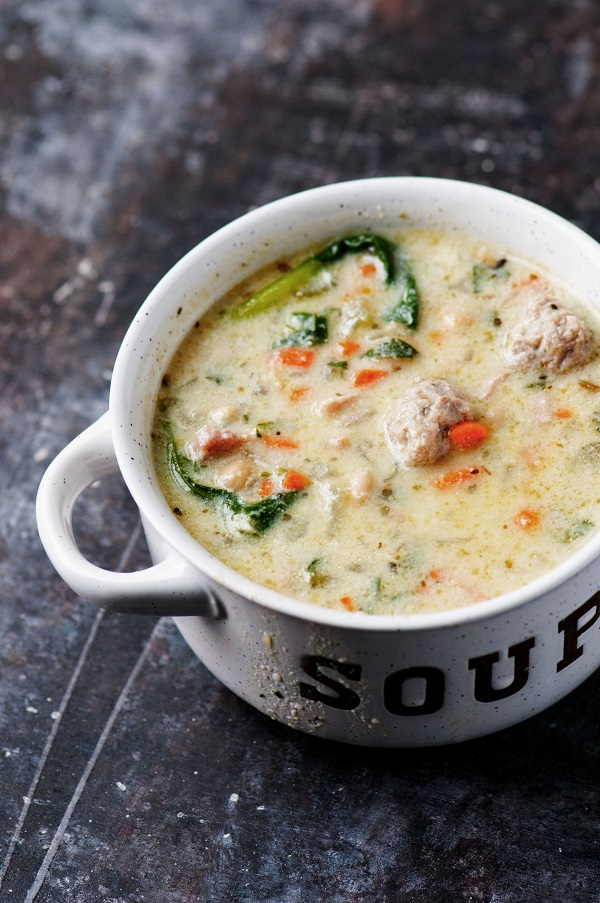 My husband and I were friends for many, many years (this coming year will be 12 years) before we were romantically involved.
But over those years we have always talked about the same two things: hockey and food.
So it's always a surprise to me when he mentions that he loves a food that I never knew he loved.
Case in point: Italian Wedding Soup.
So I immediately went to Amazon Prime Fresh (my obsession) and ordered all the ingredients for it.
And the next day I was making meatballs and then soup.
A big heads up with my meatballs…they make a large batch.
Large batch.
I did that so that my hubby could have meatball sandwiches as well as some with pasta.
If you don't want that many then do your best to half the recipe.
The recipe also calls for 30 meatballs…I may have added a few more. 🙂
As with pretty much everything I make for him he thought it was really good.
Which made me happy as it's not something I make all that often…clearly since we have never had it since being together.
But soup season is fully upon us I should warn you that you just might see a few more in the future.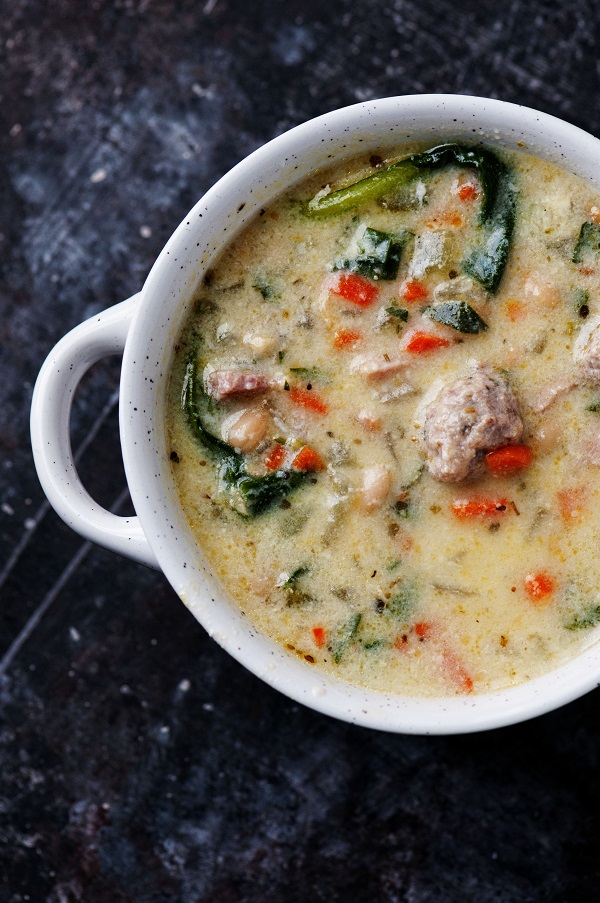 Want to make this soup vegetarian?
Simply replace the ground beef for Beyond Meat or Impossible Burger.
It's an easy swap.
Or you can buy they Beyond Meat premade meatballs.
There are also many other brands out there.
I would still make my own since I made very small meatballs for the soup.
In place of the chicken stock use either vegetable stock or the Better Than Bouillon No Chicken Base which works great.
P.S. It's a great day to buy my cookbook Holy Sweet!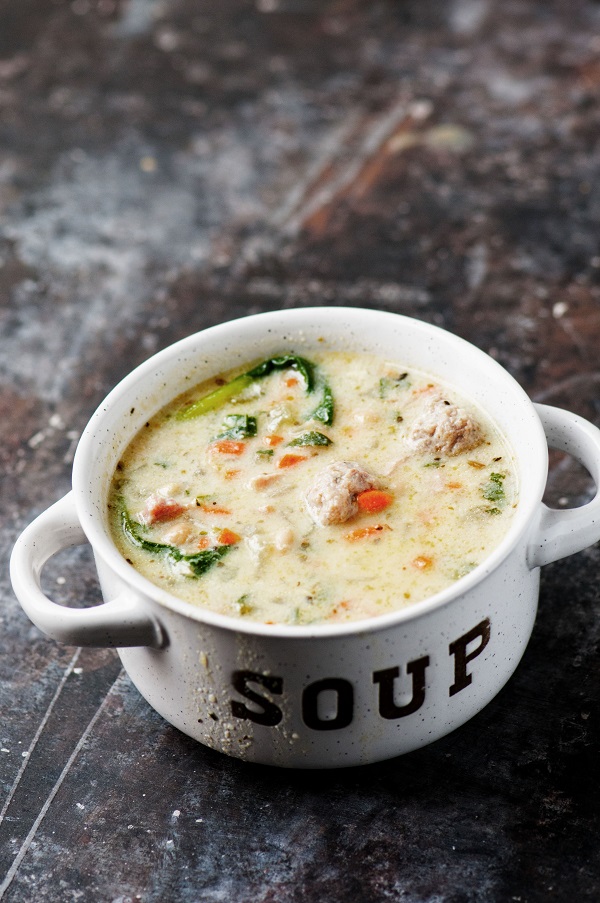 Want More Soup Recipes?
Vegetarian Vegetable No-Beef Soup
Chickenless-Chicken Noodle Soup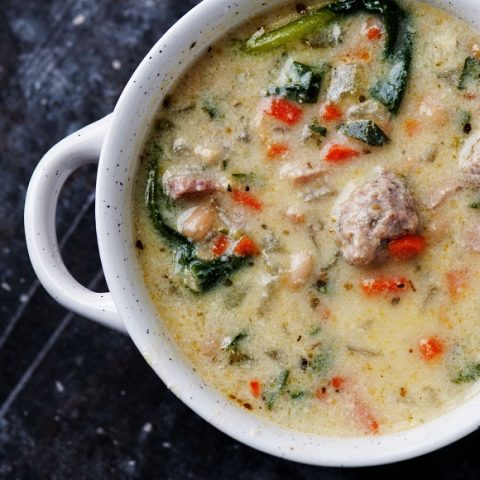 Italian Wedding Soup
Ingredients
For the Meatballs:
1 cup unseasoned bread crumbs
¾ cup Parmesan cheese, finely grated
1/2 cup whole milk
1/2 cup low-sodium beef broth
1/2 cup chopped fresh parsley
3 eggs, beaten
2 T. dried Italian seasoning
1 T. garlic, minced
1 T. kosher salt
1/2 T. ground black pepper
Pinch nutmeg
2 lb. ground chuck
For the Soup:
Sweat in 2 T. Olive Oil:
1 cup yellow onion, diced
1 cup celery, diced
1 cup carrot, diced
1 cup ham, diced
1 T. garlic, minced
6 cups low-sodium chicken broth
2 t. dried Italian Seasoning
1 t. crushed red pepper flakes
1 bay leaf
30 uncooked marble-sized meatballs (recipe above)
1 can (15 oz.) white beans, drained and rinsed
2 cups whole spinach leaves
1/2 cup chopped fresh parsley
2 eggs, beaten
1/2 cup Parmesan, grated
Instructions
For the meatballs:
Stir together all ingredients (except the ground meat) in a mixing bowl.
Add the ground chuck and mix together thoroughly with a fork.
Using a portioning scoop, shape the meat mixture into balls (about marble sized).You will have a TON left over, this is on purpose.
Make larger meatballs with the remaining meat mixture to make sandwiches or meatballs for pasta.
For the soup:
Sweat vegetables, ham, and garlic for soup, in oil in a stockpot over medium heat until softened.
Add chicken broth and seasonings; simmer 15–20 minutes.
Drop meatballs into simmering soup and cook until they float to the top, 3–4 minutes.
Stir in beans, spinach, and parsley.
Cook just until spinach wilts, about 2 minutes.
Combine eggs and Parmesan with a whisk.
Off heat, stir egg mixture into soup.