The flavors of a Coke Ice Cream Float come to life in fudge form in this tasty Coke Vanilla Float Fudge.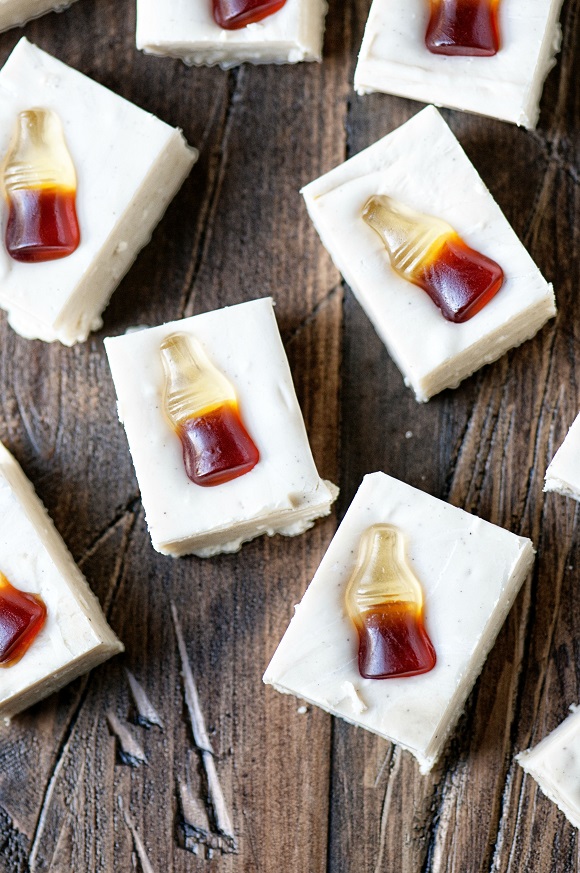 Ah, December birthdays. I have a hard enough time with my birthday being between Canada day and 4th of July (no one is around to celebrate) I can only imagine what it's like to have a birthday in December. I remember my poor cousin having her birthday just a few days after Christmas. They would do cake and what not but she usually got a big combo present for Christmas and her birthday though we would always have cake, which I appreciated. 🙂
So I have several friends who have birthdays between now and NYE and they are often forgotten. They have the same problem as me where no one can do anything because of holiday parties and relatives and what not.
I have a friend who asked me to make something for her birthday, I said sure. She said I really want fudge but I don't want any holiday-ish flavored fudge. Hmmm, okay. Then I remembered her love of Cola Floats, you know like Root Beer Floats but you use cola instead. I once again used lollipop flavoring, I'm telling you, it's where it's at as well as some Rodelle vanilla bean paste to give it that creamy float flavor.
Speaking of Rodelle, I'm having a little giveaway to get you some baking supplies for the holiday, or in this case, non-holiday baking you might be doing.
You will get from Rodelle:
Jar of vanilla bean paste (the best)
Bottle of vanilla extract
Bottle of almond extract
Cinnamon Sticks
Cocoa Powder
You only have until Monday December 7th, 2015 at 8pm PST to enter. You must be a US resident and winner is picked randomly with a random number generator. Simply leave a comment saying how you would use one of the Rodelle products. Bonus entry for liking and leaving a comment of this fudge on Facebook page.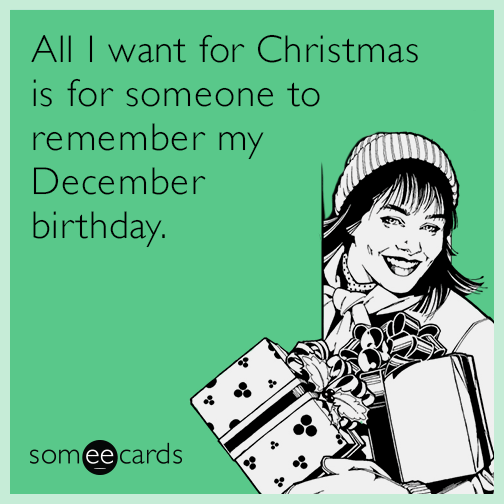 So do your best to make your friends with December birthday feel special…it wasn't their fault their parents were horny 9 months earlier. 😀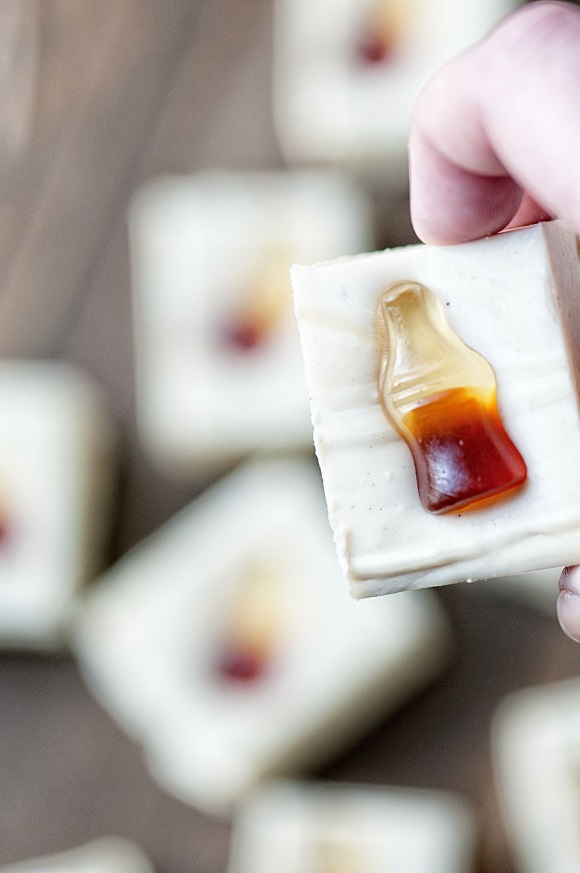 Cola Vanilla Float Fudge
2 cups granulated sugar
4 oz. unsalted butter
¾ cup heavy whipping cream
1 ½ tsp. vanilla bean paste (I used Rodelle)
1/8 tsp. cola lollipop flavoring
2 cups white chocolate chips
7 ounce jar marshmallow crème
Gummy colas for garnish
Line an 8×8 inch pan with parchment with an overhang so you can lift the fudge out later and coat with baking spray.
Combine sugar, butter, and heavy cream into a large heavy bottomed sauce pan and bring to a boil over medium heat.
Once boiling, attach a candy thermometer and reduce the heat to a hair above medium low and cook for 7-10 minutes until your thermometer reads 234°F (soft ball stage) , stirring constantly.
Once you reach 234F remove from heat and add the vanilla bean paste, cola flavoring and white chocolate chips, stirring vigorously with a wooden spoon until the chocolate has melted and the mixture is smooth.
Add the marshmallow crème and mix until well blended.
Pour into prepared pan.
Place gummy colas on fudge for garnish if desires…I used 20 of them.
Let cool to room temperature. Then lift out of the pan and onto a cutting board. Cut into whatever amount you want. I got 12 large ones to keep the colas in place but ended up cutting those in half because just too big.