Butter, sugar, freeze dried apples, spices, cream and a little vanilla make these easy, yet delicious Apple Pie Buttercreams.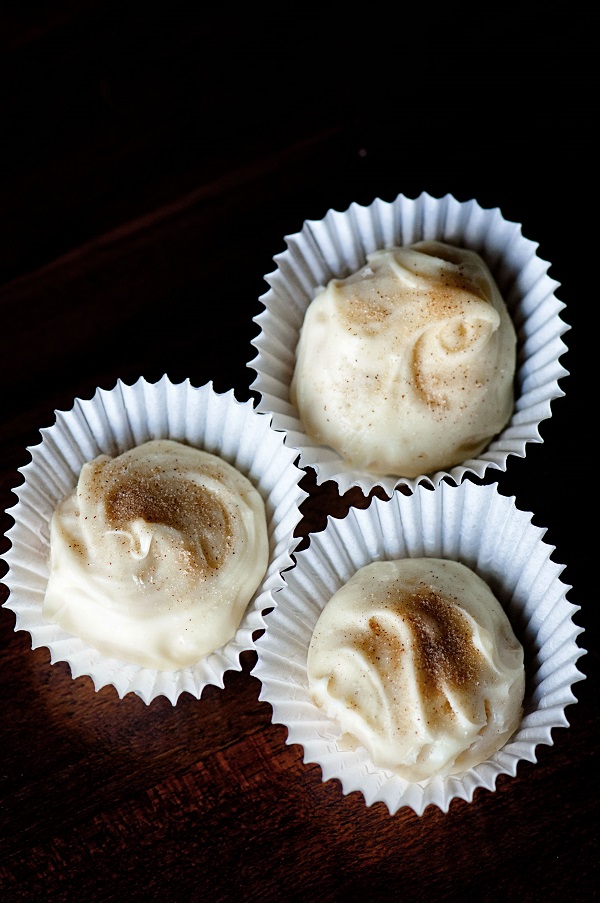 The first time I saw Sally's blog I was searching for something Funfetti.
If you thought I loved sprinkles you should check out her blog.
Well you should check it out anyway…there's a reason why it's HUGELY popular.
I was pretty happy when her publisher asked if I wanted a copy of Sally's Candy Addiction: Tasty Truffles, Fudges & Treats for Your Sweet-Tooth Fix because I had already planned on buying a copy.
So not only did I get a free one, I get to give one away to you (giveaway has closed).
A little over a year ago I really got into candy making.
It scared me for years and I know it scares a lot of people as well.
Not going to lie, I screw up and waste ingredients sometimes and that's frustrating.
Though I have found most of the time when I screw up I just didn't cook something for as long as I should have which in that case I just pour whatever it was over ice cream and it's not so bad. 🙂
Sally's new book is a great beginner (though there are more advanced items in there too) candy book so if you are wanting to get into candy making I highly suggest it.
One thing she had in there that I had never made was buttercreams.
How have I not made these before.
I mean I'm addicted to buttercream frosting!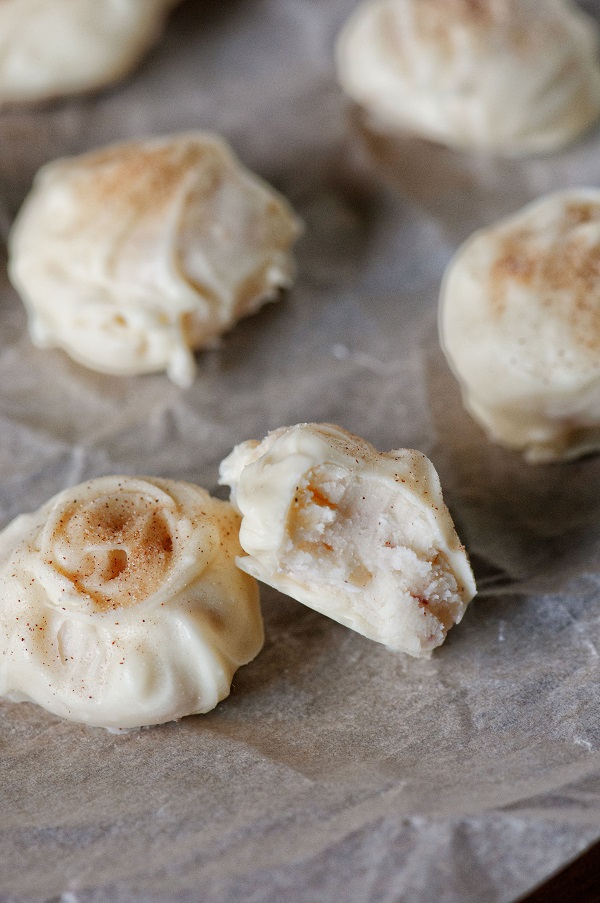 In her book she made strawberry buttercreams.
Like me she is all about using freeze dried fruits and so the strawberry gave the buttercreams a really nice color.
But oh no, not me, I had to be different and make colorless candy. 🙂
That photographs so well…ha! Not.
Well, what I really wanted to do was to make a fall candy so to speak.
So I went with Apple Pie Buttercreams.
These are really easy to make minus the dipping part.
I did not own a Ateco Spiral Dipping Tool, Large but I'm going to order one.
So, I used a fork and that worked okay but I think actually dipping tools would have been helpful.
And I chose to add a little cinnamon sugar on top just to break up the white on white that was happening with them.
These turned out really good and the longer the sit the better in my opinion since more and more apple flavor comes out over time.
And what's great about them is they can be made ahead of time for parties and what not, which is always helpful.
And as always it's a great day to order my cookbook.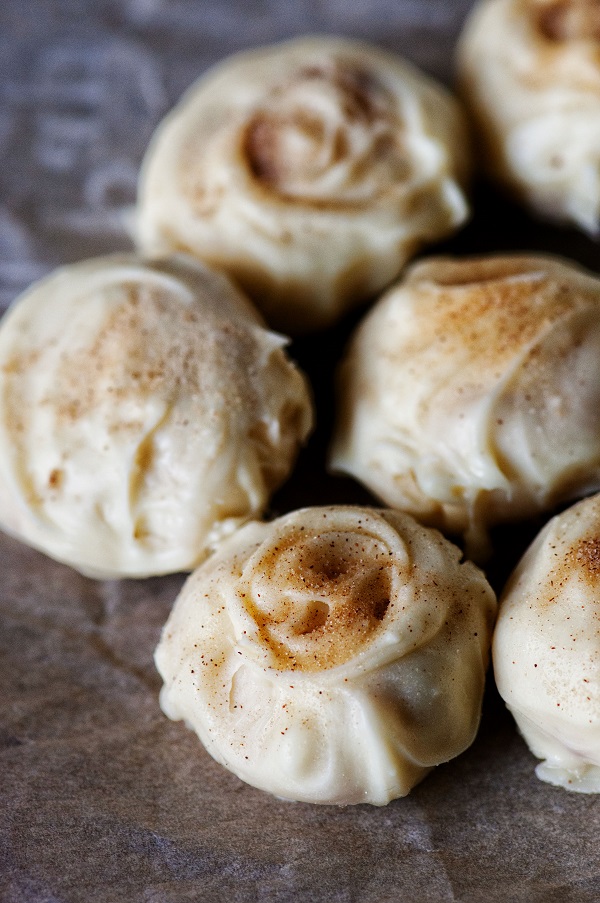 Want More Candy Ideas?
Lemon Blueberry Mascarpone Fudge
Melted Chocolate Ice Cream Fudge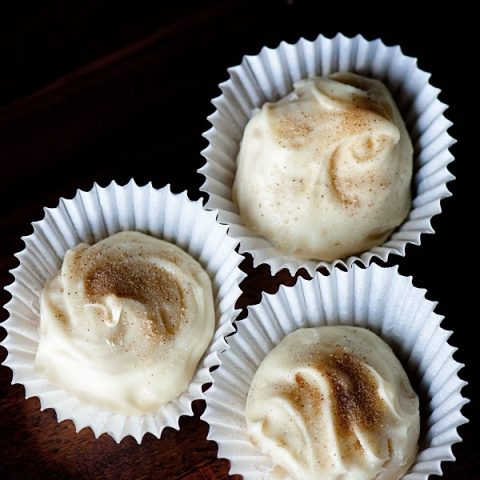 Apple Pie Buttercreams
Ingredients
1 cup freeze dried apples (found mine at Trader Joes)
½ cup unsalted butter, softened to room temperature (I used Plugra)
3 1/2 cups powdered sugar (I used Imperial)
3 TBSP heavy cream (I used Darigold)
1 tsp. vanilla extract (I used Rodelle)
1/2 tsp. apple pie spice (I used King Arthur Flour)
20 oz. white chocolate, coarsely chopped
cinnamon sugar for garnish
Instructions
Line two large baking sheets with parchment paper or silicone baking mats. Set aside.
Using a stand mixer fitted with a paddle attachment, cream the butter and freeze dried apples together on medium speed until the apples are broken into tiny, tiny piece and the consistency is creamy.
Add the powdered sugar one cup at a time and beat on low for 1 minute.
Add the heavy cream and vanilla then beat on high for 3 minutes or until completely smooth and creamy.The mixture will be very sticky.
Cover the bowl tightly with aluminum foil or plastic wrap and chill in the refrigerator for at least 1 hour and up to 1 day. Chilling for the short period of time makes forming the buttercream filling a little easier.
Once chilled, remove the mixture from the refrigerator.
Scoop 1 teaspoon of the buttercream mixture and roll into a ball. Slightly flatten the ball with your hands and place on the prepared baking sheet.
Repeat with remaining buttercream mixture. As you are rolling, if you find the mixture is becoming too soft to handle, chill in the refrigerator for 15 minutes.
Chill the buttercreams in the refrigerator for at least 1 hour and up to 1 day.
During the last few minutes of the chilling time, begin melting the chocolate. You can melt the chocolate in a double boiler or the microwave.
If using the microwave: place the chocolate in a medium heat-proof bowl. I like to use a liquid measuring cup. Its depth makes it easier for dipping.
Melt in 30 second increments in the microwave, stirring after each increment until completely melted and smooth.
Let the warm chocolate sit for 5 minutes to slightly cool before dipping.
Remove buttercreams from the refrigerator and dip completely into the chocolate using a dipping tool (I just used a fork but hers look prettier than mine so I would get one of those).
Place buttercreams back onto the baking sheet after you dip each one.
Decorate the tops with cinnamon-sugar, if desired.
Refrigerate buttercreams for 15 minutes or until chocolate has completely set before serving.
Make ahead tip: Layer buttercreams between sheets of parchment or wax paper and store in an airtight container in the refrigerator for up to 2 weeks.
For longer storage, freeze for up to 2 months and thaw overnight in the refrigerator.