This Kahlua and Cream Fudge is the classic cocktail pairing of Kahlua and Cream made into creamy and decadent fudge.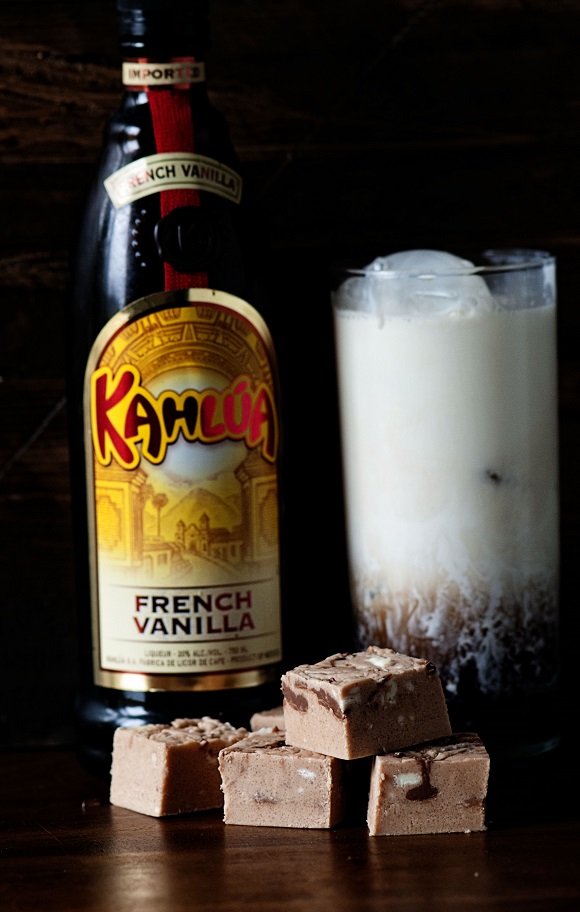 Joan was a force.
Not a force to be reckoned with kind of force (though perhaps that too), but someone who was confident in who she was.
Someone who lit up a room when she walked into it.
She was someone who made people laugh.
Someone who was full of life.
Joan was someone who had strong feelings on if a dessert said chocolate it had better have a lot of chocolate in it.
A person who made others felt welcome.
And a person who could of probably talked me into just about anything, she was very persuasive.
I've spent days trying to figure out what to write for this post until I just had to write something since today was the day we were all posting in honor of Joan #chocolateforJoan.
If you don't know who Joan is, she ran a website called Chocolate, Chocolate, and More.
It was wildly popular (it still is).
My plan last Thursday was to write a little post to tell you that I had become a contributor over on Chocolate, Chocolate and More.
About a month ago she had asked some bloggers if anyone would be interested in doing a post a month on her blog.
I jumped at the chance because I thought it would be fun.
Joan said she was thrilled that I said yes and she made me blush by telling me my recipes were super unique.
And my photography was outstanding and she just didn't understand why I didn't have as many followers as her.
I'm not sure who has as many followers as her.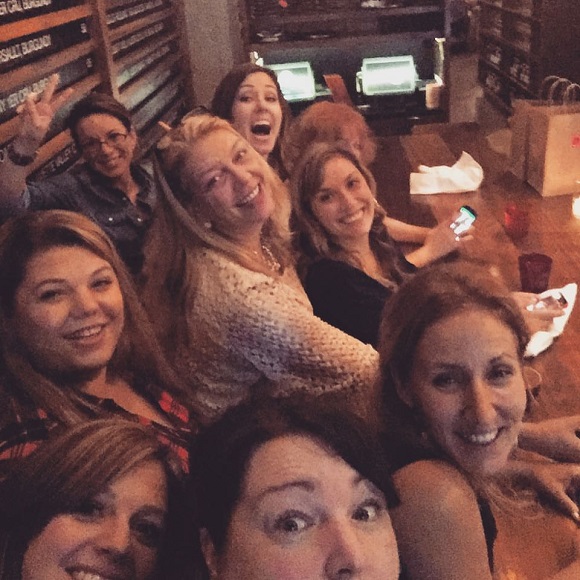 And so I messaged her since we had just talked the day before about something on the post.
I didn't hear back from her…and that was odd.
Then there it was.
Joan's cousin coming onto her personal FB page that Joan had passed away in her sleep (later to find out she had a heart attack).
I reread that over and over.
Then I ugly cried I think for about an hour I'm not sure.
Those of us who had just been to IFBC with her in September sat there Private Messaging each other.
As to how was it possible. I just kind of went numb.
I got up and made fudge.
Interestingly enough I don't even remember making it.
Which would explain why it has sugar grains in it.
Yours won't when you make it because you will be paying attention and not crying while you make yours (at least I hope not).
I chose to make Kahlua and Cream Fudge because Joan not only would want me eating chocolate in her honor but she would want me drinking booze as well.
The last meal I had with her in September.
She was ordering Kahlua and Cream cocktails but telling the waitress not to put it in some wimpy glass.
That she wanted a big glass and a big drink.
The waitress complied.
So it just made sense to me to make Kahlua and Cream Fudge in her honor.
Her website is going to stay up and active.
Several bloggers (including me) are going to contribute to keep it going so that her children (she leaves behind an 18, 16, and 13 year old) can still get income from the blog.
It will be ran by her sister and her cousin as that was what Joan wanted, she wanted the blog to go on, and so it will.
So please visit her blog, share her stuff on Pinterest, follow her FB page if you aren't one of the 2.5 million already doing so (yes, 2.5 million).
I hope you are enjoying all the chocolate you can Joan.
P.S. It's a great day to buy my cookbook Holy Sweet!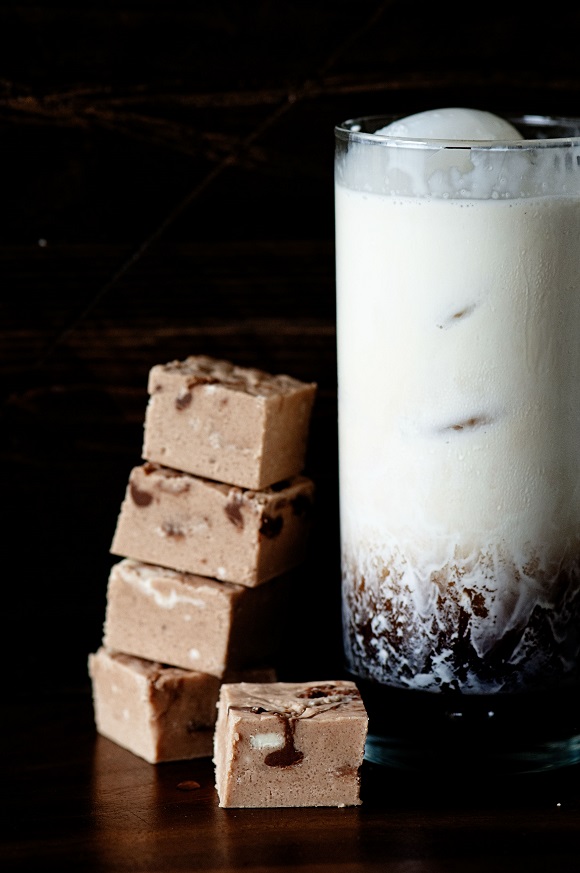 Want More Fudge Recipes?
Lemon Blueberry Mascarpone Fudge
Spiked Rum Raisin Chocolate Fudge
Monster Cookie Chocolate Fudge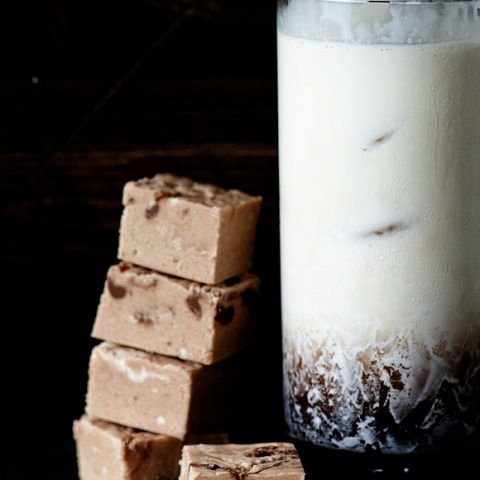 Kahlua and Cream Fudge
Ingredients
2 cups granulated sugar
4 oz. unsalted butter
1/3 cup heavy cream
½ cup Kahlua Liqueur (I used French Vanilla flavored)
½ cup milk chocolate chips
1 ½ cups white chocolate chips
½ tsp. vanilla bean paste (or extract)
7 ounce jar marshmallow crème
Extra Milk and White Chocolate Chips for top
Instructions
Line an 8×8 inch pan with parchment with an overhang so you can lift the fudge out later and coat with baking spray.
Combine sugar, butter, heavy cream, and Kahlua into a large heavy bottomed saucepan and bring to a boil over medium heat.
Once boiling, attach a candy thermometer (if you have a digital most you cannot attach to the side…just keep reading it every 30 seconds with an instant read) and reduce the heat to a hair above medium low and cook for 7-10 minutes until your thermometer reads 234°F (soft ball stage) , stirring constantly.
Once you reach 234F remove from heat and add the milk chocolate chips and white chocolate chips, stirring vigorously with a wooden spoon until the chocolate has melted and the mixture is smooth.
Add the vanilla bean paste and marshmallow crème and mix until well blended.
Pour into prepared pan.
Throw some extra milk and white chocolate chips on top to be festive if you like…I tried to swirl mine a little when they melted…that sort of worked.Let cool to room temperature.
Then lift out of the pan and onto a cutting board. Cut into whatever amount you want.
I think I got about 24 pieces.