Chocolate Glazed Rocky Road Cupcakes: Rich chocolate cupcakes covered with mini marshmallows and chopped toasted pecans all covered in a super chocolatey glaze.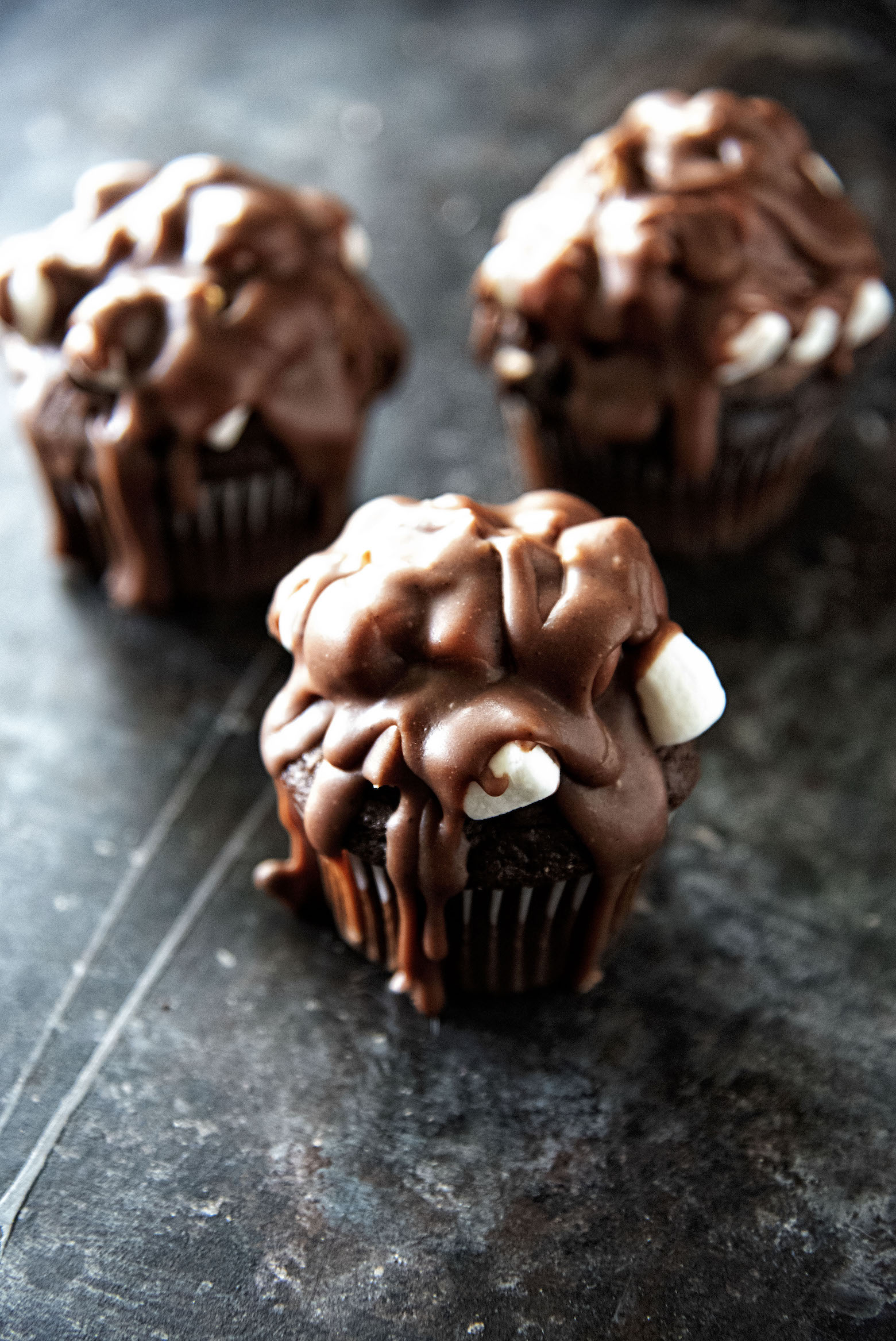 Not sure how it all started.
The idea that if we just weather a rough patch then everything will be great again.
But if you have lived long enough you know that there is usually another rough patch waiting around the corner.
That's not negative, just realistic.
So much so that I think we should stop saying we hit a rough patch.
We hit life.
I have a tremendous amount of friends getting divorced or have recently broken up lately.
Like, a lot.
I can't help but think back to my divorce.
As most readers know, my ex-husband and I remained friends.
Which does freak people out a bit.
Because we didn't have kids, just a dog, and so there was no real need to stay friends for the kids kind of thing.
It's still the most asked question I get to this day…am I still friends with my ex?
We don't say friends now, we just say family.
And yes, we are.
That includes my husband.
Does that mean we all hang out and go to dinner and what not?
No.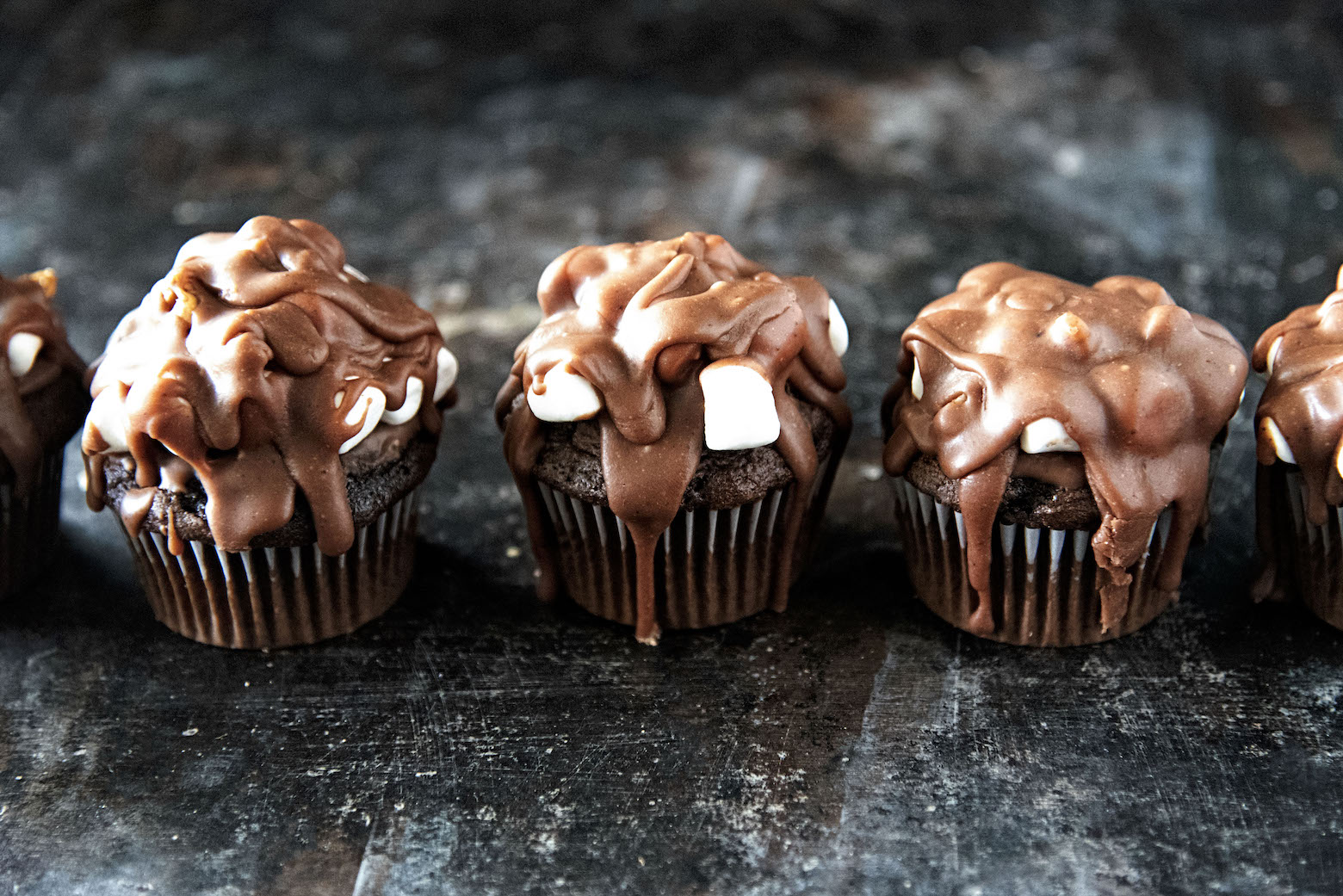 What that means is my husband goes over and helps with things at his house.
I dog sit his pups a few times a week.
He still runs this website. 🙂
Those kind of things.
Things you do for family.
If you are going through divorce or break up or a rough patch…just know that it will all work out.
Maybe not in the way you wanted but it does work out.
Rocky Road is my favorite chocolate based ice cream.
When a friend who is having some rocks in his roads had a birthday, I decided these Chocolate Glazed Rocky Road Cupcakes would be the cupcakes to make.
I really loved the glazed cupcakes I made at Christmas time and decided to go with glaze over frosting this time.
These get double dipped so that you can use the glaze as a glue to keep the marshmallows and nuts in place.
Then glazed again.
Best part is since they are rocky road…they are supposed to look messy. 😀
P.S. It's a great day to buy my cookbook Holy Sweet!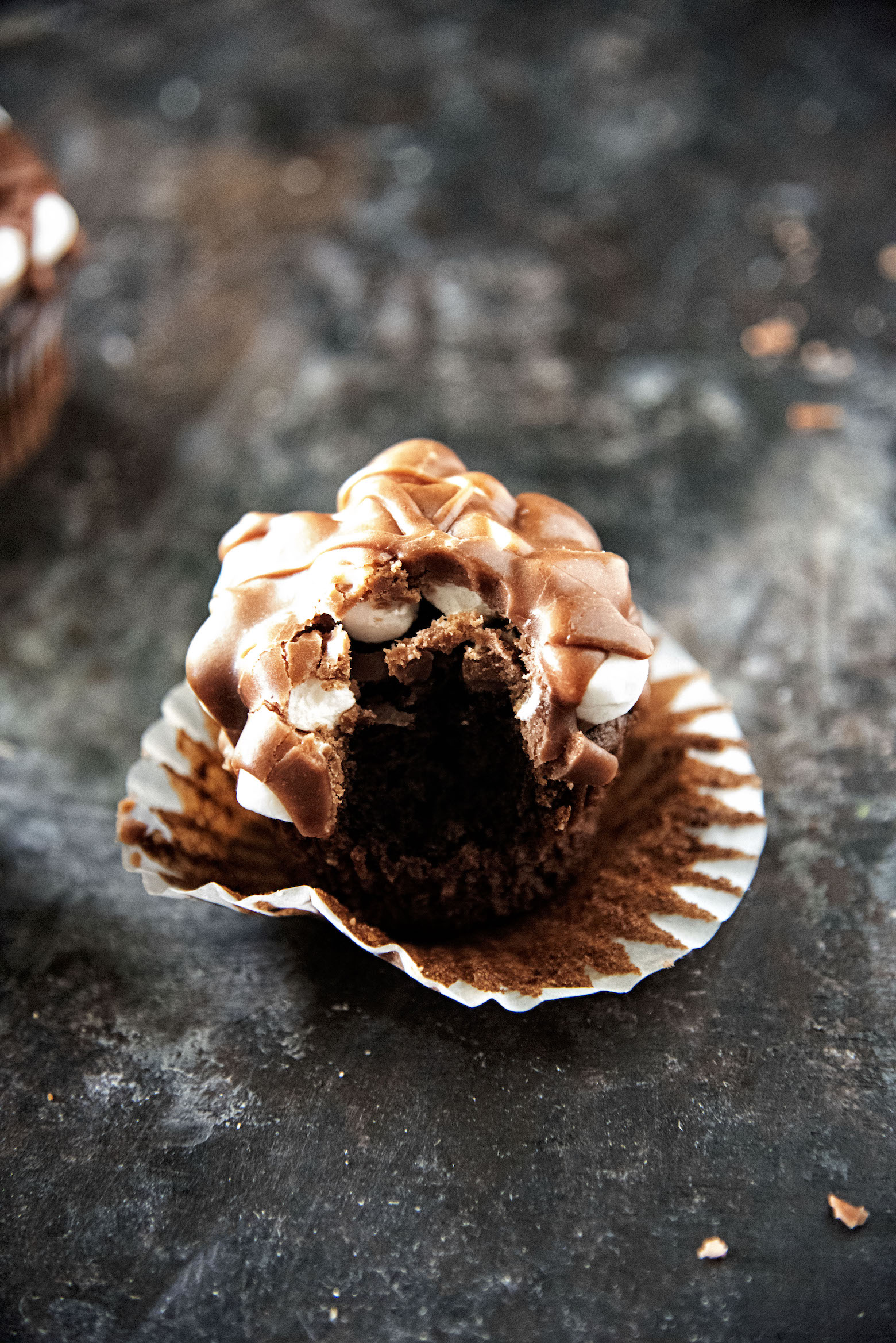 Want More Cupcake Recipes?
Key Lime Toasted Coconut Cupcakes
Strawberry Malted Milk Cupcakes
Strawberry Lemonade Glazed Cupcakes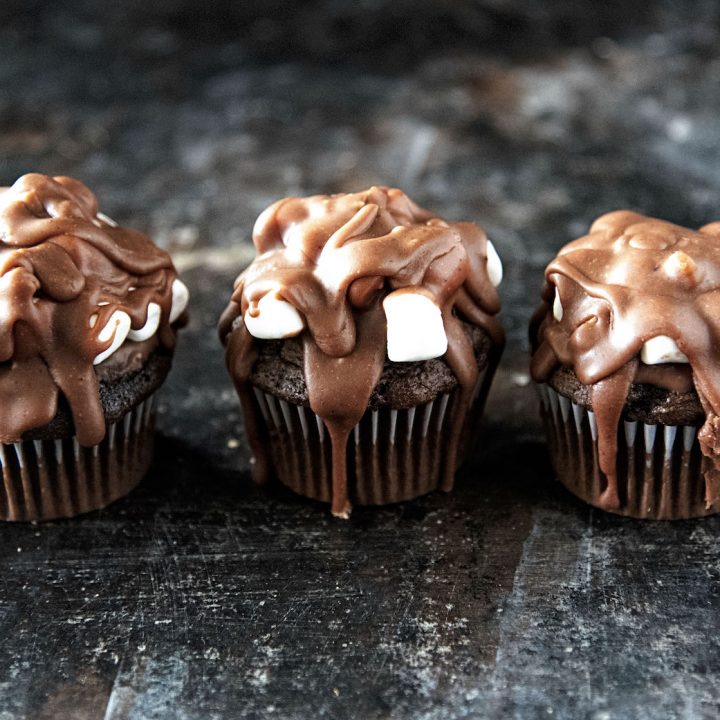 Chocolate Glazed Rocky Road Cupcakes
Ingredients
For the Cupcakes:
2 cups granulated sugar
1 3/4 cup + 2 Tbsp all-purpose flour
3/4 cups unsweetened cocoa powder (I used Rodelle)
2 tsp. baking powder
1 1/2 tsp. baking soda
1 tsp. salt
2/3 cup vegetable oil
1 cup whole milk
2 eggs, at room temperature
2 tsp. vanilla extract (I used Rodelle)
1 cup hot water
For the Topping:
4 cups mini marshmallows
2 cups toasted pecans, roughly chopped
For the Glaze:
2/3 cup whole milk
1 cup salted butter
1/2 cup unsweetened natural cocoa powder
5 cups powdered sugar, sifted
Instructions
For the Cupcakes:
Preheat oven to 350F and line muffin tin with cupcake liners.
Using a stand mixer with a paddle attachment mix together sugar, flour, cocoa powder, baking powder, baking soda, and salt.
Add in vegetable oil and milk.
Mix on low speed until fully incorporated.
Add eggs, one at a time, stirring after each addition.
Stir in vanilla extract.
Add hot water and stir until the mixture is evenly combined. The batter is VERY thin.
Fill prepared muffin tin cavities just over 2/3 of the way full.
Bake at 350F for 18-22 minutes (use the toothpick test to check).
Allow cupcakes to cool completely before glazing.
For the glaze:
In a small saucepan, combine milk, butter, and cocoa powder; bring to a boil.
Pour hot mixture over powdered sugar and stir until smooth.
Lightly dip the top of a cupcake into the glaze, this will serve as the glue to hold the marshmallows and nuts in place.
Dip into the marshmallows and sprinkle or place nuts in between the marshmallows.
Once all cupcakes have been dipped and marshmallows and nuts are in place, spoon the remaining glaze on top of the marshmallows and nuts.
Glaze will drip down the sides...that is fine.
Allow glaze to set, about 1 hour.