These Cinnamon Roll Cupcakes with Cheesecake Frosting have a cinnamon roll filling base, cheesecake frosting, and mini cinnamon rolls on top.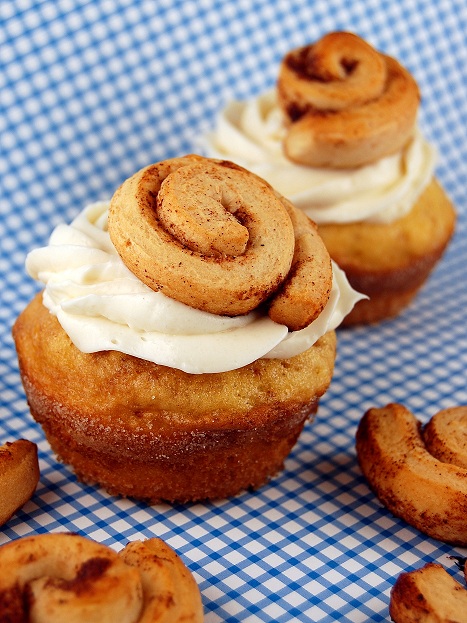 For years friends have said to me, you should be on Top Chef.
I would tell them no way, I don't have the knife skills(and a whole other bunch of reasons).
And well, there's never any dessert.
So of course, what comes along?
Top Chef: Just Desserts.
My friends hounded me like crazy to try out.
After seeing the cast, thank goodness I did not!
Not afraid of their skill, just plain afraid of them!
No seriously, I would lie awake at night probably hoping that my bunk mate wouldn't try to smother me to death with buttercream frosting just for the fun of it.
But it got me thinking.
Along the lines of, Julie and Julia, I decided I will be doing each of the challenges that they are going to do on Top Chef Just Desserts.
Which is how I ended up with these Cinnamon Roll Cupcakes with Cheesecake Frosting topped with Mini Cinnamon Rolls.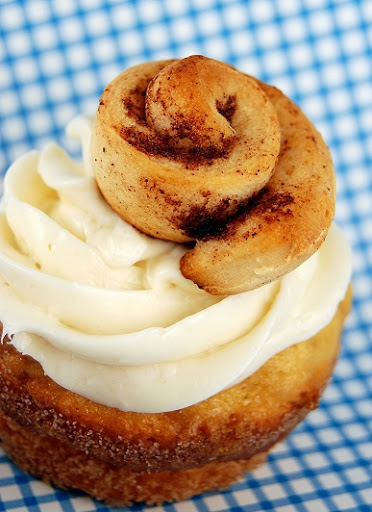 The first quick fire challenge was to make your signature dessert.
I really have two.
Either my bread pudding or my cinnamon roll cheesecake.
In the middle of making the dessert they came in and told them to make it into cupcake form.
So that's how I ended up with a cinnamon roll cupcake.
I would have totally failed, as this took way longer than the allotted time.
Yep, these are pretty much over the top fantastic.
Especially since I actually put a piece of cheesecake into the frosting.
Mmmm, cheesecake.
Then of course the little cinnamon roll on top just adds a little something extra.
Now for the bad news.
Yes I plan on making to the best of my ability each challenge.
But no I don't plan on putting them all on here.
A couple of the recipes will be going on my Sweet Recipeas Facebook Page only.
So if you are not a fan of it yet, and you are curious to see what I am doing with the project, you might want to become a friend of Sweet Recipeas.
Last but not least…it's a great time to order my cookbook. 😀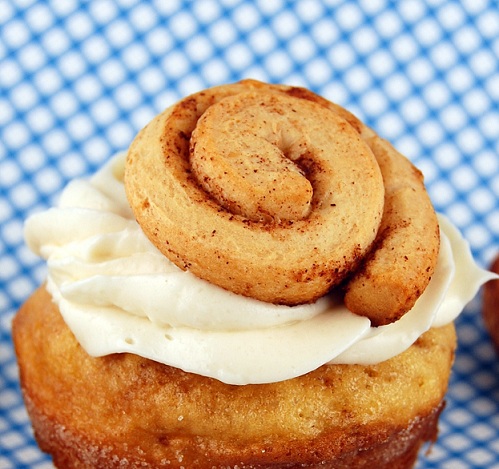 Want More Cupcake Recipes?
Chocolate Root Beer Float Cupcakes
Strawberry Pretzel Cream Cheese Cupcakes
Dark Chocolate Butterfinger Cupcakes
Strawberry Buttercream Neapolitan Cupcakes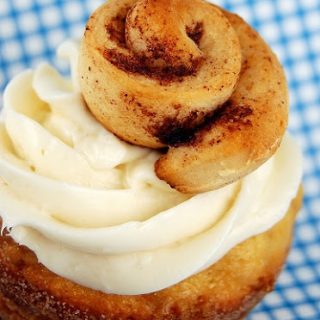 Cinnamon Roll Cupcakes with Cheesecake Frosting topped with Mini Cinnamon Rolls
Ingredients
Cinnamon Roll Cupcakes:
2 cups cake flour
1 cup all-purpose flour
1 TBSP baking powder
1/2 teaspoon salt
1 cup unsalted butter, at room temperature
2 cups granulated sugar
5 large eggs
2 tsp. vanilla extract
1 1/4 cup buttermilk
Filling:
½ cup brown sugar
2 TBSP cinnamon
Cinnamon Sugar Coating:
1 cup granulated sugar
2 TBSP cinnamon
Cheesecake Frosting
12 ounces cream cheese, at room temperature
1 slice cheesecake, bottom removed, at room temperature
¾ cup granulated sugar
1 tsp. vanilla extract
1 tsp. fresh lemon juice
Instructions
For the Cupcakes:
Preheat oven to 350°F .
Butter two 12 cup muffin pans.
Place a TBSP of cinnamon sugar coating in each cup and swirl around until the sides and bottom are covered in the coating. Set aside.
In a medium bowl, sift together the flours, baking powder, and salt.
Cut up the butter into 1-inch pieces and place them in the large bowl of an electric mixer, fitted with a paddle attachment or beaters.
Beat for 3 minutes on MEDIUM-HIGH speed until the butter is light and creamy in color.
Stop and scrape the bowl.
Cream the butter for an additional 60 seconds.
Add the sugar, 1/4 cup at a time, beating 1 minute after each addition.
Scrape the sides of the bowl occasionally.
Add the eggs one at a time.
Reduce the mixer speed.
Stir vanilla into the buttermilk.
Add the dry ingredients alternately with the buttermilk.
Mix just until incorporated.
Scrape the sides of the bowl and mix for 15 seconds longer.
Spoon batter a 1/3 of the way up the muffin cup.
Place 1 tsp. of brown sugar filling inside.
Spoon another 1/3 of the way up.
Using a butter knife, swirl the filling around in the cupcakes.
Center the pans onto the lower third of the oven and let bake 15-18 minutes or until the cake is light brown on top and comes away from the sides of the pan and a toothpick inserted in the center comes out clean.
For the Frosting:
Using a stand mixer with the paddle attachment (or a bowl and a mixer) beat the cream cheese and cheesecake on medium-high speed for 3 minutes.
Add sugar, and beat another three minutes, until super smooth.
Add vanilla and lemon juice and beat another 30 seconds.
Chill in fridge for 20 minutes. Pipe or spread frosting onto cupcakes.
For the Mini Cinnamon Rolls
The Mini Cinnamon Rolls are just a smaller version of these cinnamon rolls, minus the frosting.
If you choose to make them.
I made a half batch, just bake up the bread for french toast or what not.
They take about 16-18 minutes to bake up depending on the size.
Mine were all about the size of quarter on steroids before I started, the of course grow bigger in the oven.
You could also just use refrigerator rolls if you were in a hurry ( I won't tell anyone)