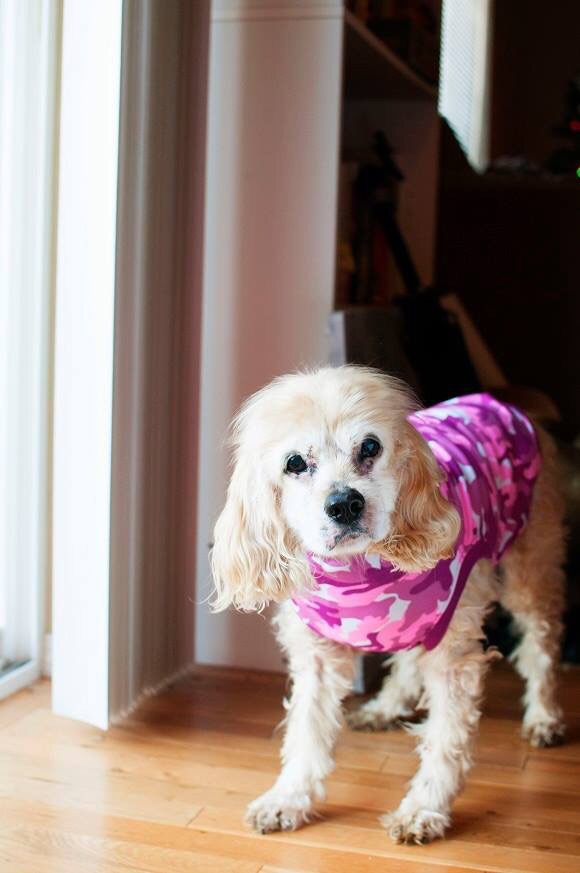 When my parents left at Christmas my mother said "goodbye" to my dog. I said "goodbye" to hers as they both have had a long string of illnesses. My mom and I have talked about how hard this time will be for her and me. She said that of course she loved our family dogs growing up but that she had kids at the time and so they were, well, dogs. And now, her dog, this dog, was family. That my dog, my Crazy Cocker Spaniel, was my family. That while I certainly loved my childhood dogs growing up I was not in charge of keeping them happy, safe, alive.
When I first got CCS I was single, not even really wanting to be tied down by owning a pet. Yet she came into my life and taught me unconditional love. While I do not have children of my own, I love my stepchildren very much. Not having kids of my own I have no idea if it's the same type of love I would feel if they were my own flesh and blood, but I'm guessing yes. I love them as much as I love my dog. That might make some people scoff as pretty much everyone says that pets are not children. Mine is to me.
I wipe my dogs butt. I clean up her vomit. We bath her daily. I wear surgical gowns and gloves to get to hold her. I gladly pet and let her sit near me with all her "smells" of sickness. I feed her. I get up several times a night to let her out making me pretty much an incoherent zombie nowadays. I wake up early to give her meds. I stay up late to give her meds. This saver girl has had to go into more debt that I fear to even think about. I watch her sleep and smile softly…and also to make sure she's still breathing. 🙂 I do anything I can to make sure she is not in pain and still has quality of life. And when the time comes I will have the strength to send her over the rainbow bridge.
I'm not sure when my final goodbye will be to my sweet girl, I'm guessing sooner than later. My heart will feel like it's been ripped out and will be lying of the floor. I will cry for days, possibly weeks (heck I cry now and she is still here). And it will all have been worth it. Every tear shed and every dollar spent will be worth it. And the only thing I hope is that she understands just what she meant to me.