Chocolate lovers rejoice at this dense and fudgey Chocolate Frangelico Flourless Cake with Frangelico Whipped Cream to make your day better.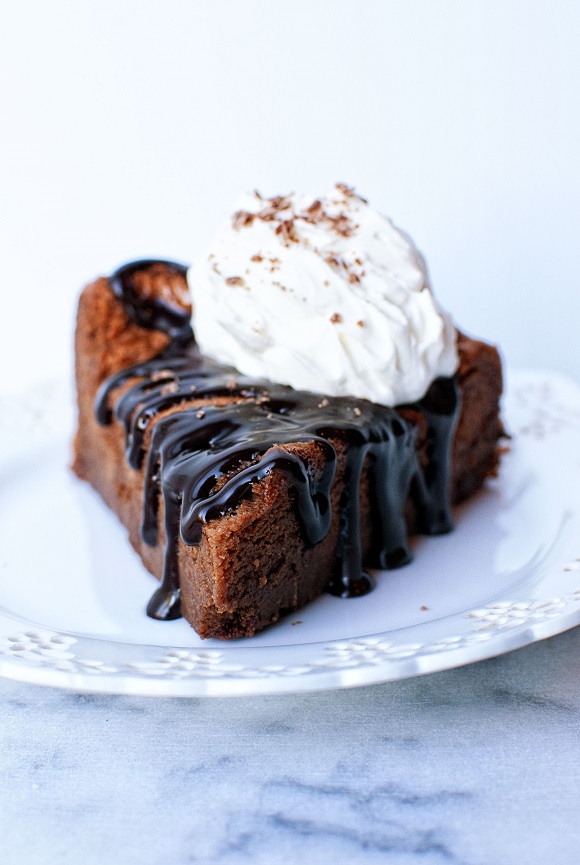 I created this amazing Chocolate Flourless Cake for my client, Plugra Butter!
Thank you for supporting the brands that keep me inspired in the kitchen.
I wasn't sure about making my husband a chocolate dessert for Date Night In for while most people enjoy chocolate we usually prefer other things over chocolate (like key lime). I know we are weird.
While my hubby likes chocolate he was what he calls "chocolated to death" the majority of his adult life, almost twitching at the sight of chocolate cream pie.
But it occurred to me that I don't think I have ever made him a chocolate flourless cake and that needed to change.
Or in this case a Chocolate Frangelico Flourless Cake.
Luckily my experiment worked as he was surprised that a dessert could be rich and light all at the same time.
We learned you don't need the whipped cream or chocolate sauce as my husband's former step-son who still comes over from time to time ended up eating literally HALF the cake.
Now we didn't realize this as he kept taking a little and little at a time.
When we went to give my stepdaughter a piece (she was at soccer) we realized that there was only about a slice and a half left and before over ¾ of the cake was still there. 🙂
So yeah, it's pretty good.
Since this is such a simple cake you really, really want to use the best ingredients you can afford.
Best ingredients for me always means starting with Plugra Butter, you need good butter for this.
We all know my love for Plugra.
Same with the chocolate…buy the best you can afford for this.
If you have an eyebrow raised at the espresso powder you don't really taste it…but it really helps bring out the flavor of the coffee.
You can flavor the whipped cream with an liquor or leave it out.
I used a local chocolate sauce (Fran's) but you can use whatever you like.
And of course best of all…this is gluten free…so it's health food! 🙂
P.S. It's a great day to buy my cookbook Holy Sweet!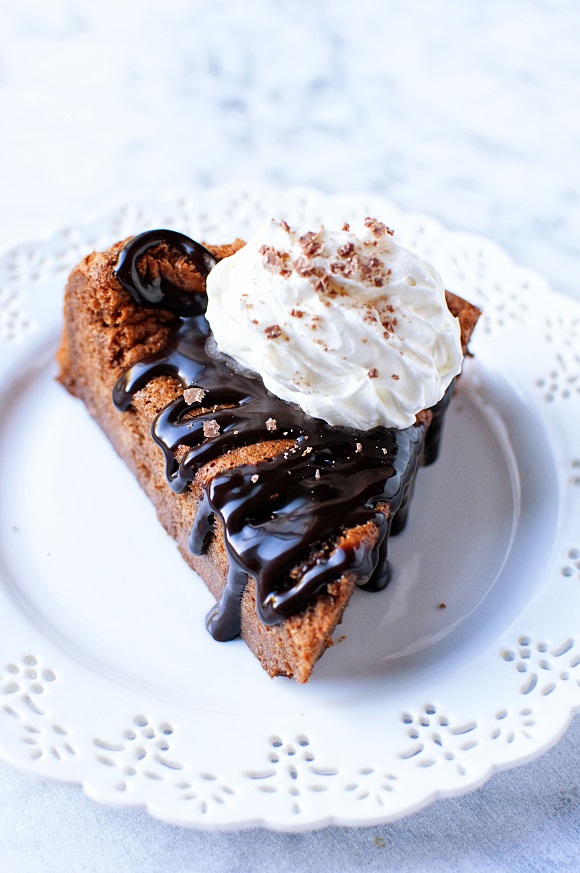 Want More Cake Recipes?
Circus Animal Cookie Layer Cake
Strawberry Mascarpone Buttermilk Layer Cake
Chocolate Salted Caramel Popcorn Layer Cake
Strawberry Lemonade Layer Cake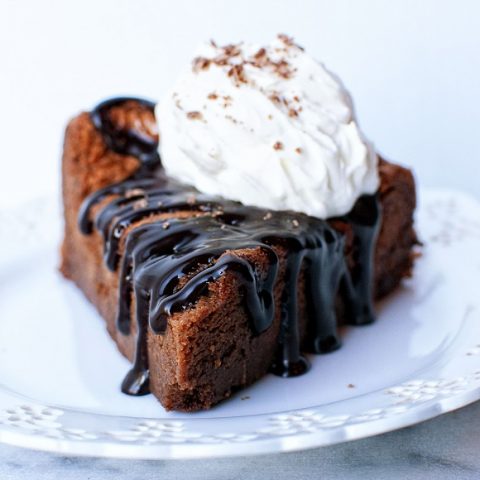 Chocolate Frangelico Flourless Cake
Ingredients
For the Cake:
8 oz. unsalted Plugra European Style Butter
8 oz. semisweet chocolate, finely chopped
¼ tsp. espresso or coffee powder
6 large egg yolks
2 TBSP Frangelico liqueur
¾ cup granulated sugar
8 large egg whites, at room temperature
For the Whipped Cream:
2 cups heavy cream
3 TBSP Frangelico liqueur
¼ cup powdered sugar
Instructions
For the Cake:
Preheat oven to 325F.
Spray the inside of a 9-inch Springform pan with baking spray (or use melted butter).
Line the pan with parchment paper. Don't skip this step…your cake will stick otherwise.
Using a double boiler melt the butter and chocolate together stirring often until the mixture is smooth and all is melted together. Let cool to room temperature.
Using a stand mixer with a paddle attachment beat together on high the egg yolks, Frangelico liqueur, espresso powder, and sugar until it doubles in volume and has a lighter shade of yellow, about 3 minutes.
Either with a hand mixer or another clean bowl beat the egg whites until stiff (but not dry).
Using a rubber spatula fold the chocolate into the egg yolk mixture.
Add 1/3 of the egg whites and stir to incorporate…this is lightening the batter.
Then gently fold the remaining 2/3 egg whites into the batter.
Pour the mixture into the pan, spreading evenly.
Place on a baking sheet on the center rack.
Bake for 52-54 minutes, or until a wooden skewer inserted in the center comes out fairly clean.
It will be puffed up like a soufflé when you take it out….be warned it WILL fall. It's supposed to fall. You did nothing wrong.
Allow to cool for about 15 minutes then release the cake from the Springform and slide it onto a plate.
For the Whipped Cream:
Whip 2 cups of heavy cream, sugar, and Frangelico on high until soft peaks are formed.
Top cake with whipped cream and chocolate sauce.