This Pumpkin Cinnamon Roll Cheesecake is the best of both worlds with pumpkin cheesecake and cinnamon roll bottom. All topped with cream cheese frosting.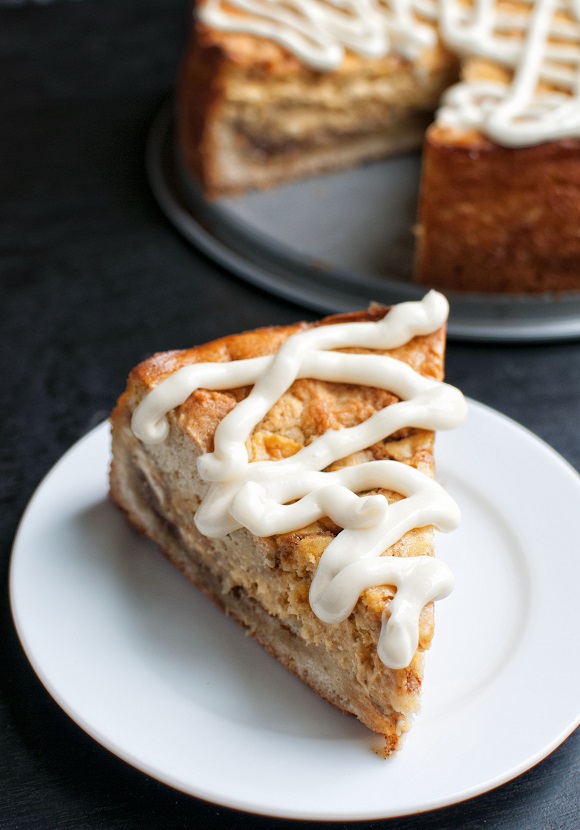 The big thing in blogging lately is to think of yourself as a brand, which is odd but I also get.
The IRS forces you to become a business…and businesses have a brand.
One of the presentations I went to at IFBC was about branding (and yes I picture them tying us down and branding us like cattle 🙂 ).
It was interesting and did actually get me thinking about a couple of things.
But they also were talking about things like creating a business plan and what not.
I just sat there thinking I can't even create a grocery list half the time…and when I do I still forget to buy half the stuff on it so how is it that I'm to create a business plan?
The kept flashing questions on the powerpoint presentation and one of those was along the lines of what kind of reader do you want reading this blog?
Ummmm. Okay, I'll think about that.
So without further ado I answer the question WHAT KIND OF READER DO I WANT TO READ THIS BLOG?
The kind of reader that is independently wealthy and likes me and my blog and wants to support me.
A life supporter if you will. 🙂
A Sugar (literally) Daddy or Mama (I'm open) or even an eccentric dead celebrities dog who was left a large sum of money…without the part of me having to be with them and them just giving me money.
So if that's you…please read my blog. 😛
Are you the kind of reader who often hides candy in their desk or back of the junk drawer?
In hopes of their kids not finding it.
Or hides the ice cream way, way back in the freezer and places a bag of frozen lima beans on top just to make sure no one gets it but you.
How about the kind of reader who will restart the dryer because you just can't think about folding laundry at the moment.
The kind of reader who thinks Whoppers, Swedish Fish, Peanut Butter Cups, Sprinkles, and all things Gummi should be added to the food pyramid.
Perhaps you are the kind of reader who often has flour, powdered sugar, or cocoa powder as a wardrobe accessory without being aware of it.
Are you kind of reader who understands that a box of Drumsticks is a single serving…in four parts?
The kind of reader who thinks Wake and Bake means to get up and make bread. 😉
Or the kind of reader who understands that 9 mini cookies is equivalent to one full size cookie. 😀
The kind of reader who thinks cookbooks are real books and reads them like they are.
My kindred spirit of a reader who has sat there with a spoon and a jar of Nutella (or peanut butter) and somehow looked down a half hour later to an empty jar.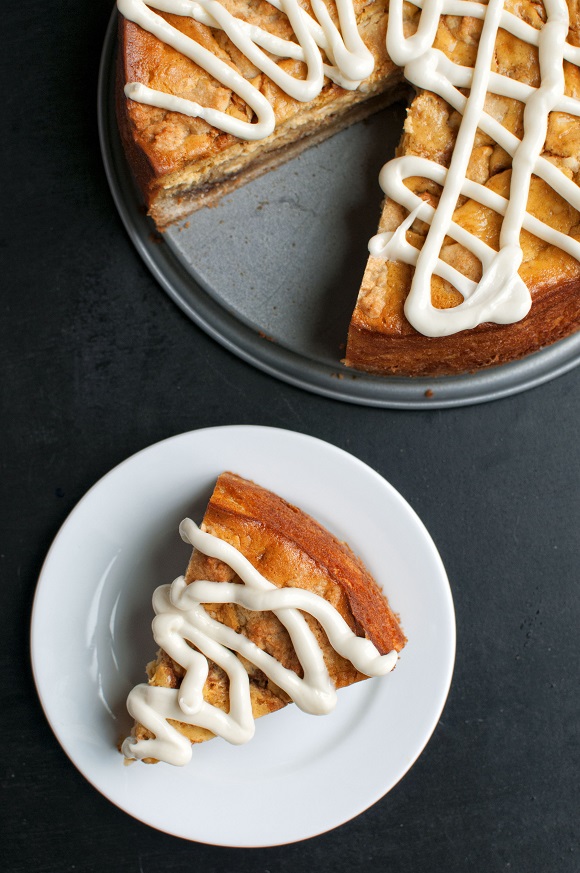 Now obviously those were all in fun.
I really just want readers who like to eat.
You don't even need to cook/bake.
I welcome you to just come and look at the pictures because a lot of you do.
I'm looking for readers who like to bake/cook.
Readers who like their friends or family to bake/cook for them so they send them links from my site.
How about readers who want to change their attitude about how they see their body.
Or readers who are hockey lovers (yes, even you dreaded Red Wing fans).
Readers who shelves are bowing because of too many cookbooks on them.
Heck, readers who are breathing…all are welcome.
Perhaps this is why I'm not a master mind at business…I'm not good at honing in my demographic.
Honestly whatever reason you are reading my blog I sincerely thank you.
Fall officially has begun and so of course out comes the pumpkin.
Since fall is my favorite season I had to welcome it with the kind of recipe that make you moan in delight when you put it in your mouth.
And of course something pumpkin.
This is a take on one of my all-time favorite recipes on this site.
Words cannot express how much you need to make this recipe.
If you are not a pumpkin fan I encourage you to at least make the original Cinnamon Roll Cheesecake.
But if you are a pumpkin fan, RUN, don't walk to the kitchen to get going on this.
The hubby says this is one of the most dangerous things I make because the bottom part is the cinnamon roll and therefore sturdy for you to carry around…and portable cheesecake is a dangerous thing.
This cake does not use yeast and you may think gee that's a really thin bottom batter layer…I assure you it will all work out.
I used some maple syrup in my cream cheese frosting but if that's not your thing you can make just regular cream cheese frosting.
Go make this, you might have to go up a pants size, but it will be totally worth it.
P.S. It's a great day to buy my cookbook Holy Sweet!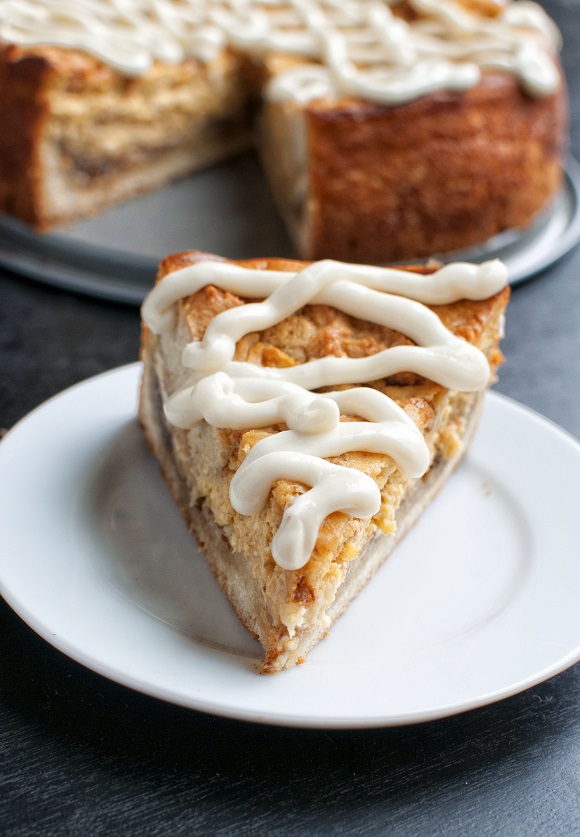 Want More Pumpkin Recipes?
Pumpkin Creme Brûlée Tartlets with Chocolate Ginger Crust
White Chocolate-Pumpkin Topped Blondies
Pumpkin Pecan Pie Gingerbread Bars
Brown Butter Pumpkin Pie Layer Cake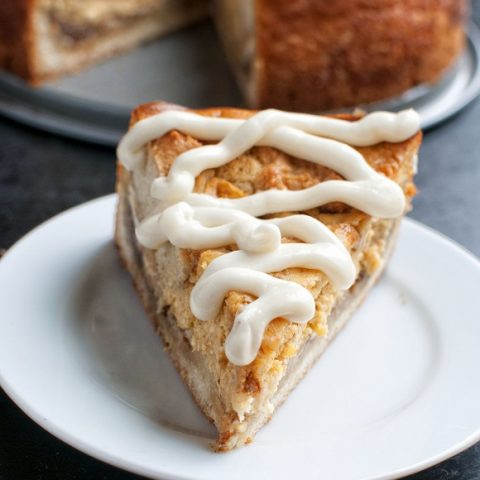 Pumpkin Cinnamon Roll Cheesecake
Ingredients
Cinnamon Roll Batter:
2/3 cup granulated sugar
¼ cup unsalted butter, at room temperature
1 egg
½ cup whole milk
2 tsp. vanilla extract
2 cups all-purpose flour
2 tsp. baking powder
1/2 tsp. salt
Pumpkin Cheesecake filling:
12 oz. (1 ½ packages) cream cheese, at room temperature
½ cup canned pumpkin
1 cup granulated sugar
1 tsp. vanilla extract
2 tsp. pumpkin pie spice
2 TBSP flour
2 whole eggs
1 egg yolk
Cinnamon Filling:
1/3 cup butter, melted
1 cup brown sugar
3 TBSP cinnamon
Maple Cream Cheese Frosting:
4 ounces cream cheese, at room temperature
1 cup powdered sugar
3 TBSP maple syrup
milk (if needed to thin frosting)
Instructions
Preheat oven to 350 degrees F.
Grease a 9-inch Springform pan.
Cinnamon Roll Batter:Using a stand mixer with a paddle attachment (or hand mixer) cream together the butter and sugar for 3 minutes, until light and fluffy.
Add egg, milk, and vanilla.
Beat for another minute.
Scrape down bowl.Sift together flour, baking powder, and salt.
Combine the sifted and creamed ingredients together.
Mix on low speed until thoroughly combined.
Spread half of the batter onto the bottom of the Springform pan.
It will be sticky and thick so spray your hands with baking spray and press down.
It will be a thin layer, but trust me it will rise up during baking.
For the Pumpkin Cheesecake Filling:
Using a stand mixer (and a clean bowl) fitted with paddle attachment, beat cream cheese and sugar for 2 minutes on medium-high speed.
Add the pumpkin and beat for another minute until fully combined.Add the eggs (and yolk) one at a time, scraping down the bowl after each addition.Add the vanilla, spices, and flour and beat for another minute.
Pour all of the cheesecake batter on top of the cinnamon roll batter that is in the prepared pan.
Cinnamon Filling:In a small bowl, combine the melted butter, cinnamon, and brown sugar.
Mix until thoroughly combined.Drop spoonfuls of the cinnamon filling over the entire top of the cheesecake.
Take the rest of the base batter and drop spoonfuls over the entire top of cheesecake.
Once finished, take a knife to swirl the ingredients together. This is hard to do as the batter is pretty thick, just do what you can. 🙂
Bake for about 50-55 minutes, cake will be puffy and lightly browned.
Let chill for 20 minutes at room temperature and then cover and move to fridge for 4 hours.
Remove cake and let it warm up to room temperature just a bit.
Frost with Maple Cream Cheese Frosting.
Maple Cream Cheese Frosting:
Using a stand mixer (and a clean bowl) with paddle attachment, beat the cream cheese to soften for about 2 minutes.
Add remaining ingredients and beat until desired consistency is reached. If too thick, thin out with milk.