These Salted Caramel Crunch Blondies are buttery blondies, layered with salted caramel sprinkled with crunchy salted caramel Krispie topping.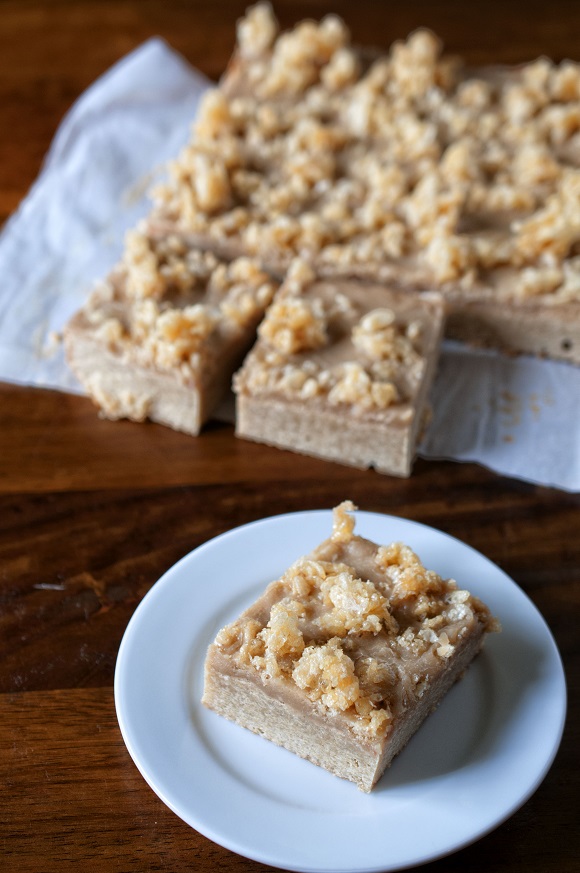 First off you need to make these Blondies because My husband isn't even a sweets fan and was ALL about these.
He must have said 10 times "Dang these are good".
Because dang…these are good.
They definitely take a few steps to make since they have three components but totally worth it.
Since I actually talked food first here's a few Dear Fill in the Blank Letters….
Dear Mailman,
I have now lived here for 3 months.
I have left you sticky notes, a letter, and a large sign taped to the back of the mailbox where you put mail in listing all the people who DO live here and all the people who DO NOT live here.
And yet you still continue to give me the mail of those who DO NOT live here.
So I am forced to carry a pen with me every time I hike (it's quite a bit of a walk) to the mailbox and write Does Not Live Here across their mail and then stuff it in the outgoing box.
And then half the time with my handwritten Does Not Live Here written across the address you put it back in my mailbox.
WTF??
I admit I don't know how hard it is to deliver the mail but I'm guessing you at least have to look down and look at the address to know what box it goes in to.
Could be wrong but I'm pretty sure that's how it works. So why must you mess with me?
Clearly you have no idea that my old mailman used to get snacks from me and you would too if you didn't annoy me daily!!!
Sincerely,
Not Linda, Not Michael, Not Susan
Dear Husband,
You have upset all of the men we know that follow me on Facebook.
Not only did you clean all the toilets, do all the laundry, and vacuum this weekend (not unusual FYI) but you decided while vacuuming to draw a heart using the vacuum as a little love note to me.
I loved it but apparently they do not as I know they fear their wives will expect the same.
P.S. Yes people think we are obnoxiously cute because we are.
Love,
Your Happy Wife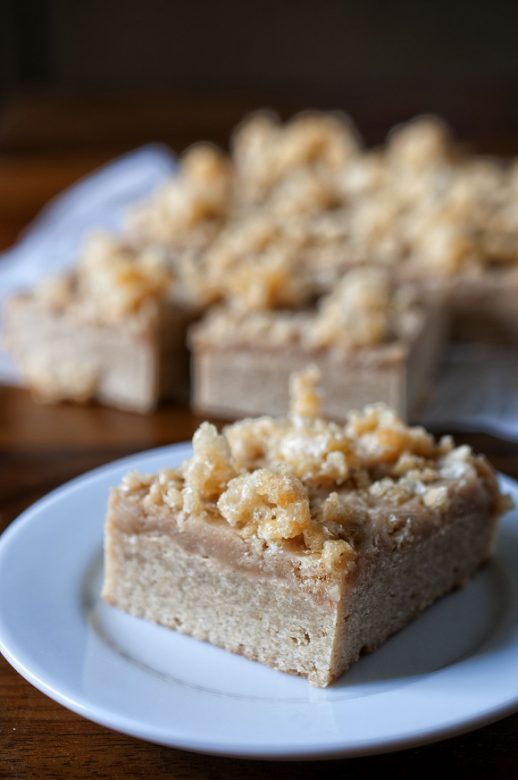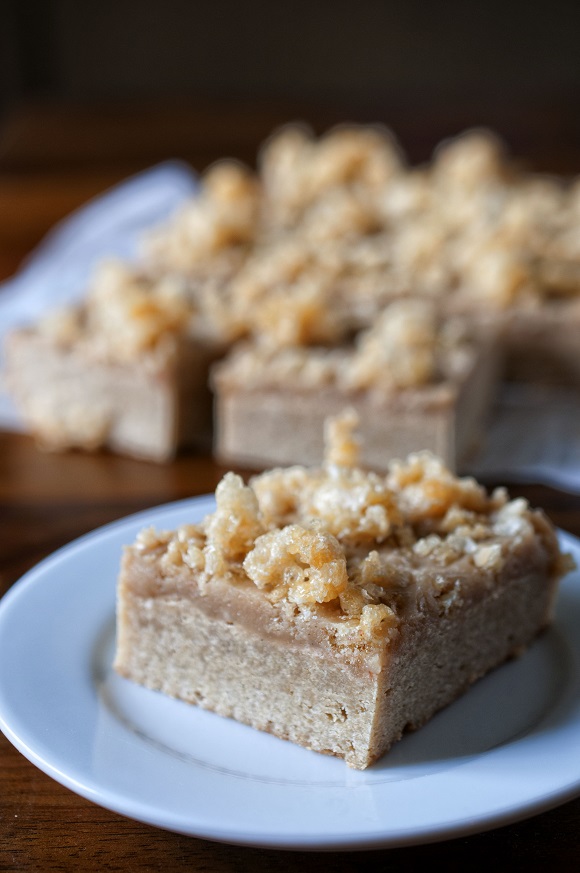 Dear Person Who Hacked the Internet to get Nude Celebrity Photos,
Really, you only found nude women?
Not one Channing Tatum, Zac Efron or Ryan Gosling photo?
But in all seriousness…don't mess with people's private stuff.
You are messed up.
You suck…sincerely,
Me
Dear Crazy Cocker Spaniel,
You are now mostly healthy….please stay that way.
My wallet and heart can't take any more.
Love,
Mom
Dear Fall,
I am SO excited you are on your way!!!
I can't wait to wear my hoodies, snuggle extra, drink hot chocolate on a regular basis, sit under blankets watching TV with tea in one hand and a dog laying on my feet, watching hockey, having crisp morning air, and of course all the amazing baking that comes with!
Love,
Lover of all things fall Peabody
P.S. It's a great day to buy my cookbook Holy Sweet!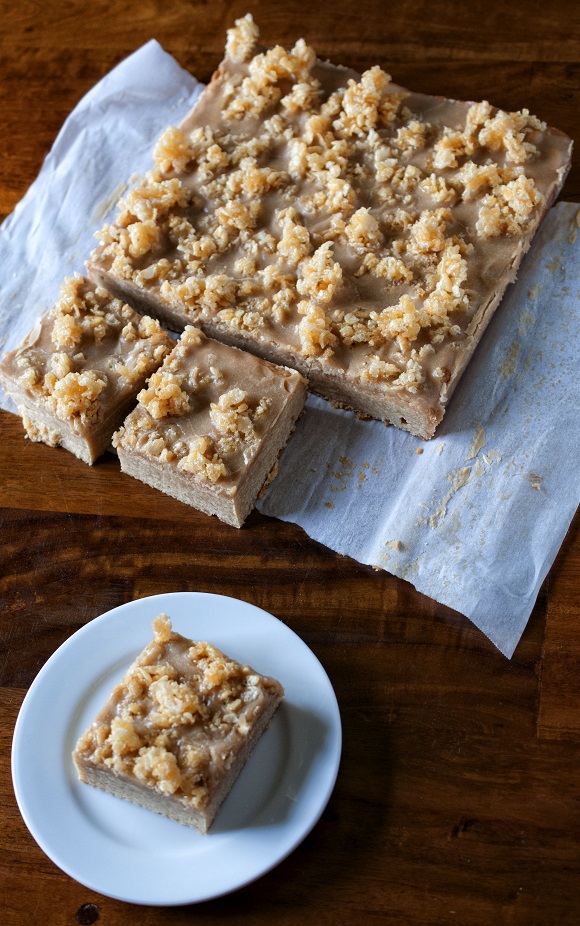 Want More Bar Recipes?
Birthday Cake Batter Cereal Blondies
Chocolate Chunk Churro Cookie Bars
Dried Cherry-Chocolate-Cashew Blondies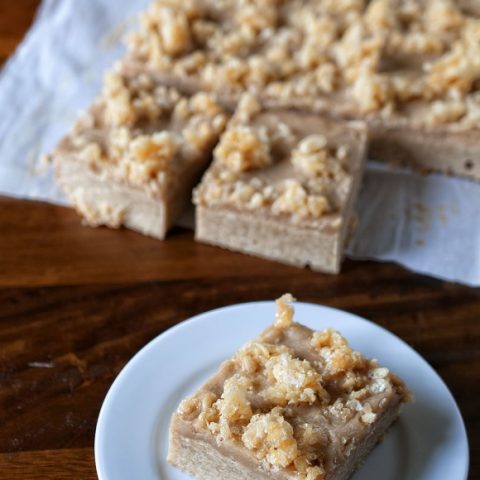 Salted Caramel Crunch Blondies
Ingredients
For the Salted Caramel Krispie Topping:
1 ½ cups Rice Krispie Cereal
½ cup granulated sugar
1 TBSP water
1 tsp. Lyle's Golden Syrup (or corn syrup)
½ TBSP fleur de sel
For the Blondie Batter:
12 oz. unsalted butter (I used Plugra), at room temperature
1 cup granulated sugar
1 ¾ cups brown sugar, packed
3 large eggs
2 tsp. vanilla extract (I used Rodelle)
3 ½ cups all-purpose flour
1 tsp. salt
1 ¾ tsp. baking powder
For the Caramel Glaze:
3 oz. salted butter (I used Plugra)
¾ cup heavy whipping cream (try and find 40%)
1 cup brown sugar, packed
1/4 tsp. salt
1 tsp. vanilla extract (I used Rodelle)
1 cup powdered sugar
Instructions
Make the Salted Krispie Topping first.
Place parchment paper on a baking sheet.
Measure the cereal out so you don't do what I do which was frantically do it when the caramel had formed.
Using a small saucepan (I recommend an older one that doesn't conduct heat well…you make less mistakes that way) add the sugar, water, and Lyle's Golden Syrup, stir until combined.
Bring to a boil over medium-high heat.
Once mixture comes to a boil, lower heat to medium and boil until a medium-amber color forms, about 5 minutes. If you aren't comfortable with making caramel this is why an older pan that doesn't conduct heat as good helps…when you have a good pan/pot you can often go from amber to burnt in no time. But one that doesn't conduct heat as well helps with it not going to burnt. It also means it may take longer to turn to the amber color but better safe than sorry.
Remove from heat and add the cereal, making sure to coat all the cereal with the caramel.
Pour out the caramelized cereal onto the parchment paper on the pan. Spread it out as best you can.
Sprinkle evenly with the fleur de sel and let cool to room temperature. Set aside you won't need it for a while.
For the blondie batter:
Preheat oven to 350F. Spray a 9×13-inch baking pan with baking spray. Place aluminum foil or parchment paper into the pan and have it form an overhang to make removal of the blondies easier. Spray baking spray on the foil or parchment.
Using a stand mixer with the paddle attachment, beat together the butter and sugars, until light and fluffy, about 3 minutes.
Add the eggs one at a time and scrape down the bowl and sides after each addition.
Add the vanilla and beat another 30 seconds.
Add the flour, baking powder, and salt and mix on low speed and mix until fully combined.
Scrape the batter into the prepared pan and spread evenly (as best you can).
Bake for 20 minutes at 350F. Then lower the oven to 325F and bake for another 16 mintues (mine took another 3 after that) or until a toothpick or knife inserted comes out clean.
Cool on a wire rack for at least 15 minutes.
Make the Glaze:
Cut butter into 8 slices.
Place the butter slices, cream, and brown sugar into a small saucepan.
Cook over medium heat, stirring occasionally, until the butter has melted.
Once melted turn up heat to medium-high and bring to a full boil, boil for two minutes without stirring.
Remove from pan and add vanilla and salt.
Let sit at room temperature for 30 minutes.
Add sifted powdered sugar (I was lazy and didn't sift) and whisk until it forms a smooth glaze and you don't see any stray powdered sugar.
Pour glaze over the blondies, use a spatula to distribute the glaze evenly.
Chop up the caramelized cereal with a knife into ¼-inch pieces.
Immediately sprinkle them over the glaze (push down a little) so that when the glaze cools they will stay put.
Cool for 30 minutes.
And now the hard part…put in the fridge for at 7-8 hours or overnight. Told you that was hard because you really want to eat them.
Remove from fridge. Run a knife around the edges so that removal will be easier.
Since it's refrigerated pretty good you can just tilt it on it's side…if they don't come out tug a little on the foil or parchment to get it to come out.
Cut with knife and serve.
Mine made 12 big ones but you can cut smaller and get 24.
This post contains Amazon Affiliate links which means if you buy through the link this blog gets credit and that equals money to keep this blog up and running.