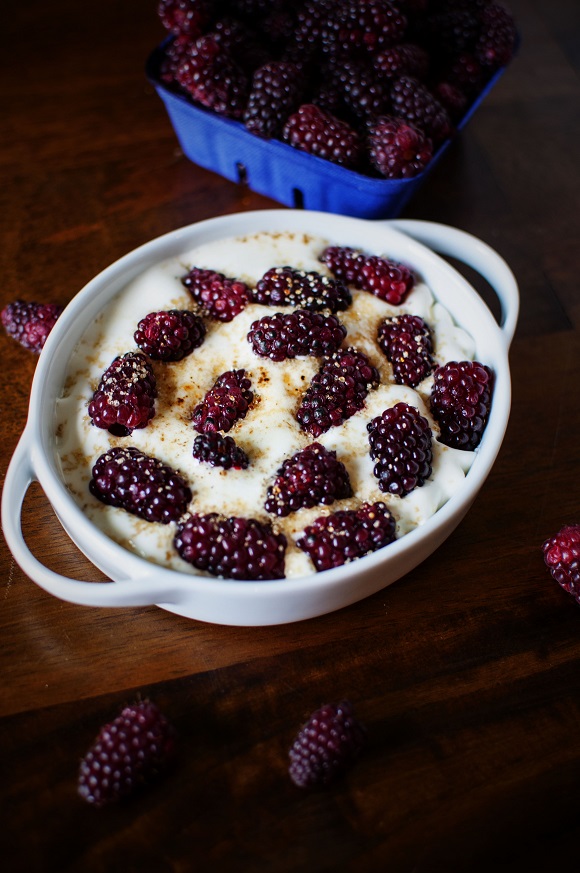 I once heard at a blog conference that the average blog reader reads your blog for about a year and a half and moves on (so if you have read my blog longer than that…thanks for sticking with me). I'm into year 9 on my blog so it got me thinking about how a lot of my more favorite stories/writing pieces are in the beginning of this blog. And most of those people who read it back then are no longer around if the stats are true. So if you are a long time reader you might be seeing some of the older blog post popping up…update a little and with a new recipe.
In 7th grade I took Home Economics (they call it Life Skills now or something like that). The old school way was half a year was sewing (to this day I still cannot sew on a button) and the other half was cooking. We had to fly solo in sewing class (which was taught by the math teacher who no doubt regretted raising her hand in a staff meeting when the principal asked who here knows how to sew…again, perhaps why I can't even sew on a button). But in cooking class we had a partner. Little did I know that my partner D and I would be partners in classes all the way through our undergraduate degrees. Oddly enough only two of those times did we selected each other, the other 9 times were random. Yes, I had the same lab partner 11 times.
D was not someone I would have chosen. D took Home EC to try and pick up girls, and well, I was so not someone he wanted to scam on. So we didn't start off on the best foot. We sooo did not get along in Home EC. I was the nerd that was very concerned about her grades. He never paid attention and I ended up doing all the cooking. Luckily by the time we got to high school, that all changed. We learned to draw on each other's strengths to get each other through the class. In AP Biology, he did all the dissecting because that was too icky for me. In AP Chemistry class I did all the calculations and so on because I was way better at that than him but I made him poor all the harmful chemicals :P. We didn't hang out together, we ran in very different crowds, but he did become someone I ended up depending on time and time again. He was even nice enough to get suspended for 3 days for telling our AP Physics teacher to go F*c& himself for saying that girls were too stupid to take physics (on our first day of class….and by the way I carried the highest grade the whole year and scored a perfect score on my AP exam).
Anyway, back to our Home EC days. Like I had said, D was of little help….he would stir stuff and what not to look busy but that was about it. One day we were making pumpkin pie. I had to use the rest room and I told him to go gather our ingredients. For some stupid reason all of our ingredients were put into bowls. And right next to each other was the salt and the sugar. I'm sure you know where this story is going. D had grabbed us a cup and a half of salt. This of course did not become apparent till it started to bake, and curdle like crazy. Unfortunately for us, the main rule in class was, whatever you bake/cook (allergies excluded) you had to take a bite of. So that was the day I threw up in class, which then caused three other people to vomit seeing me vomit. Good times, good times.
This recipe doesn't have any salt so you are probably going to not be able to make the same mistake as my Home EC partner did so many years ago. 🙂 But if you are hot and not wanting to turn the oven on this is for you. It's also a great recipe for showcasing fruit. When I was a Weight Watcher leader I used to use Greek yogurt instead of whipping cream. Clearly I prefer the heavy cream but know that is an option. You can use just about any berry or stone fruit, but we are in Tayberry (cross of a raspberry and blackberry) season right now so there was no question for me what fruit to use. If you don't have a culinary torch (fix tha… Culinary Torch – Ever Chef Professional Creme Brulee Kitchen Cooking Torch – The best and most reliable butane torch on the market. No Risk Money Back Guarantee
) you can use your broiler…but then you are using the oven and it doesn't come out quite the same.
*this post has an Amazon affiliate link which the sale provides a small percentage to me to help keep the blog running.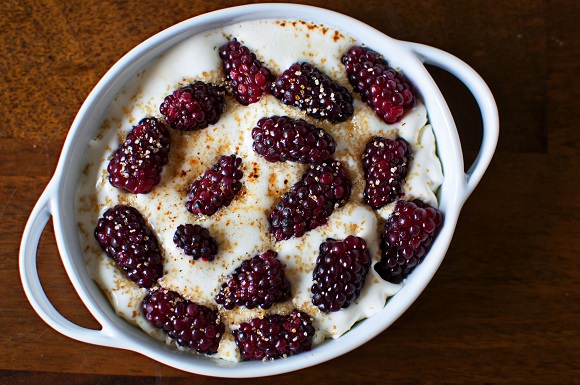 Ingredients
1¼ cups heavy cream
¾ cup superfine sugar
7 cups (about 2 lbs.) tayberries or any berry or stone fruit of your chosing (discard any "bruisers")
⅓ cup light brown sugar
Instructions
Using a stand mixer with whisk attachment, beat cream until stiff peaks form.
Add half of the superfine sugar and beat to stiff peaks again.
Gently fold in the remaining superfine sugar until well combined.
Add the tayberries to the whipped cream and fold gently to coat.
Carefully transfer raspberries to a wide serving dish and liberally strew the top with brown sugar.
Using a kitchen torch, evenly caramelize the sugar until it gets bubbly and darkened in some spots. Use broiler if you do not have a kitchen torch.
Refrigerate brûlée for about 15 minutes to let the sugar harden.
Scoop servings into bowls, making sure that each scoop includes some of the crunchy sugar topping. Serve immediately.
Adapted from Saveur magazine
https://www.sweetrecipeas.com/2014/07/14/tayberry-brulee/