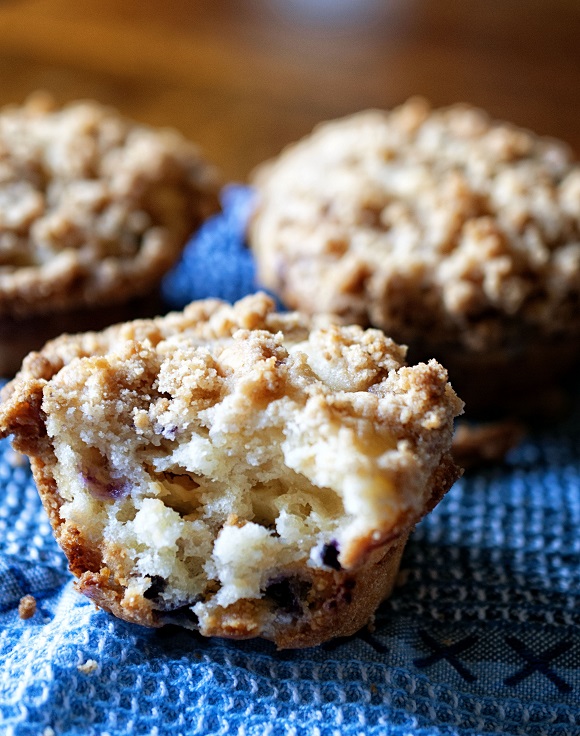 Did you know today is National Blueberry Muffin Day? Don't worry I didn't either until a couple of weeks ago. I'm just excited for once that I knew ahead of time (I was deeply saddened I missed sugar cookie day) I tend to always find out the NEXT day. Now when I think muffin I think of my Snickerdoodle Muffin, but before I concocted that muffin years ago if someone said the word muffin to me I immediately thought Blueberry.
Krusteaz contacted me and asked if I wanted to give away a box of their Wild Blueberry Muffin mix along with some coupons for their products to one of my readers in honor of National Blueberry Muffin Day. I love and use their cornbread mix all the time but had never tried the blueberry so I thought sure what the heck. And even better you get a chance to try as well.
I was told to do whatever I wanted with the mix (no compensation was given to me except muffin mix and some coupons). I decided to stay with muffin but of course put a little spin on it. I replaced some of the water in the mix with fresh lemon juice. I added some white chocolate chips. I added streusel topping to it because I have a thing for streusel topping. I must say it all came together beautifully. I really love lemon and white chocolate with blueberry. Have no idea why but I do. And if you make these I have a feeling you will to. The bonus is when you eat one you in no way will think gee these came from a box!
So if you would like to have Krusteaz send you a box of your own as well as some coupons just leave a comment telling me what your favorite muffin is? You must live in the USA. You only get one entry. Winner is picked randomly using a number generator. You have until Tuesday, July 15th 2014, 5pm (PST) to leave a comment that counts as an entry.
To learn more about Krusteaz visit their Facebook page.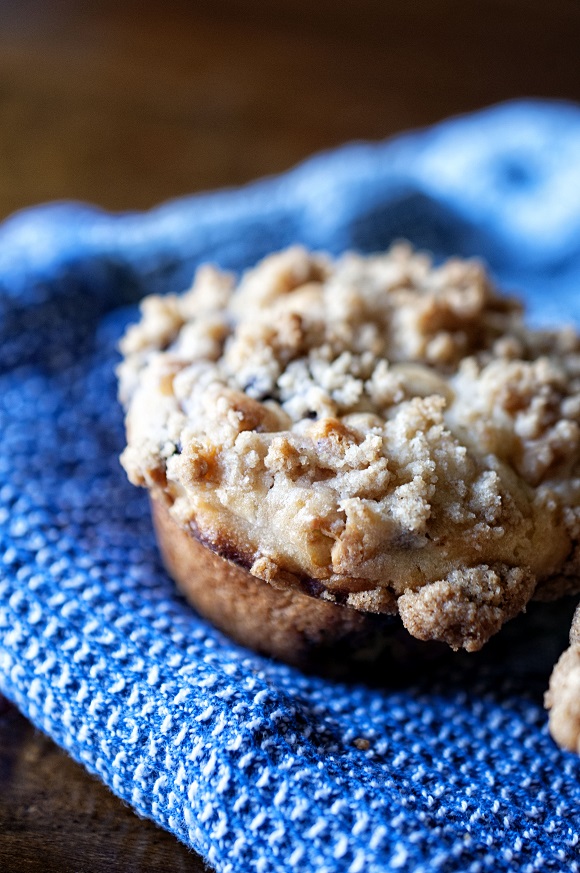 Lemon-White Chocolate Blueberry Streusel Muffin
Ingredients
For the muffin base:
1 box Krusteaz Wild Blueberry muffin mix
3 eggs
¼ cup fresh lemon juice
¼ cup water
1/3 cup vegetable oil
¾ cup white chocolate chips
For the topping:
½ cup all-purpose flour
¼ cup brown sugar, packed
½ stick unsalted butter
Instructions
For the topping:
Combine all the ingredients in a food processor and pulse until crumbly.
If no food processor you can mash the ingredients together in a bowl using a fork, pastry cutter, or just mash everything together with your fingers.
Set aside until needed for muffin.
For the muffins:
Preheat oven to 400°F.
Lightly grease pan or line muffin pan with paper baking cups.
Drain and rinse blueberries in cold water; set aside.
Stir together lemon juice, water, oil, eggs and muffin mix until moistened.
Gently fold drained blueberries and white chocolate chips into batter.
Fill muffin cups 2/3 full.
Evenly distribute streusel topping on top of the muffins (you should get 12).
Bake for 17-19 minutes or until light golden brown around edges.
Cool 5 minutes; gently loosen and remove from pan.
https://www.sweetrecipeas.com/2014/07/11/lemon-white-chocolate-blueberry-streusel-muffin/