This Drunken Orange-Cranberry Fruitcake will turn the non-fruitcake lover into a fruitcake lover. Studded with tons of fruit and soaked in lots of booze.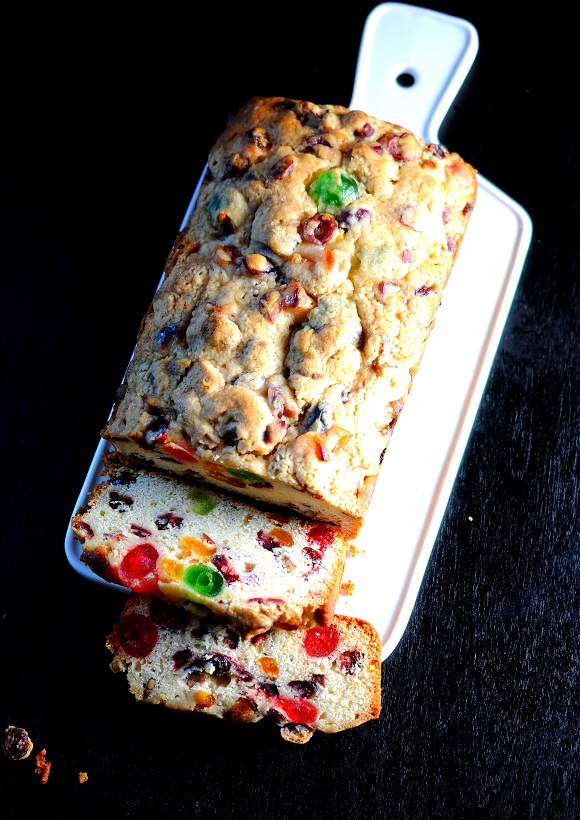 This year's holiday was pretty low key.
I literally decided on Christmas Eve day what we would be having for dinner the next day…and that was just because ham was on sale. 🙂
In ironic news this was my first ham ever.
I made one before in a crock pot but other than that my mother has always done the holiday meat.
It turned out awesome though and MDP turned the leftovers into ham and cheese omelet and then we are taking the ham bone and making soup.
My two main gifts this year were an electric carving knife or as I like to call it meat chainsaw and a new yoga mat.
My old yoga mat was a cheapo from Target and well to be honest was starting to smell like my hockey gear…which is rather impressive.
Except hockey people are used to that smell…yoga chicks…not so much.
I also got one with better padding for my old people knees. 😀
Now I know you are looking at this and thinking its fruitcake.
Yes, it is. And most people seem to either love or hate fruitcake.
I was neither.
I was once given a Jack Daniel's Tipsy Cake and loved that but other than that I'll be honest in saying I had never had it.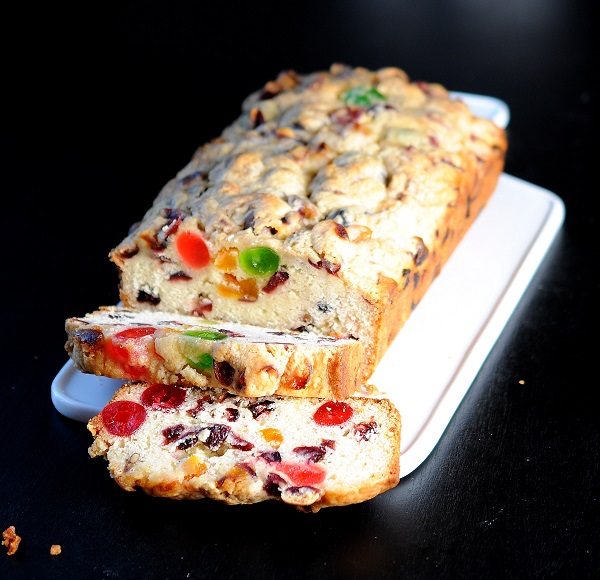 Because people freak you out about it.
The glowing "fruits" (for the record it is real fruit that they just candied).
The very weight of it.
And well the taste.
So I set off to find a recipe that I thought could work.
And work it did.
So why am I waiting until now to give you the recipe for this Drunken Orange-Cranberry Fruitcake?
Well, number as all things I get these ideas WAY too late and second was I had to let them sit.
The recipe makes two loaf cakes.
One I basted for 7 days and then we ate it.
And it was good.
Like really good.
The second one is my experiment cake.
I'm going to soak it for a year.
Yes a year.
Now you don't baste it every day but you do every week.
So the second one might kill me next year…guess I will find out.
And as always it's a great day to order my cookbook.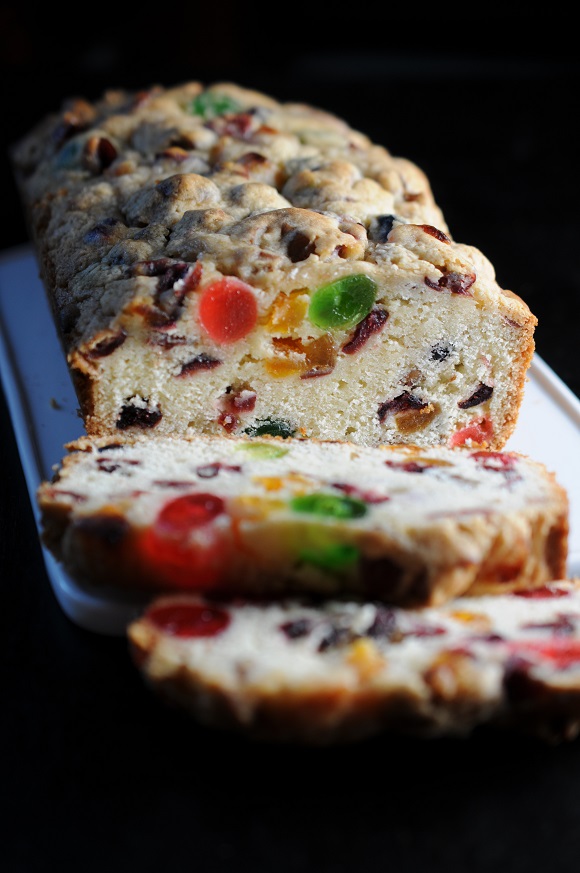 Want more Fruitcake Recipes?
Bourbon Soaked Eggnog Fruitcake Pound Cake
Orange Glazed Bourbon Soaked Fruitcake Cupcakes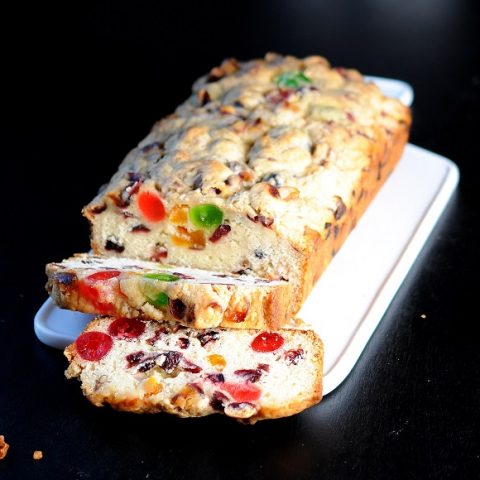 Drunken Orange Cranberry Fruitcake
Ingredients
For the Fruit:
2 cups dried cranberries or orange-flavored dried cranberries
2 cups dried apricots, chopped
1/2 cup whiskey (or water, or juice)
1 3/4 cups candied red and green cherries
For the Cake:
1 cup unsalted butter
Zest of one orange
2 cups granulated sugar
2 tsp. baking powder
1 tsp. salt
4 large eggs
3 3/4 cups All-Purpose Flour
1 cup fresh squeezed orange juice
Instructions
For the fruit: Combine the dried fruit (except the candied cherries) with whiskey in a bowl.
Cover and microwave for 1 to 2 minutes, stir, then set aside to cool. I let my fruit macerate (yep that's a word) for 24 hours for the booze to really set in.
To prepare the cake:
Preheat the oven to 325°F.
Lightly grease two 8 1/2" x 4 1/2" loaf pans with baking spray.
In a small bowl rub the zest into the sugar. Then sift the zest out of the sugar best you can.
In a stand mixer with the paddle attachment mix together the butter, zested sugar, baking powder, and salt.
Beat in the eggs one at time.
Pour in the flour alternately with the orange juice.
Add the undrained fruit and the candied cherries
Scoop (I like to use an ice cream scoop to divide evenly) the batter into the lightly greased baking pans, filling them about three-quarters full.
Bake the cakes for 60 to 75 minutes; smaller pans will bake for the shorter length of time.
When done, the cakes will be a light golden brown all over, and a cake tester inserted into the center will come out clean.
Remove the cakes from the oven. If you're removing them from the pan(s), wait about 10 minutes, then turn them out onto a rack.
Brush the warm cake(s) with brandy or the liquor of your choice…I used whiskey.
When completely cooled, wrap well and let rest at least 24 hours (or for up to a month, brushing with liquor or flavored syrup weekly), before serving.