Fruitcake Layer Cake is bourbon cake studded with candied fruit, brushed with more bourbon, and slathered in vanilla bean Swiss Meringue Buttercream.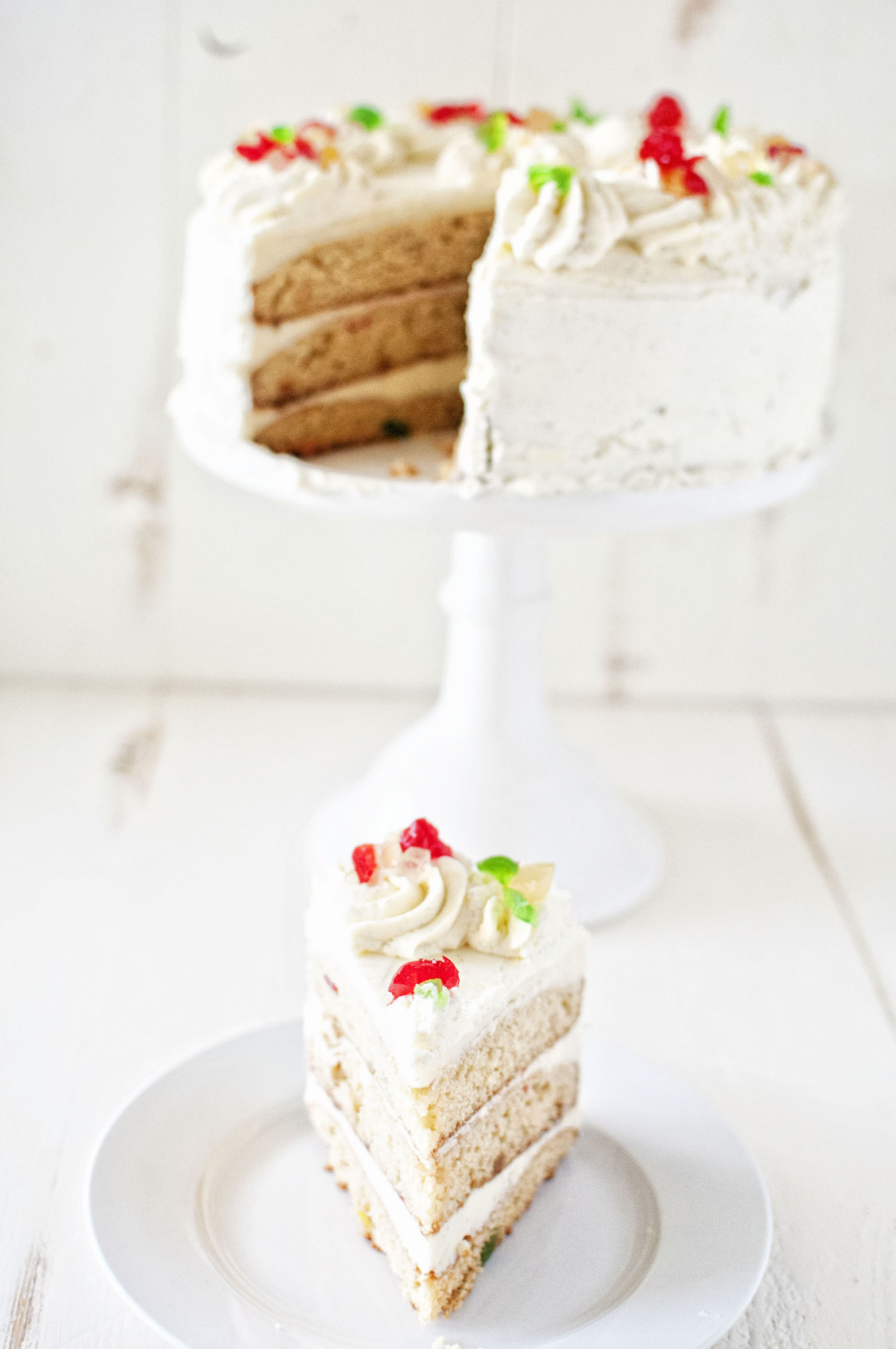 I think fruitcake gets a bad rap that it doesn't deserve.
I avoided it for years just because of how much it was made fun of.
First of all, yes, it is heavy.
Most fruitcake is dense and studded with candied fruit and nuts.
Which weighs it down.
Then you soak it in booze and it gets even heavier.
But all of that is good stuff.
Some people fear the neon green candied cherries.
Be brave. 🙂
My first toe dip in to fruitcake was a Tipsy Cake which is made by Jack Daniels.
Tasty and lethal…you can get tipsy from it…if you ate the whole cake.
Which for the record, I can.
In one sitting. 😛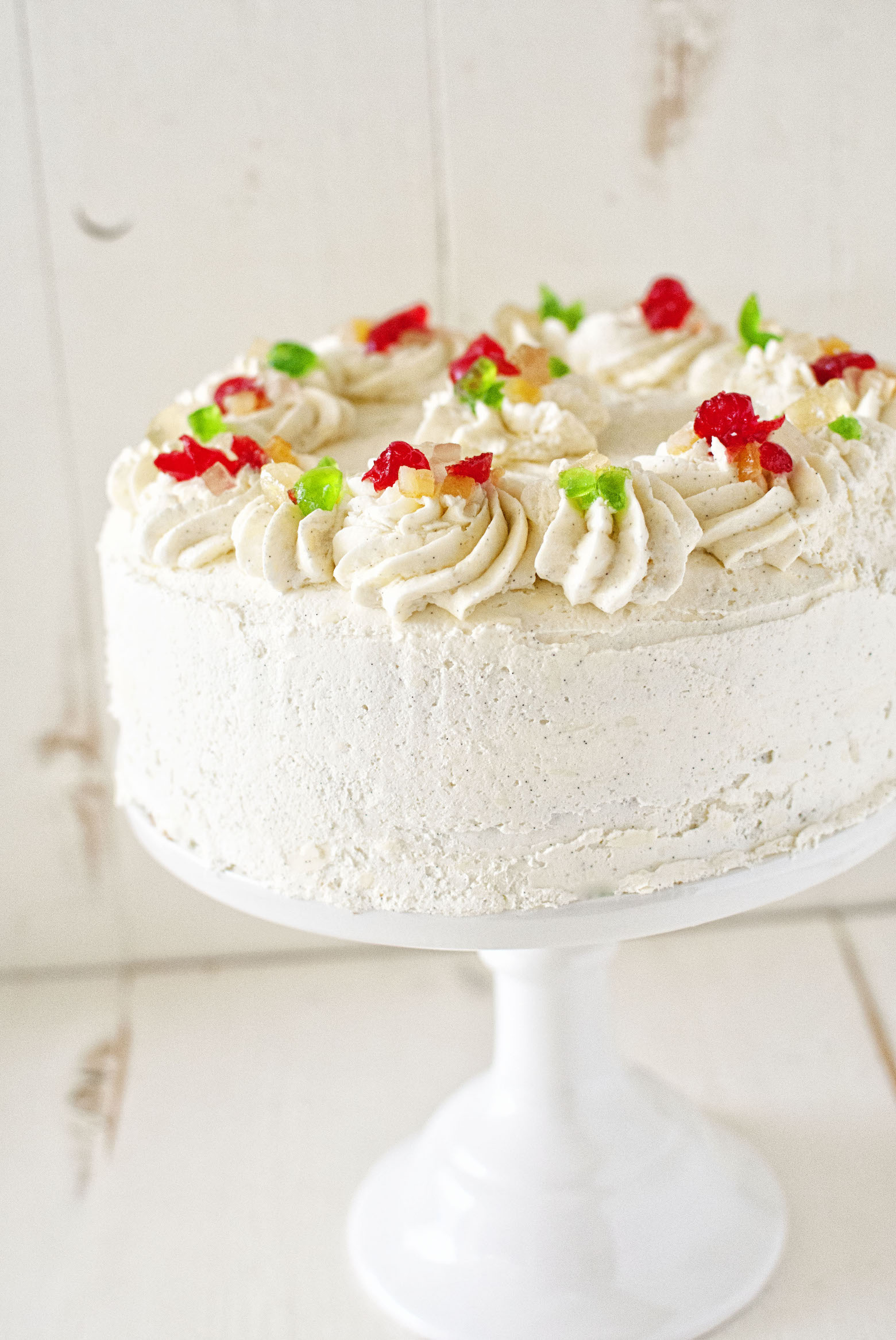 I'll admit that store bought or the kind shipped from catalogs aren't all that great.
But a good homemade one can be great.
I wanted to have some of the flavors of fruitcake but in a lighter version.
Enter this Fruitcake Layer Cake.
A layer of bourbon cake with fruitcake pieces in it.
Brushed with bourbon while still warm.
Then generous amounts of vanilla bean Swiss buttercream.
You can add nuts to this cake as most fruitcakes have nuts I just wasn't in the mood for them when I made this cake.
If you don't want to buy all the candied fruit separate they do make just fruitcake mixed fruit that can work just as well. 
 This is a pretty cake and fantastic for having at holiday parties.
And as always it's a great day to order my cookbook.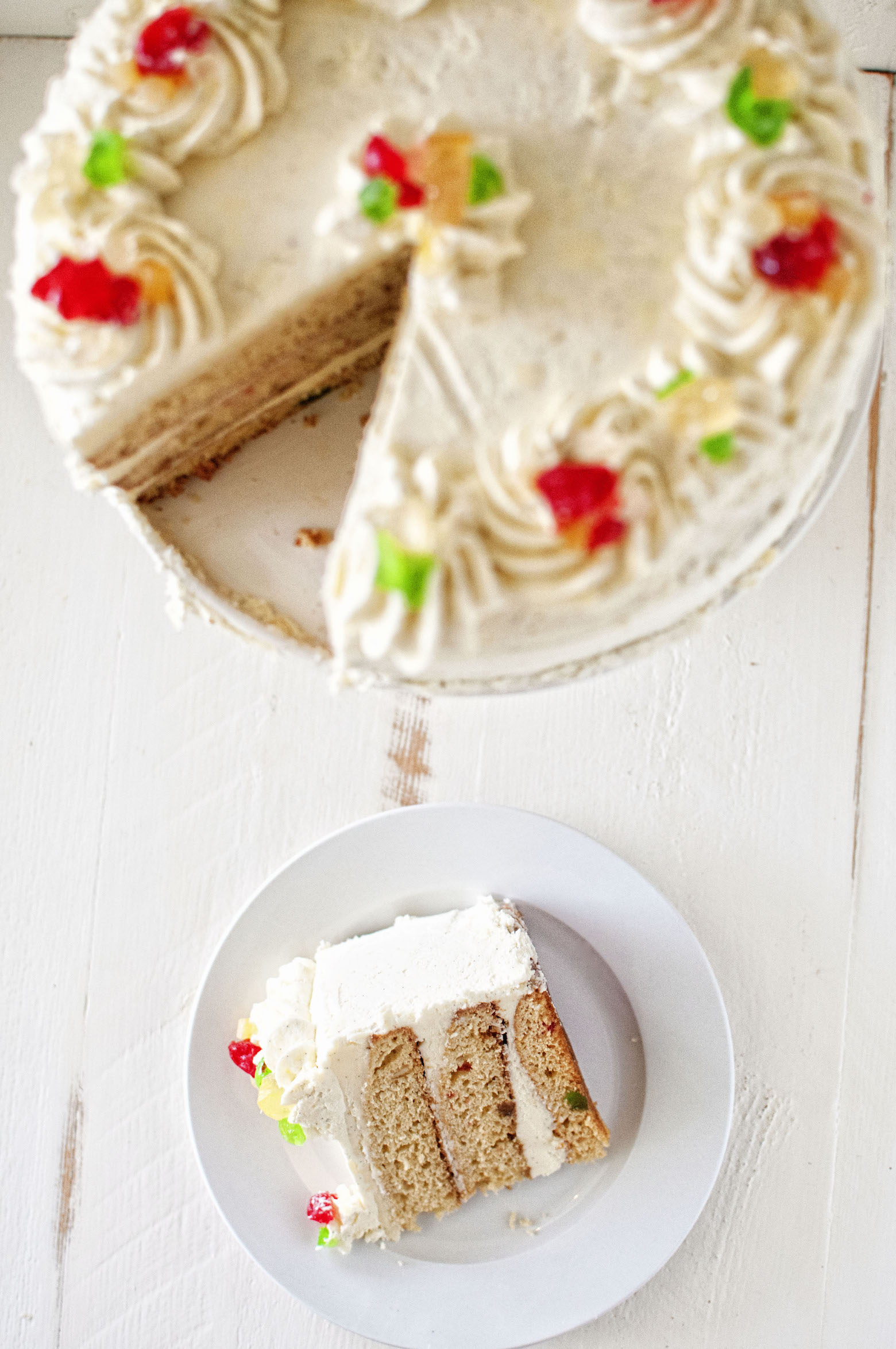 Want More Fruitcake Recipes?
Bourbon Soaked Eggnog Fruitcake Pound Cake
Drunken Orange Cranberry Fruitcake
Orange Glazed Bourbon Soaked Fruitcake Cupcakes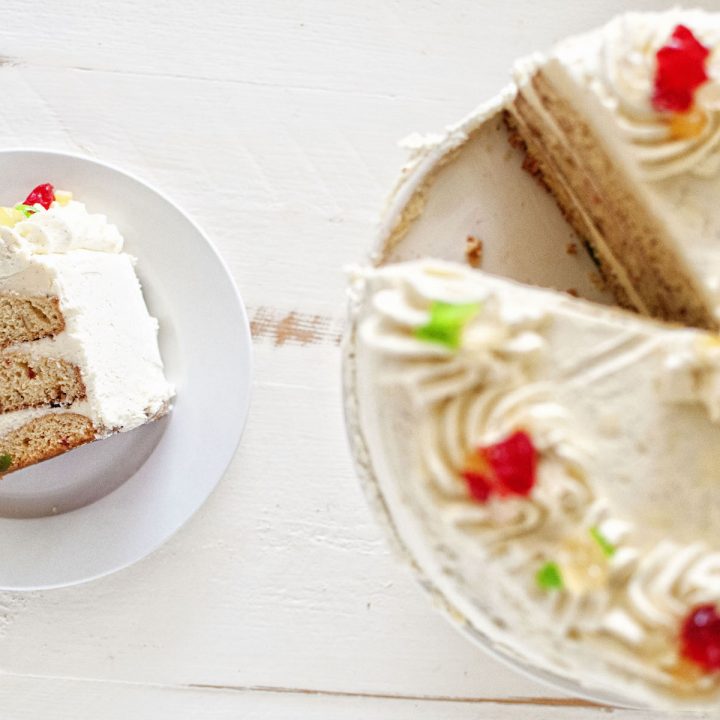 Fruitcake Layer Cake
Ingredients
Cake Batter:
3/4 cup unsalted butter, room temperature
3/4 cup granulated sugar
1/2 cup light or dark brown sugar, tightly packed
1 tsp. vanilla extract
2 large eggs
2 large egg yolks
2 1/4 cups cake flour
1 1/2 tsp. baking powder
3/4 tsp. baking soda
1/2 tsp. salt
1 cup buttermilk
1/4 cup plus
2 TBSP bourbon whiskey, divided
1/3 cup chopped candied red cherries
1/3 cup chopped candied green cherries
1/4 cup citron
1/4 cup candied pineapple
1/4 cup candied orange peel
Vanilla Bean Buttercream:
5 large egg whites
1 1/4 cup granulated sugar
2 cups unsalted butter, cubed and at room temperature
1 tsp. vanilla extract
2 vanilla beans, seeds removed, pods discarded
1/4 tsp. salt
Instructions
To make the cake:
Preheat oven to 350F.
Grease three 9-inch round cake pans and line the bottoms with parchment paper.
In the bowl of a stand mixer fitted with a paddle attachment, beat butter and sugars on high speed until pale and creamy, about 3-4 minutes.
Scrape down the bowl as needed.
Add the vanilla and then the eggs and yolks one at a time, mixing after each.
In a separate bowl, combine the cake flour, baking powder, baking soda, and salt.
Add to the mixer in 3 additions, alternating with the buttermilk, scraping down the bowl as needed.
Mix in the bourbon.
Fold in the candied fruit pieces. Mix until fully combined.
Divide the batter evenly between the prepared cake pans and bake until edges are golden, and the tops bounce back when gently pressed, 22-25 minutes.
Let cool in the pans for 15 minutes, then carefully transfer to a wire rack.
Brush each layer with 1 TBSP bourbon whiskey while still warm.
Let cool to room temperature.
Wrap in plastic and chill in the fridge until ready to assemble the cake.
For the frosting:
Place the egg whites and sugar in the metal bowl of a stand mixer and set over a small pot of simmering water (the bowl should not touch the water).
Heat, stirring occasionally, until mixture is 160F or hot to the touch.
Transfer bowl to stand mixer and beat on high speed with a whisk attachment to medium stiff peaks, about 8 minutes.
Reduce mixer speed to medium low and add butter a tablespoon at a time, letting it incorporate into the meringue for few moments before adding more.
Add vanilla extract, vanilla beans, and salt and beat on high for 1-2 minutes until smooth and creamy.
Set one cake layer on turntable cake stand.
Cover with 1/2 cup buttercream.
Top with another cake layer.
Repeat till cake is assembled.
Use an offset spatula to frost cake with buttercream.
If desired, first make a thin coat to seal in crumbs and chill for 30 minutes.
Cover completely with another layer of frosting.
Pipe some decorative swirls on top of cake and top with extra chopped candied fruit (optional).
Chill cake for 30 minutes.