These Caramel Apple Shortbread Bars have a shortbread cookie base topped with creamy caramel and loaded with fresh apples. A perfect fall treat.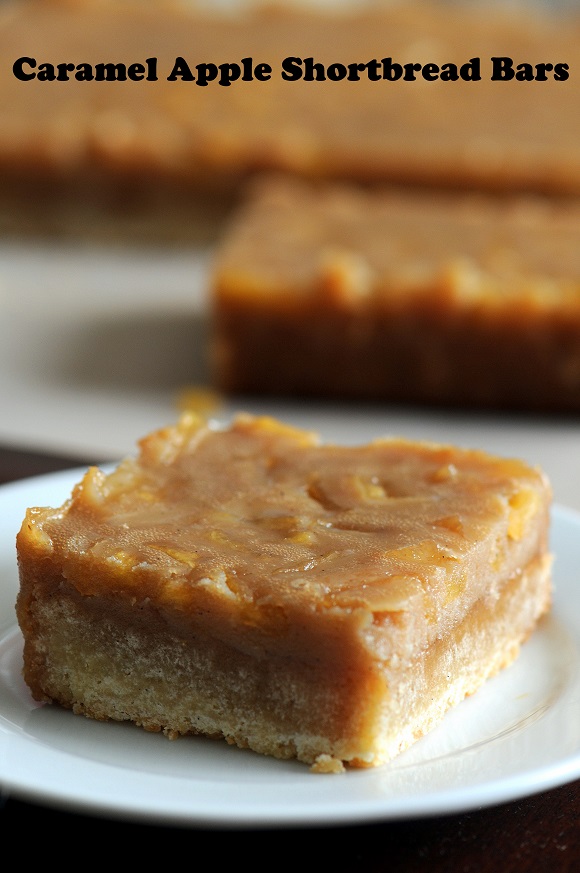 When I taught 6th grade I always used to show A Charlie Brown Thanksgiving (FYI- Happy Thanksgiving weekend to my fellow Canadians) and we would have a Charlie Brown Thanksgiving: popcorn, pretzel sticks, jelly beans, and butter toast.
To my surprise the thing that the kids could not stop eating was buttered toast.
I was in awe.
They kept asking me what do you do to your toast to make it taste this way?
Keep in mind this was your $.99 a loaf cheap white bread…slathered in butter.
Real butter.
Then I realized that the majority of those kids were raised on margarine.
Most of my generation even was as we were told how much better it was for us.
Of course now we know it's the other way around.
Those 6th graders knew best.
Butter is the best.
It's what makes your steak taste so awesome when you go out to eat compared to when you cook it at home.
Say what?
Yes your steakhouse steak is basted in butter kids, and that is what makes it oh so better.
Mashed potatoes would be nothing without it.
Shortbread and sugar cookies need butter.
I need butter.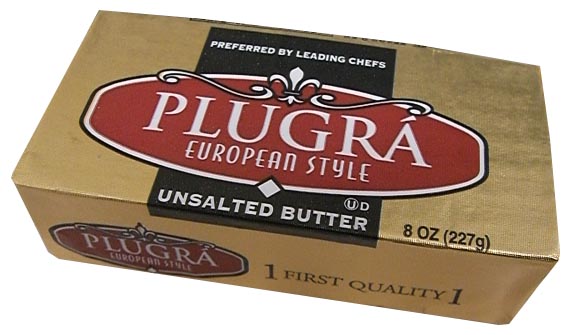 So when Plugra approached me last year and asked if I wanted some of their butter for holiday baking I was all over that.
Six pounds of butter (which sounds like a lot but I blew threw it in 2 weeks 😀 ).
Then this year they asked if I wanted to be part of the Plugra Butter Brigade and I was like umm, yeah, no brainer there.
So this is where if you are a baker you will now hate me.
First off, if you aren't hating on me, then you have never baked with Plugra butter.
Now I am compensated for making a recipe and posting about it but really, I'm doing that anyway…I am in it for the butter.
The butter I get each month…for a year. 😀
Yes, that's right butter for a year.
It's pretty much perfect for me.
So onto these Caramel Apple Shortbread Bars.
All things I love.
Shortbread full of butter.
Check.
Apples.
Check.
Caramel.
Check.
These were about as spectacular as they sound.
Boring to photograph as brown food never smiles for the camera but the taste is wonderful.
P.S. It's a great day to buy my cookbook Holy Sweet!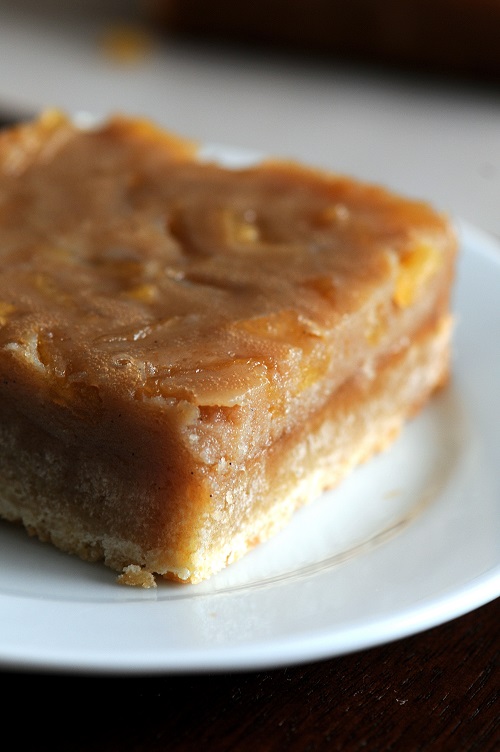 Want More Recipes? Try These:
Caramel Apple White Chocolate Fudge
Salted Caramel Apple Sweet Rolls
Caramel Apple Whiskey Crumble Pie
Apple Cinnamon Bun Cookie Cobbler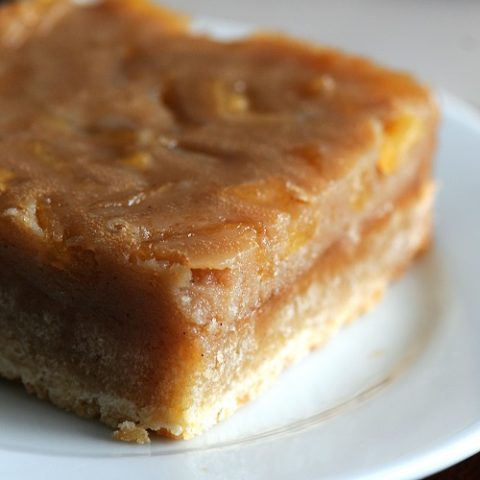 Caramel Apple Shortbread Bars
Ingredients
For the Shortbread:
10 TBSP unsalted butter, at room temperature (I used Plugra)
1/2 cup granulated sugar
1/2 tsp. salt
1 egg yolk
1 2/3 cups all-purpose flour
For the Apples:
1 TBSP unsalted butter
One (1) large apple, peeled, cored, and diced
1 1/2 TBSP brown sugar
For the Caramel Base:
1 cup unsalted butter (I used Plugra)
1 cup light brown sugar
¾ cup Lyle's Golden Syrup (or light corn syrup)
2 tsp. salt
4 TBSP. granulated sugar
4 TBSP. heavy cream
1 1/2 tsp. vanilla bean paste (or extract)
Instructions
Pre-heat oven to 350 degrees and line a 9-by-9-inch pan with parchment paper with the edges of the parchment hanging over the sides. This will make removing the bars easier.
In a large bowl combine the butter, sugar and salt with a fork.
Add the yolk and combine with the fork.
Now add the flour and using your hands, combine the dough until its flaky.
Transfer the dough into the parchment lined pan and press down with your hands or the bottom of a measuring cup.
Refrigerate this for 30 minutes.
Once chilled, bake for 25 minutes until lightly browned.
While the shortbread is baking, place the apples, butter, and sugar in to a medium saucepan.
Bring to a boil and then let simmer until apples become soft.
Once shortbread is baked, remove and set aside to cool on a wire rack.
In a large pot combine the topping butter, brown sugar, Lyle's Golden Syrup, salt, sugar and cream.
Bring to a boil.
Stir for about 5-10 minutes until its thick and bubbly. If you have a candy thermometer - the caramel should be about 248 degrees.
Remove from heat, stir in vanilla bean paste and fold in the cooked apples.
Pour on top of the shortbread.
Refrigerate for 2-4 hours.
Slice while still cold. Keep in the refrigerator.