These Pumpkin Pie Brioche Cinnamon Rolls have a rich pumpkin brioche dough filled with pumpkin pie filling topped with maple glaze.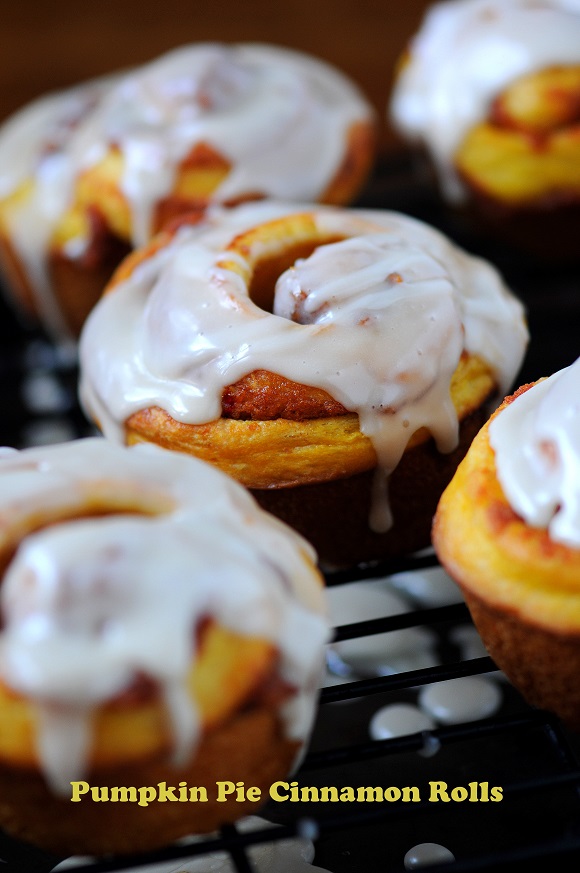 When I was on Weight Watchers I was a weight loss rock star.
I lost consistently every week as if it were my job (which eventually it was when I was a WW leader).
I was a rock star right up until the end.
The end when all I needed to get to my ideal (in my head) weight was to lose 3 pounds.
Surely someone who had lost a small child could squeeze out another 3 pounds, right?
Wrong.
I never got to my goal weight.
It was a source of frustration that I never understood (well until therapy).
I told myself how much I sucked pretty much on a daily basis.
Never mind the actual fact that I was a size 6 and looked more than fine.
I was not that number.
That number that I had always wanted to be in my lifetime.
Then one day I figured out why.
I self-sabotaged getting to my magic number because I had in my head that my life was going to be a certain way when I reached that number.
And it was more than obvious to me that in 3 pounds that wasn't going to happen.
As if weighing that number was going to make my problems go away.
I had lost weight thinking that was going to save my marriage (I think we all know that did not happen).
If I had lost those three pounds and my life was still crap that was way more than what I wanted to face.
But if I could keep holding on to those 3 pounds and in fact gain weight then I still had time, time to make it better.
That didn't happen of course.
The problem was never my weight.
That was my excuse.
That was my excuse for years.
Why I couldn't do things or be things.
An excuse to cut myself off from things I was afraid to face.
I had a close friend in college who thanks to the world of Facebook I have reconnected with.
She did the 28 Day Challenge and ended up deciding to do the whole Live More Weigh Less program.
When I asked her how she was doing she told me she was very behind because she was so busy.
But then came back and opened up to me the real reason.
The real reason is powerful.
"I am afraid. At 40 years old I have lived most of life as an unhappy, slightly to greatly overweight woman who doesn't love herself.
If I am successful in completing this program and changing my life in all of the ways that I say I want to then I won't be those things anymore.
For the first time in more years than I can remember I might actually BE happy, and not just pretending to be happy or happy in the moment. and that scares the shit out of me.
The weight has always been an excuse for me to keep myself apart from people and not live my life or have great experiences. It's a buffer from the rest of the world where I can hide and feel safe.
The fear of that changing and not knowing what I might feel in the future is overwhelming and scary.
Right now as I sit here typing this the feeling of putting that fear into words is both liberating and scary as hell. I am sure that some of you feel the same way that I do and will know what I am going through and that makes it liberating.
The fear comes from someone who might tell me that I am beautiful or deserve to find love and happiness because the truth is I have never learned how to love myself and feel that I deserve those things."
I had a psychologist friend once comment that fear of being happy is a very common thing.
That people fear if they actually become happy that it can be taken away.
It's easier to just go through the motions than it is to really put yourself out there.
Because just like in relationships when you put yourself out there for happiness you can a get hurt.
You can end up feeling things you didn't want to feel and admit to things you don't want to admit.
It sounds silly but it takes a lot of courage to be happy.
Real happy, not Facebook happy.
This time around for LMWL I was actually going to try and lose weight.
Life decided to say no and put me back on Prednisone (which if you have ever been on it you know you get so hungry you will rip a Snickers bar right out from a kids arm without blinking).
So weight loss is not in the cards.
At first I was down on myself.
Then going through some old journals I was reminded that I never joined to lose weight, simply to put more life in my life.
Which I had done.
And which I can do more of.
We like to keep busy so that we aren't left with our thoughts.
Our thoughts scare us all too often.
So we will stare at our phone and see what someone who we haven't ever spoken to in real life is doing on Facebook.
Or go through and like everything on Instagram.
Pinning the "perfect" life.
Plan vacations to get away from our life.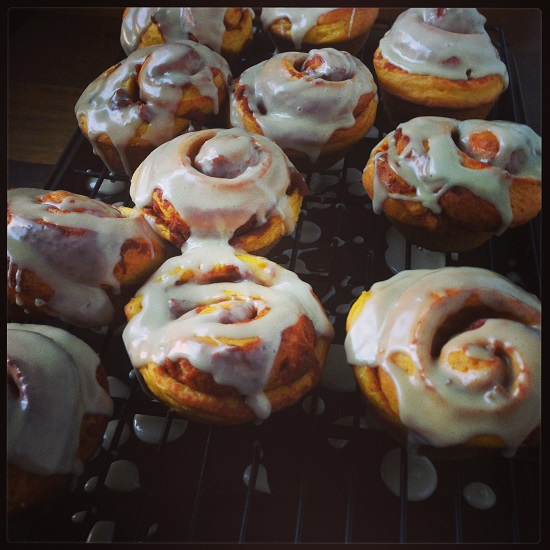 We need to start investing in not needing a vacation (though don't get me wrong they are nice).
If the only thing getting you through your day is that the weekend is coming or vacation is coming and then life will be good, then you need to start figuring out how to make your life better.
We shouldn't be rushing through our lives wasting days in hopes of a couple days of good.
Make good in everyday.
Start simple.
Start with a list.
A list of everything in your life you think you would need to be happy.
Then figure out which is the most important.
If you are listing that you need to be a size 2 to be happy then I'm going to come over and smack you.
You need to stop blaming that life isn't going your way because you don't weigh you magic number.
Because if you do ever get down to your magic number you are going to be very disappointed that life isn't everything you thought it would be.
One thing that never disappoints is brioche.
It is my happy bread.
It makes the best French toast.
The best bread pudding.
The best cinnamon rolls.
I give you thanks for being a reader of my little blog.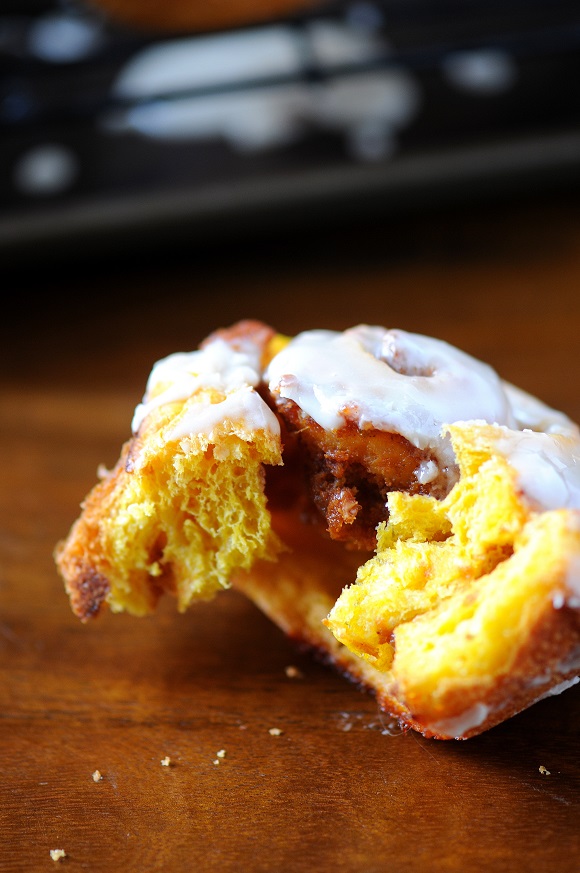 I will not lie and tell you that these Pumpkin Pie Brioche Cinnamon Rolls take time.
But the good news is once you make the brioche you get two recipes for the effort of one as you only need half the dough for this batch of cinnamon rolls.
You will love what I did with the other half.
Might even be better than these and these are darn good!
There are pumpkin pie cinnamon rolls out there…I go the extra step of making a pumpkin brioche.
I think it helps take them over the top.
I went with a maple glaze as it's Canadian Thanksgiving tomorrow and maple goes well with pumpkin.
But feel free to go with a different glaze if you would like.
To those celebrating tomorrow I wish you a very happy Canadian Thanksgiving.
P.S. It's a great day to order my cookbook.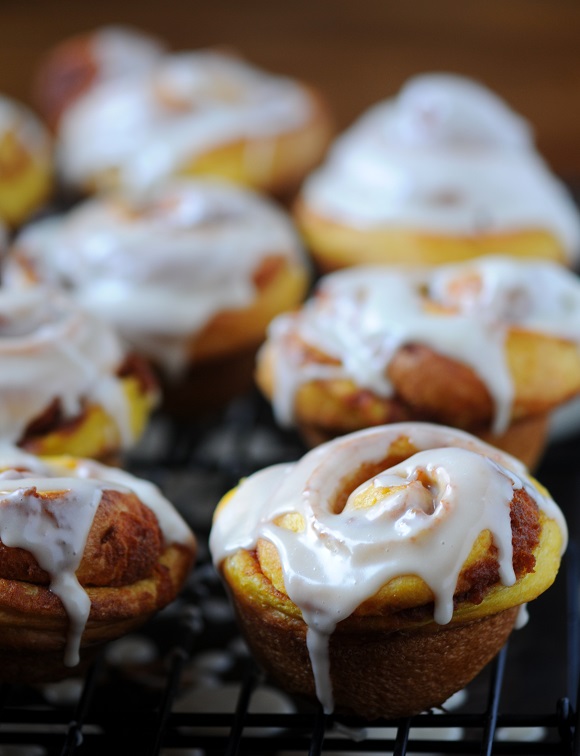 Want More Sweet Roll Recipes?
Bourbon Brown Sugar Caramel Peach Sweet Rolls
Salted Caramel Apple Sweet Rolls
Cinnamon Sugar Apple Babka Buns
Coconut Cream Pie Breakfast Buns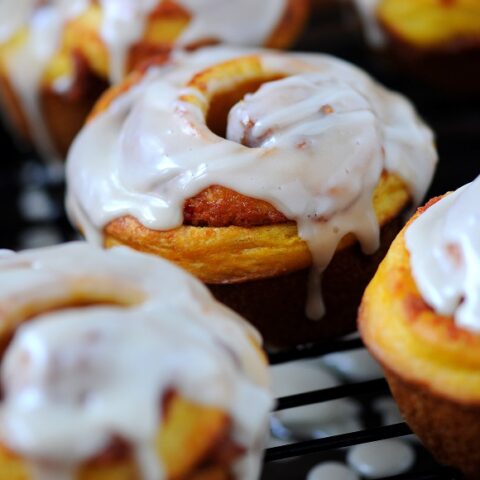 Pumpkin Pie Brioche Cinnamon Rolls
Ingredients
For the Rolls:
½ cup pumpkin puree (not the pumpkin pie in a can stuff)
1 tsp. pumpkin pie spice
3 TBSP granulated sugar
1/3 cup cinnamon sugar mix
3 TBSP unsalted butter
Pumpkin Brioche (you will only need 1/2 the dough):
For the Sponge:
¼ cup whole milk, at room temperature
2 ½ tsp. active dry yeast (I used Red Star Yeast Platinum)
1 cup pumpkin puree
1/3 cup granulated sugar
1 cup bread flour
For the Dough:
5 cups bread flour
2 tsp. salt
6 large eggs, lightly beaten
8 ounces (1 cup) unsalted butter, softened
For the Maple Glaze:
1/3 cup pure maple syrup
2 cup powdered sugar
Milk to thin
Instructions
For the Brioche:
For the Sponge:
Combine the milk and yeast in the bowl of a standing mixer fitted with a paddle attachment and whisk until the yeast is dissolved. Let stand for 5 minutes, then stir in the pumpkin puree, sugar, and flour, forming a thick batter. Cover with plastic film and let rest in a warm environment until bubbles form, 30-40 minutes.
For the Dough:
Add the flour and salt to the sponge, then add the eggs. Mix on low speed for 2 minutes, or until the eggs are absorbed. Increase speed to medium and knead the dough for 5 minutes. The dough will begin to slap around. Hold on to the mixer when necessary.
On medium-low speed, add the butter, 2 TBSP at a time. Stop the mixer and scrape down the sides of the bowl occasionally.(Recipe did not say to, but I switched to the dough hook at this point). Knead until the dough is shiny and smooth, about 5 minutes. Scrape out the dough, wash and dry the bowl, and coat it lightly with oil.
Place dough in the oiled bowl and turn it so that the top is coated with oil. Cover with plastic film and let rise at room temperature until doubled in volume, about 2 hours.
After the dough has doubled in volume, press down to deflate, folding one half into the other. Cover with plastic film and refrigerate for at least 4 hours or overnight. This is the second rise.
Pumpkin Brioche from The Secrets of Baking by Sherry Yard
Remove brioche dough (that has chilled overnight) from the fridge.
Turn the dough out onto a lightly floured surface. Using a rolling pin, roll it into a rectangle approximately 12 by 16 inches.
Use a pastry brush(or your hands if you like to get messy) to spread 3 TBSP of butter around the rolled out dough, leaving an 1-inch margin at the top edge with no butter.
In a small bowl mix the pumpkin puree, sugar, and pumpkin pie spice. Spread this over the butter…they will mix and it will be fine.
Sprinkle the cinnamon sugar evenly over the butter covered surface, again leaving the 1-inch margin.
Starting from the long side closest to you, roll up the dough like a jellyroll. Transfer the log to a baking sheet, cover with plastic wrap and freeze for 10 minutes. This will make cutting the buns clean and even.
Remove from freezer, cut buns into 1 ½-inch pieces, you should get around 12. Place them back onto a greased baking pan. Spread out so they are not touching. Or you can bake them in a muffin pan (I did that this time…leaves a clean line that I like). Wrap with plastic wrap and let rise at room temperature for 1 ½ to 2 hours.
Preheat the oven to 400F. Bake buns for 10 minutes and reduce heat to 350F. Bake for another 10-15 minutes depending on the size of your buns. Allow to cool for 10 minutes. Then glaze.
To make the glaze:
Mix all the powdered sugar and maple syrup together. If too thick add a little milk. Pour over each cinnamon roll(do this with the rolls on a wire rack with a baking pan underneath to catch the extra glaze.