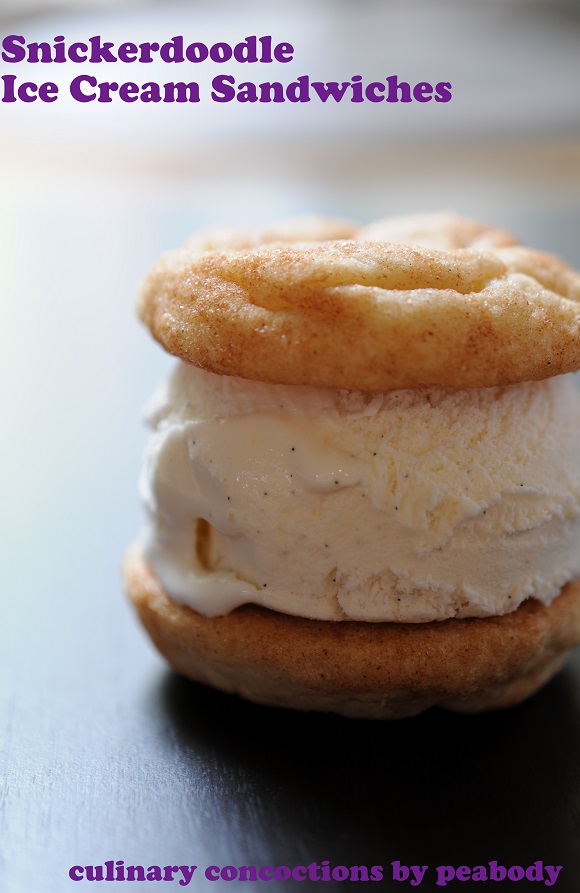 Do you have someone in your life that you think is rotten? I mean really rotten? That pretty much everyone that knows them thinks they are rotten including their "friends"? And you probably think to yourself ugh I can't stand that person. So what I'm going to talk about might make your head scratch and that's okay…I'm still going to talk about it though….the difference between like and love.
Not the do you like him like him or do you just like him kind of way….but the you can love someone but not like them kind of way. Example: I love my brother D. I have no communication with him whatsoever because I do not like my brother. Choices he made throughout his life have formed him to who he is today and while I have forgiven him our relationship is one that needs not to exist for reasons I won't get into. But I love him from really far away.
The person I was talking about in the beginning is the person that I actually send the most love to. WTF Peabody? I know, I know. But you can blame the woman in the picture with me, Agapi Stassinopoulos.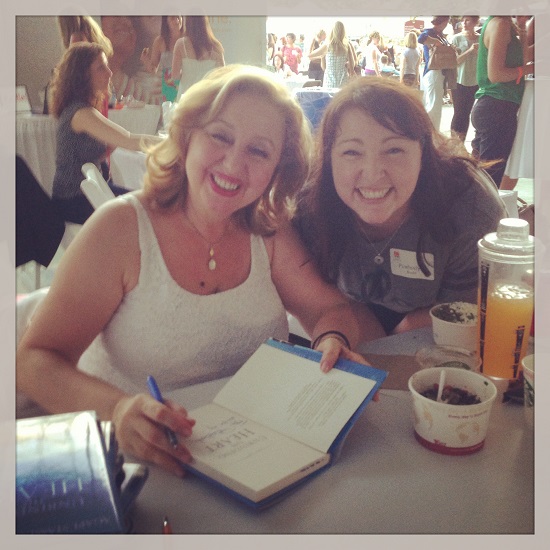 I finally got to meet her yesterday at Urban Campfire which was kind of like conference meets TED Talks. I wanted to talk more to her, she would have totally talked more to me, she was gracious and sat there signing every book (she gave away books to the entire audience…and there were a lot of us) but I felt bad about the long line. She is one of those people when hearing her live exceeded my expectations and that rarely happens. Agapi is full of life, light, and love. She is also the person who taught me to love everybody (and she does mean everybody) BUT some people needed to be loved from way, way over there. When she brought it up in her talk yesterday I could all but smile.
It's very hard when the someone I'm telling you to send love to is a vile person. The person I send the most love to quite honestly horrifies me with their behaviors and what they justify. No one I know has ever referred to this person as being kind unless they are wanting something in return (everything they do is based on how it benefits them) and yet I send them love. BECAUSE THEY NEED IT. They are the way they are because they are unhappy. They may pretend their life is wonderful and amazing (I mean isn't that what Facebook is for 😛 )but if your public life and your private life don't match up, you are not a happy person. And if you do hurtful things on purpose to people you are not a happy person. So if we sent the unhappy people love, the hope, at least for me is that they will eventually feel the universe sending love and perhaps it will rub off.
I chose Snickerdoodles to represent Agapi. They are to me a hug in a cookie. Their aroma alone is so inviting. Since it's August I threw ice cream in there as well to make this more a summer treat. A take on vanilla bean ice cream (I used some lovely Rodelle vanilla beans they sent me) with a hint of cardamom and white chocolate. So if you can't get on board just quite yet with loving someone you don't like you can at least get on board with Snickerdoodles and Ice Cream. 🙂
Oh and in case you are wondering who Agapi is first off I say Google her and read some of her stuff you won't be sorry. You can find a lot of her stuff on her sisters website…that small little thing called the Huffington Post. She has a great book out which is self-help but really more of a memoir of sorts called Unbinding the Heart: A Dose of Greek Wisdom, Generosity, and Unconditional Love
. I was in no way compensated to talk about the book or Agapi just thought I would share.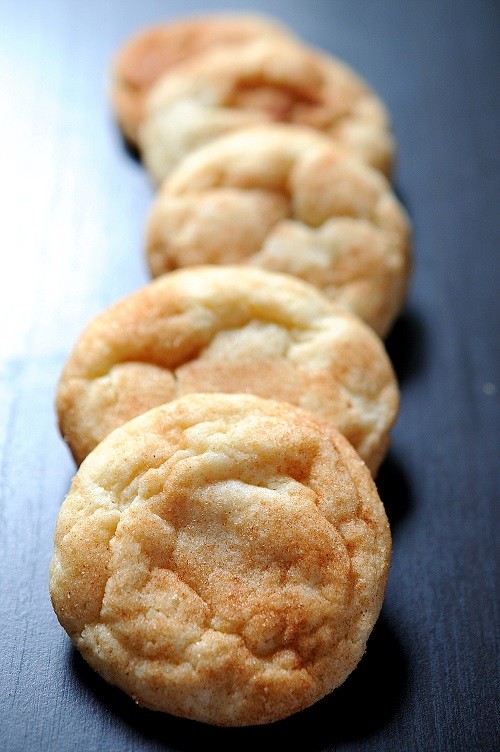 Snickerdoodle White Chocolate Cardamom Ice Cream Sandwiches
Ingredients
For the Snickerdoodles:
1 ½ cups granulated sugar
1 cup unsalted butter, at room temperature
Zest of one large lemon (the kind that look like they are on steroids)
2 eggs
2 ¾ cups all-purpose flour
2 tsp. cream of tartar
1 tsp. baking soda
¼ tsp. salt
1 ½ tsp. ground cinnamon
½ tsp. freshly ground nutmeg (it taste so much better that way)
For the Ice Cream:
White Chocolate Cardamom Ice Cream
8 ounces white chocolate, finely chopped
1 cup half and half
2 cups heavy cream
1 cup granulated sugar
Pinch of salt
5 egg yolks
1 vanilla bean scraped (I used Rodelle)
1 TBSP cardamom pods, crushed(you can omit if you are not a fan of the flavor)
Instructions
For the Snickerdoodles:
Heat oven to 375F.
In a large bowl place the sugar and zest together. Using your hands, rub the sugar and zest together to get the lemon oil released into the sugar. Set aside.
Using a stand mixer with a paddle attachment, cream the butter and lemon scented sugar until light and fluffy, about 3 minutes.
Add eggs, one at a time, scraping down the bowl after each addition.
Add the flour, baking soda, cream of tartar, salt, and spices with the mixer on slow until all ingredients are fully incorporated.
Shape dough into 1 1/4-inch balls. Place 2 inches apart on greased cookie sheet.
Bake 8 to 10 minutes or until set. Remove from cookie sheet to wire rack let cool.
For the Ice Cream
Place the chopped white chocolate in a large bowl and set a fine-mesh sieve over top of the bowl.
In a medium saucepan add the half and half, salt, sugar, and cardamom pods. Scrape the vanilla pod seeds into the pan and drop in the pod. Heat over high heat to just under a boil. Remove from the heat, and allow to steep for 10 to 15 minutes.
Using a large bowl, whisk the egg yolks, and then temper the eggs (pour in some of the hot half-and-half mixture, stirring constantly). Pour the mixture back into the pan and cook over medium heat, stirring constantly, until it coats the back of a wooden spoon, 4 to 5 minutes.
Pour the custard through the strainer and stir the mixture until the white chocolate is completely melted. Stir in the heavy cream, then stir in the vanilla extract to combine. Place the bowl in an ice bath and stir occasionally until the mixture is cool. Cover and chill in the refrigerator at least 8 hours, or overnight.
Freeze in an ice cream machine according to the manufacturer's instructions. (Makes 1 quart.)
To make the sandwiches:
Simple grab two cookies. Scoop some ice cream and put it between the two cookies. Eat. 🙂
https://www.sweetrecipeas.com/2013/08/14/snickerdoodle-white-chocolate-cardamom-ice-cream-sandwichs/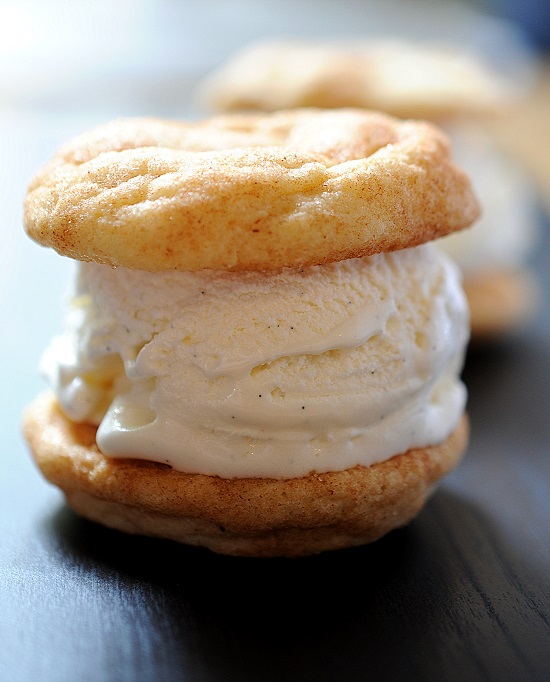 Amazon Affiliate links are in this post.