These Banana Fluffernutter Rice Krispie Treats aka Elvis Treats have marshmallow, peanut butter, peanut butter cups, and banana chips.
Holy whirlwind of a week last week was.
Nothing was better than getting up today and realizing that I technically didn't have anything to do.
Which is a lie for the fact that this here blog has been on the neglected side.
Sorry about that.
Not making excuses just telling you why: Canada Day, Birthday, 4th of July, more going out with friends for my birthday, Hockey Tournament thrown for my birthday, Beerfest, and then more hockey.
And oh yeah I'm taking a business course.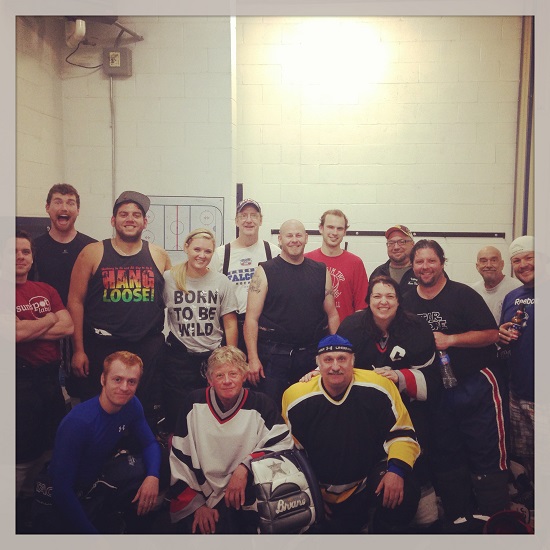 (we took home the bronze)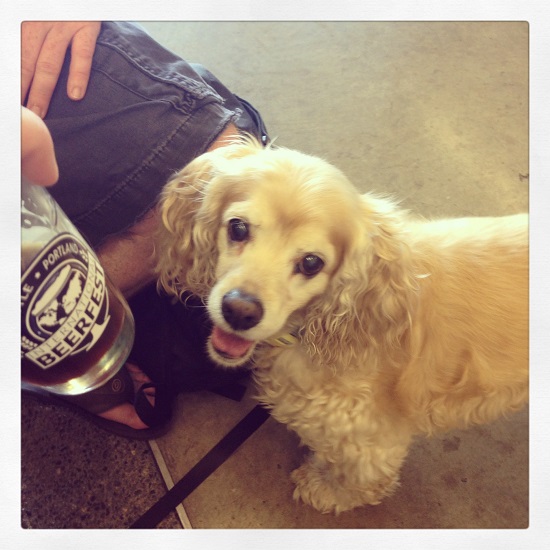 (yes we really do take the dog everywhere)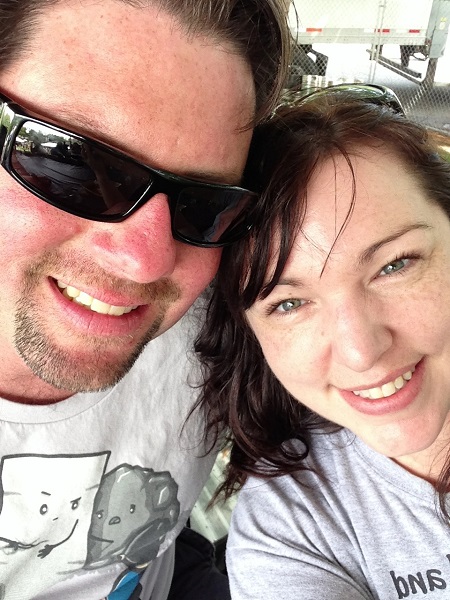 (I take MDP everywhere too 😛 )
Since the IRS keeps telling me I'm a business I decided I need to learn more about the business side of things.
But I know that many, many of you were concerned that I would lose what you like about this blog if I went more "professional" so I made sure to find a course that focused on building up what I already had based on what people already liked about it.
In order to do that we had a first assignment.
I already got my friends to help me with it but I would really appreciate it if you my readers would help me out as I am essential doing all of this for you as much as I am for me.
So here is what I am asking you to do.
First off don't read anybody else's response I want your response.
I need you to tell me WHAT YOU FEEL ARE MY THREE BEST QUALITIES?  
As in why do you read this blog?
So many of you tell me that you read the blog for the writing and not even really the food (which to this day baffles me but you know I roll with it 🙂 ).
I want to be focusing on what you like and expand on that.
I'm really interesting in seeing what the public so to speak thinks of me vs. what my friends said.
The other reason for nothing on the blog other than the obvious no time was it's still too hot.
For the Hockey Tournament even though they had cake…my sister in law went out of her way to make sure I had awesome cakes.
If you follow me on Instagram you saw them already.
No bakery would do Star Wars (the theme of the tournament) so she had them just make a white and chocolate cake.
Then went out and found mini Star Wars figurines and her and my mother in law put them on the cakes.
So I have all the rebels on the white cake and all the villains on the dark side (and yes I kept all the little figurines because I'm really still 12 inside).
It was awesome.
But not everyone likes cake so I made rice krispie treats because pretty much everyone loves them.
I did the birthday cake ones.
So when I decided I needed something up for the blog I went with rice krispie treat.
Banana Fluffernutter Rice Krispie Treats.
I saw a version of these on Pinterest (shocking I know) and wanted to make an Elvis version of them…aka throw in some banana to add to the fluffernutter already happening.
But regular banana seemed like it would be a nightmare and so I wrestled the rabbit for some of his banana chips and threw those in there.
I love the texture (aka crunch) that they added to the treats.
And of course the peanut butter cups didn't hurt at all.
I had leftover peanut butter cups from my latest obsession of S'mores using PB cups instead of a chocolate bar.
Soooo good.
Last but not least…it's a great time to order my cookbook.

Want More Rice Krispie Recipes?
Vanilla Bean Rice Krispie Treat Cupcakes
Toasted Marshmallow No Bake Cheesecake in Rice Krispie Treat Crust
Cookies and Cream Rice Krispie Treats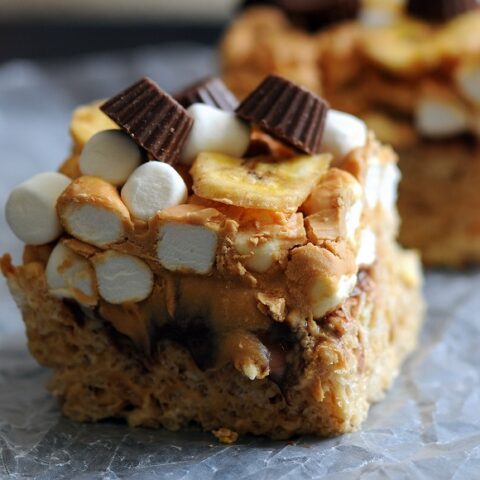 Banana Fluffernutter Rice Krispie Treats
Ingredients
¼ cup unsalted butter
10 oz. mini marshmallows
1 tsp. vanilla bean paste (or extract)
½ cup peanut butter (I used Jif)
5 cups Rice Krispie cereal
½ cup banana chips
9 full size peanut butter cups (I used Reese's)
1 cup mini marshmallows
12 oz peanut butter chips
Instructions
In a large pot, melt butter over medium heat. Add marshmallows and vanilla bean paste and turn heat to low. Stir until completely smooth.
Remove from heat and quickly stir in peanut butter.
Add cereal and mix until fully incorporated…try to evenly distribute as best you can.
Add in banana chips and mix until fully incorporated and they seem to be evenly distributed.
Pour Krispies treats into an 8-inch square baking sprayed with baking spray. Get your hands a little wet with water and press them down into the baking dish. The water will help them from sticking to your hands.
Top with the peanut butter cups (spaced 3 in a row).
Add marshmallows on top.
Let them melt a little from the heat while you melt the peanut butter chips. You can do this in either a microwave or on stove top.
Pour melted peanut butter chips over the marshmallows and peanut butter cups. Spread. This will be messy. That's okay. Add a few more marshmallows and banana chips on top if you would like.
Allow to set, about one hour. Cut into squares and store in an airtight container.