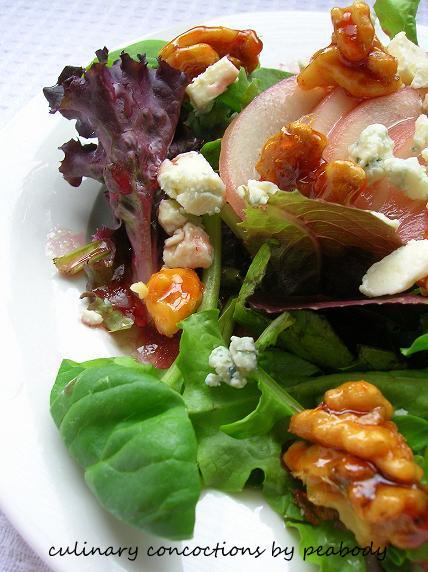 Quite a few months ago my doctor asked me why I exercised and I told him so I could eat what I wanted and/or lose weight. He told me he wanted me to stop exercising for weight loss. To stop going hard core 5 times a week like I did. For I was having a tendency to over train and injure myself. He said to slow it down to 30-60 minutes EVERY day of moderate exercise (hockey not included). I gave him (hopefully most of you are old enough to get this reference the "what you talking about Willis" look). And he handed me a pile of literature.
He showed me quite a few studies (I'm one of THOSE people). He had me read an article from Time magazine:
"In general, for weight loss, exercise is pretty useless," says Eric Ravussin, chair in diabetes and metabolism at Louisiana State University and a prominent exercise researcher. Many recent studies have found that exercise isn't as important in helping people lose weight as you hear so regularly in gym advertisements or on shows like The Biggest Loser — or, for that matter, from magazines like this one.
The basic problem is that while it's true that exercise burns calories and that you must burn calories to lose weight, exercise has another effect: it can stimulate hunger. That causes us to eat more, which in turn can negate the weight-loss benefits we just accrued. Exercise, in other words, isn't necessarily helping us lose weight. It may even be making it harder."
I thought surely I would gain weight. And I did (6 pounds). Except I can't really tell if it's because I don't go gung ho hard core exercise anymore or the large amounts of Prednisone. I'm leaning towards the meds based on past experience. What I have noticed is that I'm not as hungry. In fact usually the only days that I want to rip a Snickers bar out of a small child's hand is on the days that I play ice hockey…which falls into the major calorie burning category. So I burn it but I get so hungry that I eat all the calories back and then some usually as we always go out after the games.
I no longer base my activity on which machine can I burn the most calories in the shortest amount of time on. I base it on what activities do I enjoy the most? Ice hockey (duh), pilates, walking (outdoors), swimming, and dancing. That's it. I don't really like any of the other stuff. I laugh when my friends claim they love to run…yet all but like three of them do it all the time. The rest go through spurts. They will run for three weeks and then nothing for three months. Then complain how much they miss it as they send me an invite to play Candy Crush. Want to know how long I've been playing hockey? 13 years. Want to guess how many weeks off I have had (injury not counting)…never. Know why? I love it. If they really loved running they would do it. End of story. So please pick and exercise that you want to do. That you can do every day of your life and not think ugh, I have to go run on the treadmill to burn my 500 calories for the day.
People tell me that they do it for the challenge. To push themselves and to prove they can do it. So do something you don't like, won't stick with, but can say gee I did that. Seems silly if you ask me. If you pick something you like you won't need motivation to go do it…you will just go do it. People ask me all the time how can you play hockey at 11pm at night? Or how do you get up at 5:30 am to go to stick and puck (like hockey practice). Simple. I love it.
And for the love of Pete stop punishing yourself for eating something by doing extra time on the treadmill. If you want to do extra time on the treadmill because you are enjoying it then by all means keep going but DO NOT do it because you ate two chocolate chip cookies and now think you are a fat cow. Only cows can be fat cows. Food is fuel and not something that needs to make you feel guilty about.
This is a salad from the archive from back in 2007. So I am going to guess that most of you have not seen it. It is my go to salad for entertaining. I am not sure I have ever met someone who didn't actually like this salad with the exception of the picky eater which was fine because I just ate his instead.
So make the salad and then think about an exercise you really like to do. One you would want to do every day of the year for 30-60 minutes…and then go do it. And if you tell me you don't have time I don't believe you.
In none related salad news congrats to Kristen of Washington Farmer Chick for winning the Harry and David Giveaway. She's already been contacted. If you didn't win no worries I have a feeling I will be working with Harry and David again soon.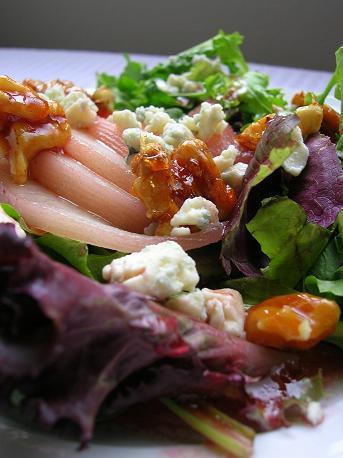 Poached Pear Salad with Blue Cheese, Spiced Caramel Walnuts and Blackberry Jam Vinaigrette
Ingredients:
Salad greens
poached pears(recipe follows)
blackberry jam vinaigrette(recipe follows)
spiced caramel walnuts(recipe follows)
blue cheese( however much you like)
Poached Pears
2 ripe Green Anjou pears, cut in half and cored
1 ½ cups Pinot Gris(I used A to Z from here in the PNW)
1/3 cup sugar
1/3 cup Port wine
2 whole cloves
Bring wines, sugar and cloves to a boil(making sure the sugar dissolves) and then bring to a simmer. Poach pears for 15 minutes. Remove ¾ cup of the liquid and reserve. Leave the pears in the liquid while you prepare the rest of the salad.
Blackberry Jam Vinaigrette
¾ cup poaching liquid from the pears
2 TBSP cider vinegar
¾ cup olive oil
1 tsp garlic
¼ cup blackberry jam
Cook reserved pear liquid(make sure no cloves are in there) until reduced by half. In a blender or Cuisinart mix reduction with blackberry jam, vinegar, garlic and some salt to taste. While blender is running, slowly add the oil.
Spiced Caramel Walnuts
1 cup walnuts
½ cup sugar
½ tsp chile powder
½ tsp sweet paprika
1 tsp sea salt
Combine sugar with the spices. Place into a saucepan and turn on medium heat. Watch carefully to see the sugar start to caramelize around the edges of the pan. When that happens throw in the walnuts and stir. When they are coated in caramel spread onto a pan that has been covered in parchment paper. Once it is completely cooled, break into pieces.
To put the salad together:
Place a little bit of vinaigrette onto the bottom of the plate(this insures that the bottom greens get some of the good stuff too). Slice poached pear half in half. The slice each quarter and fan out placing it in the middle of the greens. Garnish with walnuts and blue cheese crumbles. Drizzle desired amount of vinaigrette.