These Pumpkin Gingerdoodles are a perfect blend of pumpkin snickerdoodles and molasses ginger cookies to form a darn perfect cookie.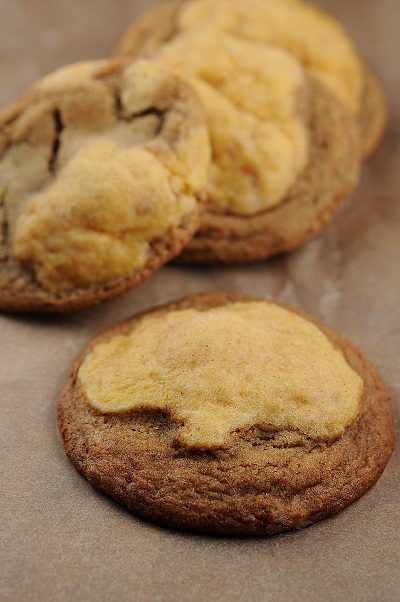 Hopefully you had a wonderful Thanksgiving or if you live in another country a nice Thursday. 🙂
But now the serious baking starts up.
Holiday baking.
And many of you will be heading off into the world of cookie exchange.
If you are not, consider starting one of your own.
It's a great way to gather with your friends and get a variety of cookies as well.
I get asked A LOT this time of year what cookies I suggest for cookie exchange.
So much so I made a Pinterest board dedicated to it.
Check it out.
I made the board because it's hard to tell people what kind of cookie to make.
Because what I think is the greatest cookie might not be your favorite.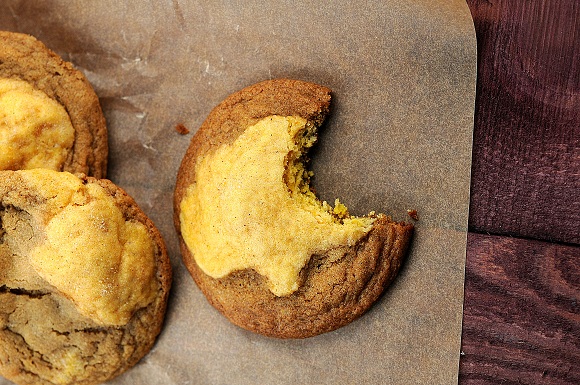 However, if you are looking for a cookie to take and you are a spice cookie lover like me….then you won't need to check out that board.
I have found the perfect cookie for you.
Pumpkin Gingerdoodles.
Half pumpkin snickerdoodle which is yummy in its own right.
And half soft gingersnap…to say that this made my mouth happy is an understatement.
My pants weren't that happy as I ate half the batch in one sitting.
Snickerdoodles are my favorite I couldn't help it. 😛
The smell they produce when baking will make you dance around like when you find a $20 bill in your coat pocket that you didn't know was there!
Yes, they smell, and taste that good. 🙂
P.S. It's a great day to buy my cookbook Holy Sweet!
Want More Holiday Cookies?
Vanilla Bean Caramel Thumbprint Cookies
Mini Chocolate Gingerbread Men Sandwich Cookies
Shortbread Roll Out Sugar Cookies
Cranberry Orange Pistachio Cookies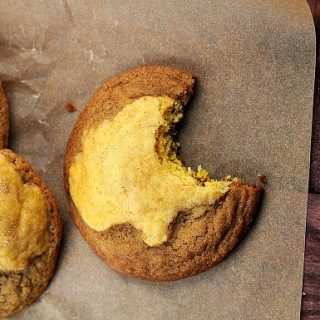 Pumpkin Gingerdoodles
Ingredients
For the Pumpkin Snickerdoodle Dough:
1 1/2 cups granulated sugar
1 cup unsalted butter
2 eggs
¾ cup pumpkin puree
3 cups all-purpose flour
2 tsp. cream of tartar
1 tsp. baking soda
1/4 tsp. salt
for rolling the cookies in:
1/4 cup granulated sugar
2 tsp. ground cinnamon
For the Gingersnap Dough:
3/4 cup butter
1 cup granulated sugar
1/4 cup molasses
1 egg
2 cups all-purpose flour
2 teaspoons baking soda
1/4 teaspoon salt
1 teaspoon cinnamon
1 teaspoon cloves
1 teaspoon ginger
Instructions
For the Pumpkin Snickerdoodle Dough:
Mix 1 1/2 cups sugar, the butter, pumpkin, and eggs in a stand mixer with paddle attachment.
Add in flour, cream of tartar, baking soda and salt and mix on low until fully combined.
Set aside.
For the Gingersnap Dough:mbine cinnamon and sugar in a small bowl and set aside for rolling dough in.
Cream together butter and sugar.
Add molasses and egg and continue beating. Add flour, baking soda, salt, cinnamon, cloves, and ginger and mix until combined, scraping down the sides of the bowl as needed.
Preheat oven to 350°F.
Lightly grease baking sheets with no-stick cooking spray and set aside.
Roll a small amount of gingersnap dough into a ball and a small amount of snickerdoodle dough and place them together and gently roll or squeeze together.
Roll in cinnamon sugar.
Place on baking sheets and bake for 9-11 minutes.
Remove from oven and allow to cool on baking sheets for 2 minutes before moving to cooling racks.