This Chocolate Nutella Halloween Candy Fudge is super easy to make and made extra awesome by adding Nutella and having candy bars on top.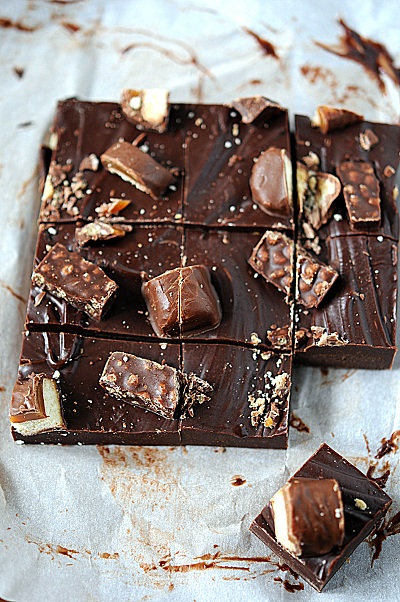 At what point does a fudge become a lie?
Technically it's all a lie but you know. 🙂
Lots of people fudge on their taxes (for the record IRS I do not :D).
Probably the biggest fudge that women tell is "but it was on sale so it was fine".
But what they leave out is that those were Frye boots and while on sale still cost almost $300 with tax.
Oops.
Why no officer I didn't know how fast I was going?
There was a stop sign?
I have a headache 😉
This? This old thing?
This has been in the closet for years.
Yes, I made that from scratch.
Your butt looks fine stuffed into those jeans.
I'm sure probably one of those has come out of your mouth. I know it has from me. But does it make it right? No.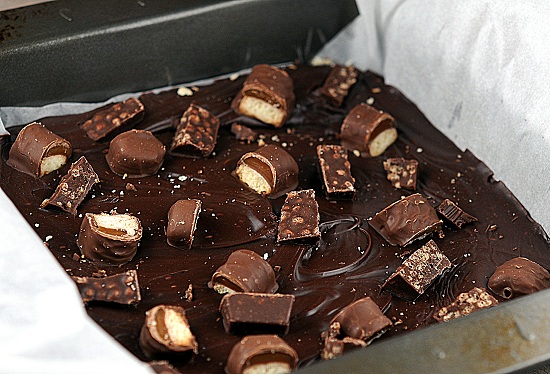 One kind of fudge that is always right is chocolate.
Well, actually all fudge is pretty right.
And if it's wrong…well, I want to be wrong then.
Chocolate is always nice to you…well maybe not your pants size.
But overall it's nice to you.
This was insanely easy fudge that I made even worse for you (aka more awesome) by adding Halloween candy to the top of it.
It's a great way to use up any leftover Halloween candy and make it that much better.
Though if you have leftover Halloween candy then your house is way different than my house.
P.S. It's a great day to buy my cookbook.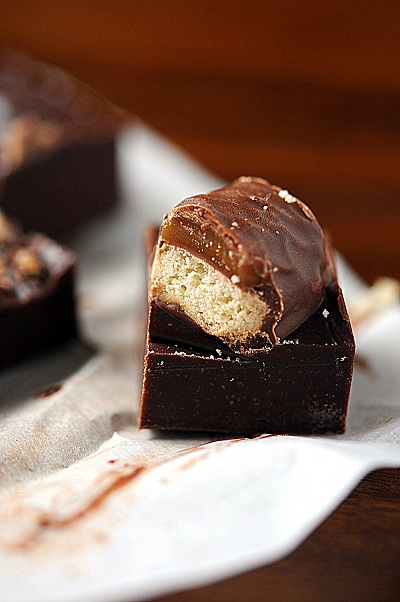 Want More Fudge Recipes?
Melted Chocolate Ice Cream Fudge
Lemon Blueberry Mascarpone Fudge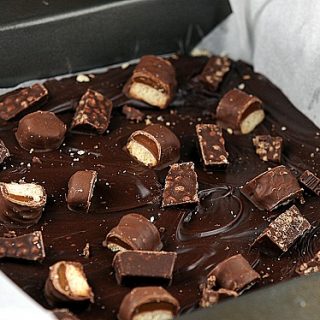 Chocolate Nutella Halloween Candy Fudge
Ingredients
Butter, for greasing pan
1 (14 oz. ) can sweetened condensed milk
1 tsp. vanilla extract
4 oz. high-quality bittersweet (60% cacao) chocolate chips
4 oz. semi-sweet chocolate chips
1 cup Nutella, room temperature
3 TBSP unsalted butter, room temperature, cut into 1/2-inch pieces
8 mini pieces of chocolate Halloween Candy of your choice (I went with Twix and Crunch Bars, ), chopped
Instructions
Grease the bottom and sides of an 8- by 8-inch baking pan with butter. Line the pan with parchment paper, leaving a 2-inch overlap on the sides.
Form a double-boiler by setting the bowl on a medium pot of gently simmering water.
In the bowl of the double boiler (or one you are using to create a double boiler) add the sweetened condensed milk, chocolate chips, vanilla, Nutella, and butter.
The water level should be low enough that the bottom of the bowl does not touch the water.
Stir until the chocolate chips are melted and the mixture is smooth, 5 to 7 minutes.
Scrape the mixture into the prepared pan, spread the top smooth with a spatula, and place candy pieces on top of the fudge arranged how you want. Refrigerate until the fudge is firm, at least 2 hours.
Run a knife under hot water, dry it off, and run it around the edges of the pan to loosen the fudge.
Using the overhanging parchment paper, lift the fudge out. Peel off the parchment paper.
Cut the fudge into 3/4-inch squares. Store in the refrigerator in an airtight container or wrapped well in plastic wrap and foil.
Makes approximately 50 3/4-inch squares. Hahaha…I got like 20. But I cut a little larger.