This Chicken Artichoke Parmesan Baked Penne is a pasta bake filled with mushrooms, chicken, artichokes, olives, and Parmesan cheese.

I am no stranger to voicing my opinion and having somewhat of a controversial opinion on things.
Family is one of them.
I have said on here in the past and I still stand by it today…I don't have to be nice to you, have a relationship with you, and/or talk to you because we are family.
Family to me is the people who enrich my life, lift me up, do not guilt me into spending time with them, who support me in my decisions while still not being afraid to say what they are really feeling.
I have more non-family Family than real blood family.
It shocks people often.
But I chose not to live a lie.
Someone I know can't stand her mother.
I mean can't stand.
Writes horrible things about her.
Likes and unlikes her mom on FB about 6 times a year.
She will send texts saying she is done and never wants to talk to her again and then the next thing you know they are going out to breakfast.
And when I say, but you hate your mother I get…."yeah, but she's my mom so I have to".
No you really don't.
If a person causes you such misery in your life you don't need them in your life.
I know many a person who has been in love with someone but it was a bad situation and so they broke up.
This in a way is like that.
Now I talk to my mother a lot.
I like her.
We don't friend and unfriend each other in childish rage.
I like my dad, I talk to him.
There are other family members I don't like and I don't talk to them.
And people always tell me they are family and I need to talk to them.
No, because no family member would treat me like the way they do.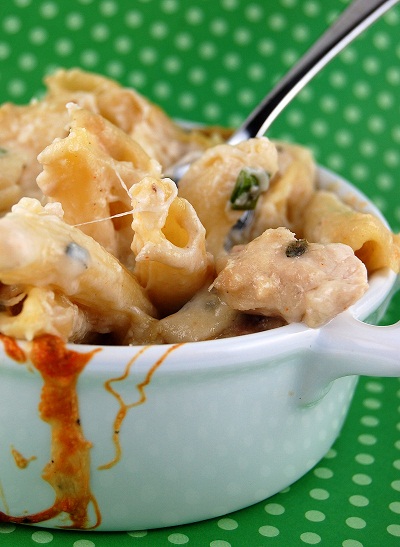 Spend time with people you like.
Life is far too short to be guilted into spending it with people you don't want to.
Yes, I would sometimes go and visit my grandma but I wanted to go less and less because all she would talk about when I would go was that I never came to visit. Guilt is an unnecessary tool.
Because while you may get people to do things at the moment you damage your relationship more and more…and eventually you will get people wanting to avoid spending time with you.
Point being focus on the good people in your life.
The ones that stand by you and make you laugh when you are having a bad day.
Ones that will gather around the table and share a yummy pasta dish with you and appreciate that you took the time to make it for them.
This dish comes from a local chef here in Seattle, Kathy Casey.
I love all her stuff and make her food a lot.
Every one of her cookbooks are outstanding and I always sit and hope and wait for her to come out with another one!
This one comes from Kathy Casey's Northwest Table: Oregon, Washington, British Columbia, Southern Alaska
but honesty you can't go wrong with ANY of her books.
She makes a mean cocktail too.
P.S. It's a great day to buy my cookbook Holy Sweet!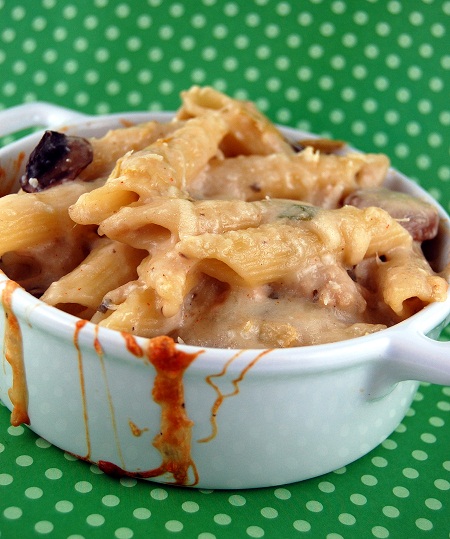 Want More Dinner Recipes?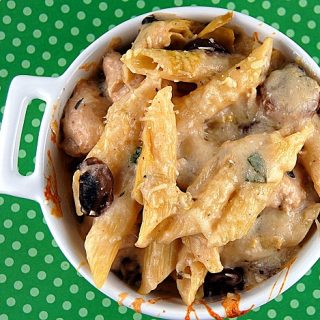 Chicken Artichoke Parmesan Baked Penne
Ingredients
4 TBSP unsalted butter
2 TBSP olive oil
1 pound boneless, skinless chicken breast, cut into 1-inch pieces
1¼ tsp. salt
¼ tsp. black pepper
2 cups sliced mushrooms (I had a mix of portabella and cremini)
2 TBSP minced garlic
1 TBSP chopped fresh thyme
1 tsp. dry oregano
1/4 cup green onion, chopped
6 TBSP flour
3 cups milk
2 cups heavy cream
1 pound dry penne pasta
½ cup chopped Kalamata olives
1 (13.75 ounce) can artichoke hearts, drained and coarsely chopped
1 cup (3½ ounces) grated high-quality Parmesan cheese, divided
2 cups (7½ ounces) grated Fontina cheese
Instructions
Preheat oven to 375 degrees.
In a large heavy-bottom saucepan, heat the butter and olive oil over medium-high heat. Add chicken pieces; season with salt and pepper.
Sauté for about 3 minutes, or until the chicken turns opaque.
Add the sliced mushrooms and cook for 2 minutes or until limp.
Add the garlic, thyme, and oregano and stir for about 20 seconds — do not let garlic brown.
Stir in the flour and cook for about 1 minute, stirring constantly. Immediately add the milk and cream, stirring vigorously with a whisk. Bring to a simmer and whisk occasionally until sauce is thickened, about 6 to 7 minutes. Remove from heat and set aside.
Meanwhile, bring a large pot of water to a boil and cook penne pasta according to package directions until done. Drain well.
In a very large bowl, mix together the pasta and sauce, then fold in Kalamata olives, chopped artichoke hearts, green onions, ¾ cup of the Parmesan cheese and the grated Fontina cheese until well combined.
Place mixture into a lightly buttered or pan-sprayed 9-by-13-inch baking pan or other attractive, deep baking dish.
Sprinkle the top with the remaining ¼ cup Parmesan cheese and bake for about 25 to 30 minutes or until the pasta is heated through, the sides are slightly bubbling and the top is golden brown.
Notes
Slightly adapted from Kathy Casey's Northwest Table: Oregon, Washington, British Columbia, Southern Alaska by Kathy Casey