These yummy Chewy M and M Sugar Cookies have a sugar cookie base filled with tons of M and M's. Fun to share with friends and family.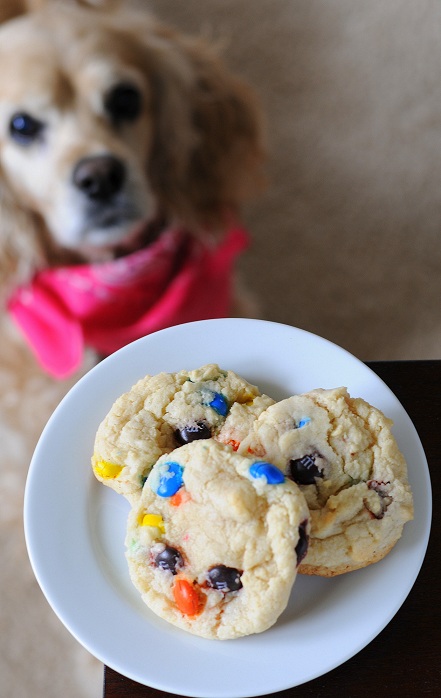 Just a quick one today.
As you can see some days running my blog can be torture on the dog. 😛
It can be torture on my as well.
Seriously…what was I thinking trying to work full time, write for Tablespoon, go on vacation, and have a blog post up every day?
Oh that's right I leave shampoo in the freezer (yes, that happened)…I don't think anymore.
I was doing good until today and then I just hit a wall.
The brick kind.
Very sturdy.
It won.
This is short. 😀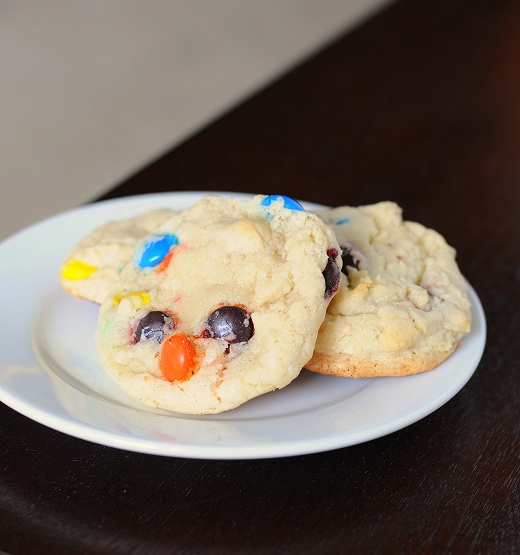 These are some simple sugar cookies that my friend sent me a link to (that blog no longer exists).
Told me they were good.
She is the type of person when she says these are good, they are.
So I followed the link and found them.
I know it seems odd that it calls for 1 TBSP of sour cream but don't skip that.
It helps make them chewy.
While I call for 2 cups of M and M's you can feel free to use as many M and M's that you wish.
Last but not least…it's a great time to order my cookbook.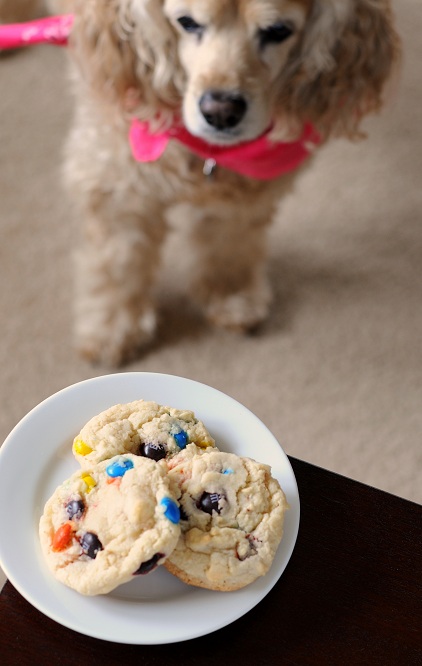 Want More Cookie Recipes?
Caramel Cream Filled Snickerdoodles
Strawberry Cheesecake Chocolate Chip Cookies
White Chocolate Chip Creamsicle Cookies
Vanilla Bean Caramel Thumbprint Cookies
White Chocolate Dried Pineapple Salted Macadamia Nut Cookie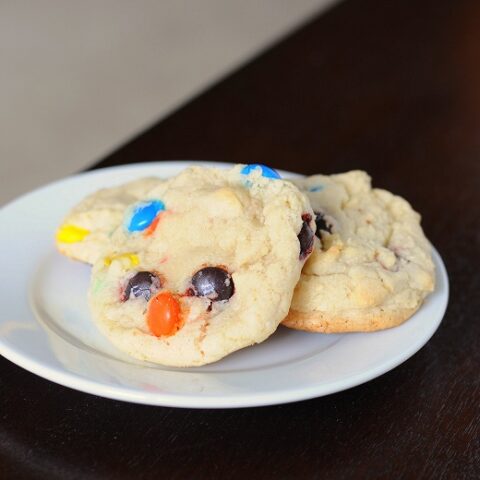 Chewy M and M Cookies
Ingredients
1 cup unsalted butter ,at room temperature
3/4 cup light brown sugar , packed
1 cup granulated sugar
1 TBSP sour cream
2 large eggs
1 1/2 tsp vanilla extract
3 cups all-purpose flour
1 tsp baking soda
1 tsp salt
2 cups M&M's ,I may have used more 🙂
Instructions
Preheat the oven to 360°F.
Line two baking sheets with parchment paper.
In a large bowl, using a mixer, cream together the butter, brown sugar, granulated sugar, and sour cream.
Add the eggs and vanilla and mix until combined.
Add the flour, baking soda and salt and stir mix just until combined.
Fold in the M&M's. If you care about how they look you can add more to the tops.
Refrigerate dough for at least an hour, though I prefer overnight. I usually make the dough a little bit before bedtime and then bake them in the morning.
Using a large cookie scoop (about 3 Tablespoons), scoop the cookie dough onto the baking sheet about 2 inches apart.
Bake for 9-11 minutes, or until the edges are barely golden brown.
Allow cookies to set on pan for 2 minutes as they continue to bake on the pan.
Place cookies on a wire rack to cool.