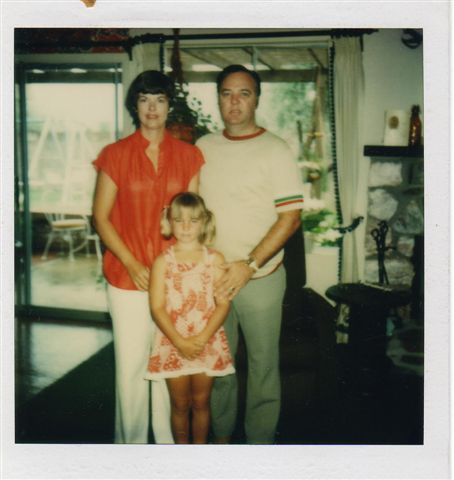 Today was supposed to be my last giveaway. I'm postponing that until I can do a good post with it. So it's being moved until Thursday. All the other giveaways will be drawn on Tuesday still and revealed on Wednesday. I'm quite sure you are all fine with that. You all have lives (well most of you 😛 ) and understand.
That being said…what a fine looking group my parents and I are. Yeah baby…the 70's are where it's at (look at the awesome blue fuzzy balls on the drapes!). 🙂 I'm kind of digging my dress but really thinking my mom kind of let me dress like a slut back in the day…anybody else think that my dress is a little short in that picture? Hmmm, I'm just going to assume I had bloomers on or something under that. Though my mom's shirt looks a little see through so maybe it was the family slut phase. 😛
But that gentleman standing next to us is my dad. It's Father's Day. You might have forgotten (dad's often get pushed to the side). I have it on my calendar for not only because of my own dad but because I date a dad. Gives a whole different perspective. But let's just focus on my dad.
Dear Dad,
Thanks for always staying up Christmas night putting my toys together. I was happy to learn years later that Santa doesn't swear that much…just you.
Thanks for teaching me to ride a bike. Even though you lied to me when you said you would not let go.
Thanks for dancing with me for hours at the Hoe Down in Flagstaff at the barn. You kept asking if I wanted to sit down and I kept saying no. Now that I am older I know that you were desperately trying to get me to sit. But you could see in my eyes that this little girl wanted to get her country grove on…and so we did.
Thanks for being my guinea pig along with E when it came to my career aspects to be a bartender. Some may argue though that it wasn't good parenting to let their 13 year old daughter do that…you just ignore those haters. I mean your daughter writes for Rock UR Party…clearly you saw something in me with my smashed grape gin fizz….you are a visionary.
Thanks for writing me in college the really nice letter when I had my first real broken heart. "My hope is for you to find a man who will love you as much as I love your mother" was pretty much the best thing you could have ever said to a daughter with a broken heart.
And while I always despised Father Daughter Boxing Night (for those not familiar it's where my dad watches boxing that I hate and I fetch him snacks. Very bonding.) I still do appreciate that it was our night together…well before I became a teenager and realized I could leave the house. 😛
Thanks for being you dad. And hey, lucky for you…you had me. And clearly I am the best thing to ever happen to you. 😀
PS. If you want a recipe be sure to check out my Beer Braised Pulled Pork Mini Calzones over at Tablespoon which are beyond yummy!