This Chocolate Mint Pound Cake is a chocolate pound cake filled with Andes mint chips covered in a thick chocolate mint ganache.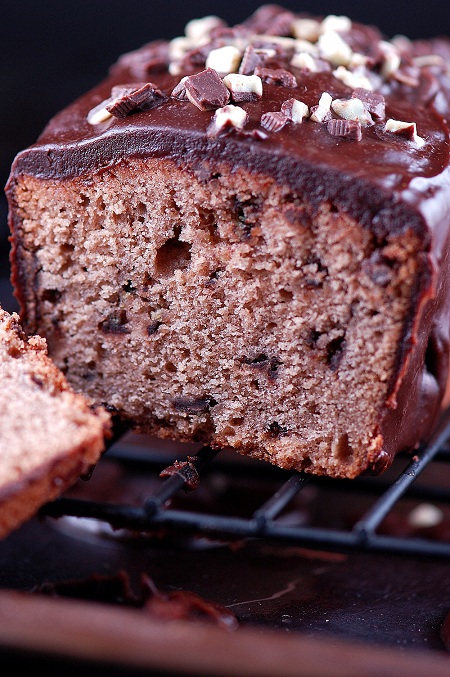 Someone I know, I can't say friend anymore (even though I was at her wedding, baby shower, baby birthdays, etc.) has adopted a new policy in life.
I'm pretty sure she has been paying a little too much attention to the inspirational sayings on Pinterest.
Especially the one that reads "Surround yourself with only people who are going to lift you higher".
Except like many, she misinterprets this.
This phrase doesn't mean I will sit around and blow smoke up your but.
It means surround yourself with people who will make you a better person.
Sometimes that's telling you like it is.
Surrounding yourself with people who will never tell you that you are being a jackass or screwing up royally means that you will never grow as a person.
For the record she has basically unfriended every person she knows.
Because everyone she knows has told her that the choices she is making are not good or healthy ones.
Comments are made not to bring that person down but to keep them from making life changing choices that aren't being thought out very well.
She lives in make believe land.
A lot of people do.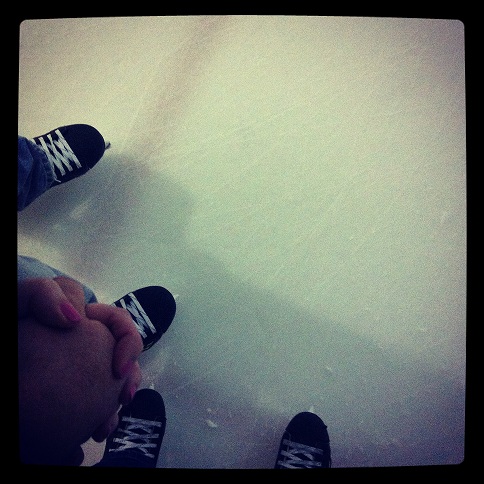 When at public skate last night (out on a skate date 🙂 )I saw a bunch of kids, some older, some younger.
Many of the kid's parents were there too…and I talked to a few of them.
They all of course want their kid to go to the NHL and boast how their kid plays select hockey.
For those who don't know select sports nowadays is basically super overpriced travel hockey (insert any sport) that isn't made up of the best players.
It's made up of the players whose parents check clear.
Some of these kids were already high schoolers.
If you aren't awesome at hockey (any other sport) in high school…you aren't going to get awesome in time to go to the NHL.
I myself am on the 17 year plan. 😛
So parents come to reality.
If your kids isn't that great have them play recreational hockey (or other sport) and save yourself some money.
Surround yourself with people who will love you, make you laugh, and are comfortable with telling you their real opinion.
Now I am not saying keep the fun sponges in your life.
Fun sponges are the people who suck the fun out of life.
And don't keep truly horrible people in your life either.
But if the person is telling you in a nice way and it's coming from a true place of concern, while you don't have to take the advice in any way, you might want to listen to it.
Especially if twelve of your friends are saying the same thing. 🙂
When my parents were here for Easter my dad asked if I had anything Chocolate Chip Mint in the house.
I had Girl Scout Cookies but I knew he wanted a little more.
So I made this cake.
He was very in favor of this cake and took the rest of it home with him.
Which of course made me super happy.
If you can't find the Andes Mint Pieces (I find mine at Target) you can use half chocolate chips and half mint chips.
And if no mint chips then consider moving. 😀
But no, you can use a tsp. of peppermint extract instead and load up on the chocolate chips.
P.S. It's a great day to buy my cookbook Holy Sweet!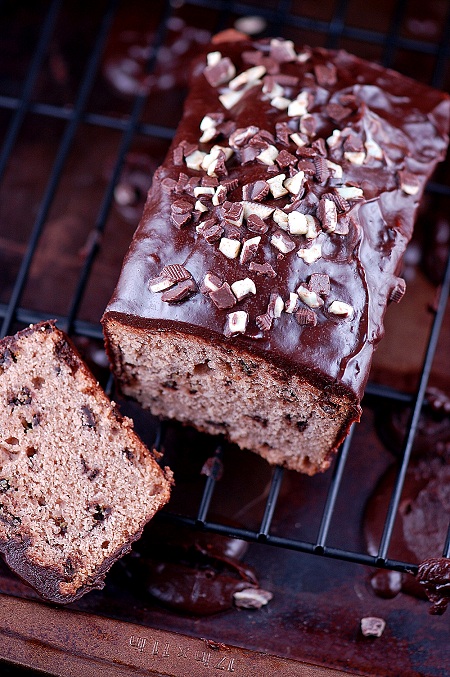 Want more pound cake recipes?
Cinnamon Sugar Banana Chocolate Chip Pound Cake
Bourbon Brown Sugar Pound Cake
Whiskey Glazed Apple Buttermilk Pound Cake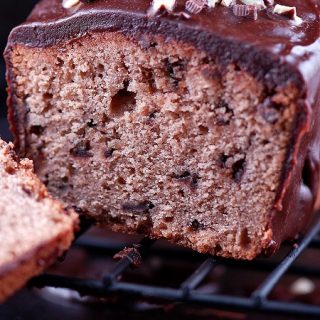 Chocolate Mint Pound Cake
Ingredients
For the Cake:
1 2/3 cups all-purpose flour
1/2 tsp. baking soda
1/2 cup unsweetened cocoa powder
1 1/3 cups sugar
6 ounces unsalted butter, at room temperature
2 eggs
1 TBSP vanilla extract
1/3 cup sour cream
1/2 cup boiling water
1 ¼ cups Andes Mint Pieces, tossed with flour
For the Chocolate Mint Ganache:
1 cup semisweet chocolate chips
½ cup Andes Mint Pieces
1 cup heavy cream
Instructions
For the Cake:
Preheat oven to 325.
Using a stand mixer with the paddle attachment, cream together the butter and sugar on medium-high speed for 3 minutes.
Add eggs and vanilla, and scrape down bowl when finished. Mix for another 30 seconds.
Add all remaining ingredients except for boiling water and Andes Pieces, and blend.
Once combined, stream in boiling water and blend until chocolate batter is smooth.
Fold Andes Mint Pieces into batter.
Spray loaf pan with cooking spray and pour in batter.
Set loaf pan on a baking sheet and put in oven.
Bake for 50-60 minutes, or until cake is no longer jiggly. I baked mine for 60 minutes exactly.
Let cake cool completely before removing it from pan.
For the Chocolate Mint Ganache:
Heat whipping cream over low heat just to boiling using a small saucepan.
Remove from heat; stir in chocolate chips and Andes pieces until melted.
Pour over loaf cake.