This Banana Fosters Pound Cake with Caramel Rum Glaze has the dessert Banana Fosters baked right into loaf form.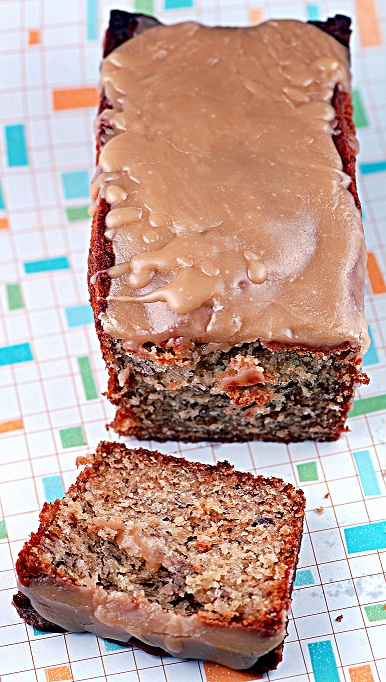 Hello April…I made you Banana Fosters Pound Cake with Caramel Rum Glaze.
You arrived so very quickly.
Things I learned in March:
*I have amazing and generous friends who were there for me when I needed it so very badly this last month.
And what is best about them is they all do it from their heart with no expectation of things in return.
But as I was told by quite a few of them that is how I treat them so they learned from me.
Which made me swell up a little…okay, a lot.
*I learned a new way to call someone fat.
I was lucky enough to learn that I certainly "don't go without" when it comes to food.
Yep.
I like me some food.
I also played and hour and 15 minutes of hockey on Friday night and two hours on Saturday night (my knee hates me for this).
I'm also not insecure enough to imply that someone is fat because I am fine with who I am.
*Speaking of fattening, MDP and I have an unnatural love of the Bacon Cheeseburger Pizza from Papa Murphy's…mostly because of the ketchup/mustard sauce they use instead of pizza sauce and the dill pickles.
*That I've never been more happy/validated in my choice to play an indoor sport.
While watching MDP's daughter play soccer in the pouring sideways rain for 70 minutes on Saturday I was more than happy to go play in my cold, yet covered and dry, ice rink later on that night. 🙂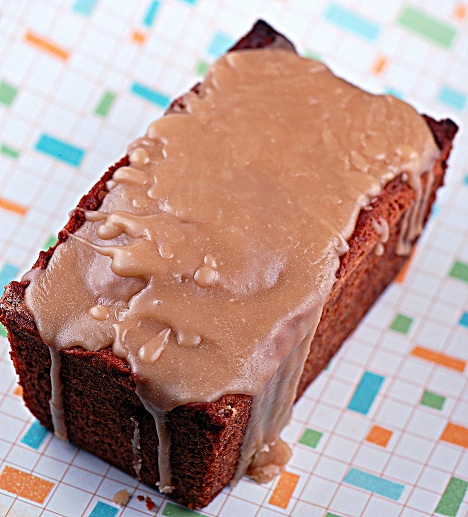 Saw some banana fosters banana bread on Pinterest…it was a healthy version.
Boo. 😛
Anyway, I do love some banana fosters already making it in crumb cake, bread pudding and sticky buns.
I decided to make a pound cake instead of a bread and put the fat back into it.
Also I wanted it to be covered in thick caramel rummy glaze.
Which it is. If you hate rum you can certainly leave it out but I say keep it in.
P.S. It's a great day to buy my cookbook Holy Sweet!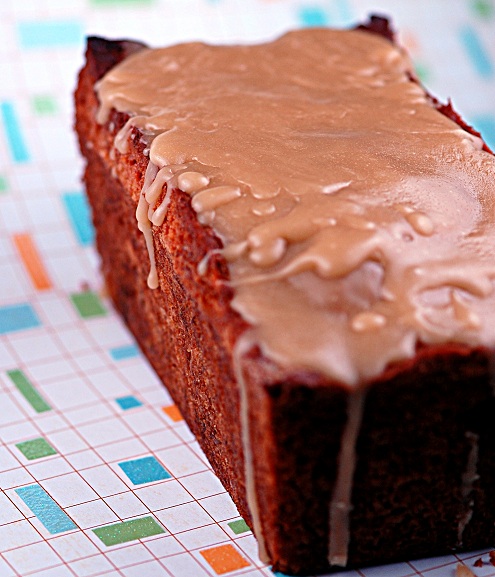 Want More Pound Cake Recipes?
Bourbon Brown Butter Chocolate Chip Cake
Strawberry Lemonade Bundt Cake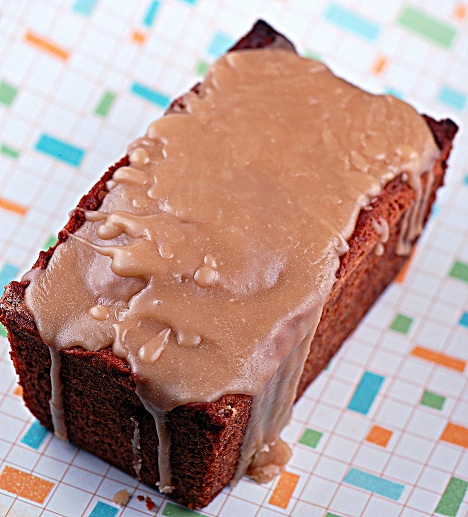 Banana Fosters Pound Cake with Caramel Rum Glaze
Ingredients
For the Cake:
2 ½ cups all-purpose flour
1 TBSP baking powder
1 tsp. baking soda
¼ tsp. salt
8 ounces mascarpone cheese
6 ounces unsalted butter, at room temperature
1 cup granulated sugar
2 large eggs
3 fully ripe bananas, sliced
¼ cup brown sugar, packed
3 TBSP rum
For the Caramel Rum Glaze:
1 cup brown sugar, packed
¼ cup unsalted butter
¼ cup heavy cream
2 TBSP rum
1 ¼ cups powdered sugar
Instructions
For the Pound Cake:
In a large sauté pan add bananas and brown sugar over medium heat.
Let sugar start to melt and add the rum.
Bring to a boil and stir bananas the whole time. Cook until bananas are soft and can be smashed with your spoon easily.
Mash the bananas with a spoon. Set aside to cool.
Preheat oven to 350F.
Grease and flour a 9-x-5-3 inch loaf pan.
Sift flour, baking powder, baking soda and salt into a medium bowl and set aside.
Using a standing mixer fitted with a paddle attachment beat the butter with the granulated sugar high speed until light and fluffy, about 3 minute.
Stop the mixer and scrape down the sides of the bowl with a rubber spatula.
Add the eggs, one at a time. Be sure each egg is completely incorporated and scrape down the sides of the bowl before adding the next.
Add one half of the flour mixture to the batter and beat until it is just incorporated.
Add the mascarpone cheese and mix until just incorporated. Add the remaining flour and mix just until incorporated.
Fold in the bananas foster mixture.
Pour the batter into prepared pan.
Bake for 1 hour and 15 minutes.
Cool in the pan on a rack for 5-10 minutes, then remove from pan and set on rack to cool.
If making mini loaves the cook time is about 45 minutes. Glaze when cool.
For the Glaze:
In a small saucepan add the brown sugar, butter, and cream and bring to a boil.
Remove from heat and add powdered sugar and rum whisking until smooth.
Pour over cake.