I'm posting this recipe because I keep losing this recipe. 🙂 I figure if I put it on the blog I can at least search for it on here. It's basically French Onion Soup except that there are pieces of steak in it. It's one of my favorites, the photo does not do it justice. It's really best to let it sit around for a day before you enjoy it. If you don't I highly doubt that the soup police will come visiting…but they might, it could be a slow time for them.
Wanted to show you my cute new business cards that Moo offered up to me. I had been using Moo cards before and knew that I like them so when they asked me if I would like to try some of their newer stuff on them I thought that sounded like a good idea. Clearly you can see how spoiled my dog is. So thanks to Moo I now have cards in time for BlogHer Food in the coming months.
And lastly if you live in the Seattle area and have seen the Swedish Fish Eggs please tell me where you have seen them. I love them and only found one package this year…very sad about that.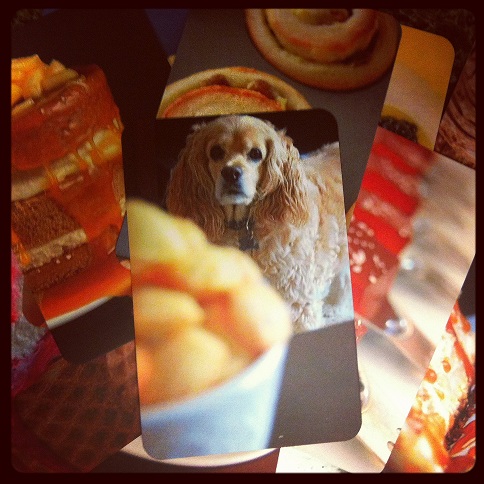 Steak and Onion Soup
4 TBSP unsalted butter
2 TBSP olive oil
2 sweet onions, sliced
1 pound quality stew meat
1 ½ cups sherry
10 cups beef stock
2 TBSP dried garlic (the dehydrated kind)
¼ cup unsalted butter, melted
8 TBSP flour
Salt and pepper to taste
In a large sauté pan, melt 4 TBSP butter and sauté the onion until translucent. Set aside.
Remove onions and add oil. Then add stew meat and brown on all sides (best you can). Remove from pan.
In a small saucepan combine the melted butter and flour and form a roux, the darker your roux the more flavor you will get. I went for a chestnut brown color myself.
In a large stockpot, heat the sherry over medium-high heat and reduce by half. Then add the beef stock and reduce by one-third.
Add the roux and dissolve completely. Add back the meat and ¾ of the onions.
Add garlic, salt, and pepper and let simmer for 45 minutes.
Add remaining cooked onion right before soup is finished, this will help layer your flavors.
Serve with a little bread and cheese of your choice. I used a ghetto hamburger bun and some Swiss. 🙂