These Candy Cane Cocoa Truffles are made with milk chocolate, heavy whipping cream, and candy cane hot chocolate mix.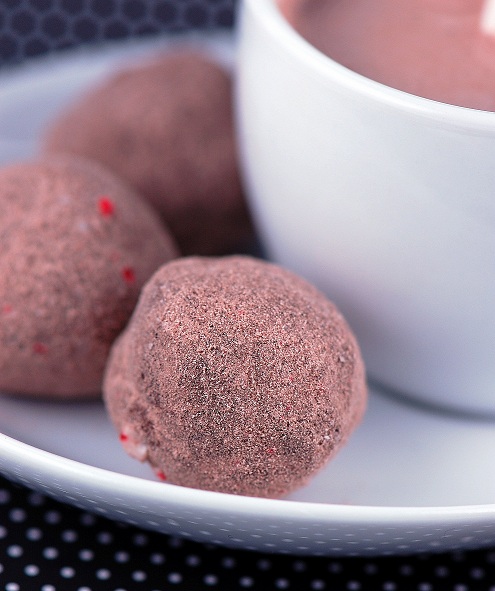 What I am about to say will be upsetting to some…I'm not really a chocolate gal.
I mean I like it but it's not my top pick.
I would much rather have something vanilla or caramel flavored.
If I'm eating Neapolitan ice cream I am eating the chocolate flavor last.
But I do enjoy a good cup of hot chocolate; in fact it may be my favorite beverage of all time.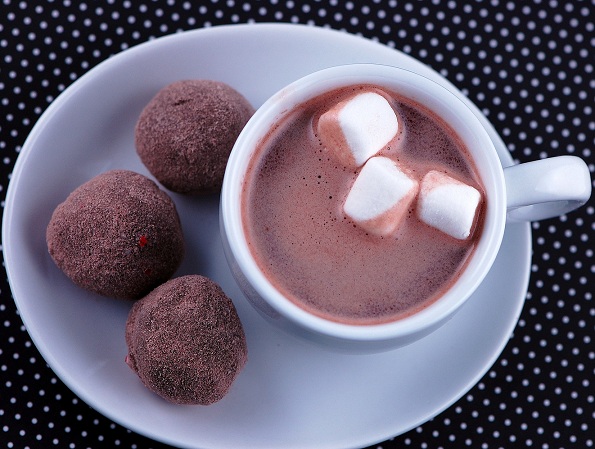 A few years ago my friend gave me a little gift bag and in it was a single size serving of Stephen's Candy Cane Cocoa.
I fell in love with it right away before even drinking if for the cute happy bear smiling while drinking his cocoa on the package (see below).
And when I made the cocoa, it was nothing but pure love.
I love the fact that it is a milk chocolate cocoa and that it has real bits of candy cane throughout it.
See the best cocoa for me is at Christmas time when I can have my cocoa with marshmallows and a candy cane to stir, so for a cocoa to combine that for me was awesome.
The first year all I could find were the small packets of it.
The next year I found it in a can at an upscale grocery store and jumped around a little bit.
Then the next year there is was a Costco in all its giant canister glory. I snatched it up and hurried home.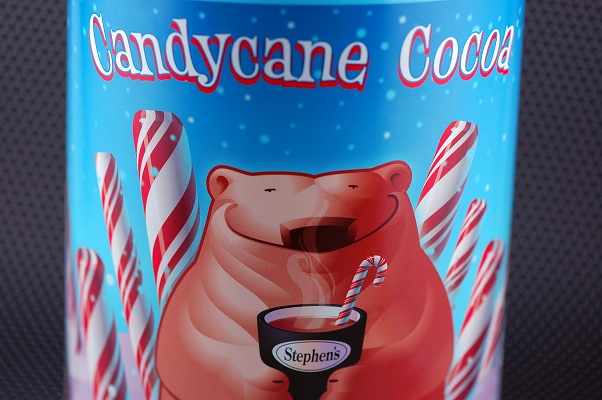 This year is no different.
I have been drinking this cocoa since it was out on the shelves (and in case you are wondering Stephens didn't pay or ask me to say anything about their cocoa I just love it).
I hadn't really made any candy this holiday season so I thought I would make the easiest of the candies…truffles.
And what better way to pay respect to my favorite cocoa flavor than to make it into Candy Cane Cocoa Truffles.
I thought since these were chocolate that I would be alright and maybe eat one or two, um no.
I popped so many of these in my mouth my Santa list should now read new pants one size up. 😛 P.S. It's a great day to buy my cookbook.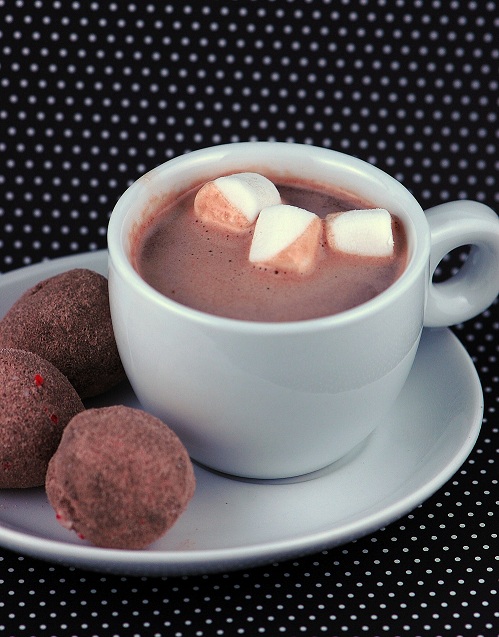 Want more Peppermint Recipes?
Peppermint Mocha Latte Sweet Rolls
Peppermint Bark Red Velvet Cupcakes
Milk Chocolate Peppermint Fudge
Chocolate Dipped Chocolate Peppermint Cupcakes
Peppermint Mocha Blossom Cookies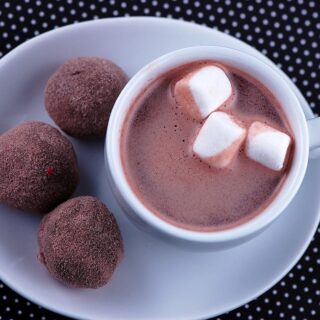 Candy Cane Cocoa Truffles
Yield:
Makes 20-40 hot chocolate truffles depending on how large you make your truffle.
Ingredients
8 ounces milk chocolate chips (or semi-sweet if you prefer)
1/2 cup of heavy whipping cream
1 1/3 cup hot cocoa mix (I used Stephen's Candy Cane Cocoa), divided
Instructions
In a small, heavy saucepan bring the heavy whipping cream and 1/3 cup of the cocoa mix to a simmer.
Whisk occasionally to make sure the cocoa is dissolving into the cream.
You are wanting to get it hot and the cocoa fully dissolved…just as if you were making regular cocoa.
Place the chocolate in a medium bowl and pour the cream over the chocolate and let it stand for a few minutes then whisk until smooth.
Let chocolate cool down and then place in the fridge with plastic wrap over the top for two hours.
Remove and with a teaspoon roll out balls of the chocolate.
Roll in your hands quickly and place on a baking sheet lined with parchment or wax paper.
Roll in the remaining hot chocolate and place into the refrigerator.
Keep stored in fridge for up to a week. .