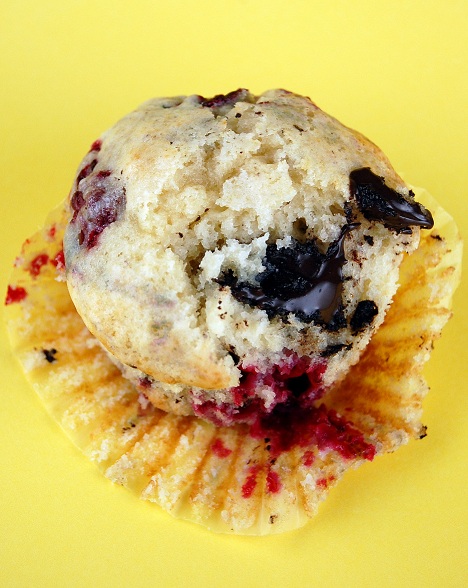 "Sometimes I sing and dance around the house in my underwear. Doesn't make me Madonna. Never will." –Working Girl 1988
Ever notice how there are certain things you will do when it's just you and no one else around? Like dance in your underwear? Wear a mud mask? Eat crackers as a meal? Shove tissue up your nose because you are too lazy to keep blowing it? Do Reddi Whip shots from the can? Eat an entire pan of muffins?
I wasn't actually going to put these muffins up on the blog. I mean, they are just muffins. But one thing I told myself this year (kind of like my only resolution) was to put more everyday stuff up on the blog. I make stuff all the time that never makes it to the blog because I think, oh they are just muffins, or cookies, or bread. But the thing is that is what people are making on a more consistent basis than say, layer cakes. So I decided that I would show more of the everyday things I make, especially now that I am on a super budget and can't really bake things just for the blog anymore.
These were made in order to use up some almond bark that I had at Christmas. If you don't have almond bark, good old chocolate chips will do just fine. Though I do like the addition of the almonds in these. I buy all this candy around Christmas time and no one eats it. Then I'm stuck figuring out what I need to do with it (next up is my leftover peanut brittle). If you have white chocolate almond bark you might want to try these with blueberries and a little lemon zest.
So are there any embarrassing things you do when it's only you?

Raspberry and Almond Bark Muffins
1 cup unsalted butter, at room temperature
1 cup granulated sugar
2 tsp. vanilla
2 eggs
2 and ¼ cups all-purpose flour
¾ tsp. baking soda
¾ tsp. baking powder
1 and ¼ cup sour cream
2 cups mixture of frozen raspberries, thawed, and patted dry
¾ cup Almond Bark, chopped up into small chunks
Cream the butter and sugar until soft about 3 to 5 minutes. Add in the vanilla.
Add in the eggs one at a time and mix until each is incorporated.
In a separate, mix together the flour, baking soda, and baking powder.
Add the flour mixture and the sour cream alternately to the egg-butter mixture in the additions. Start with the flour and end with the flour. Scrape the bowl occasionally.
Fold the berries and almond bark into the batter. Portion the muffin batter into greased tins (I use an ice cream scoop). Depending on the size of your tins, you should get about 12 to 14 muffins. Bake them for approx. 20 minutes (mine took 25 because my berries were super juicy) until they are golden brown.