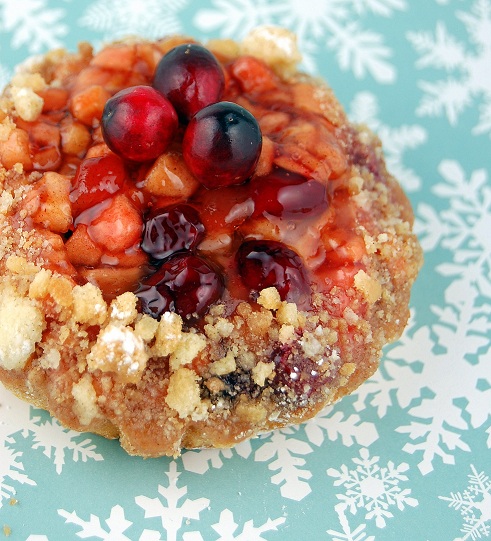 I rejoined the gym. No, I'm not one of those gym bandwagoners who climb on board the beginning of the year. As most who read this blog know, I am one of the weird people who like to work out. But since having moved I had not joined a gym yet. I knew that at the beginning of the year they run deals, and I was waiting around for that. Which I got.
Since it's I am new to the gym you have your free training sessions that they push on you. I had passed but it was so dead the other day that the trainer told me he was bored and could we please do a fitness test. Fine, whatever. I did the test. His comment was that I was in pretty good shape, quite flexible except in my hamstrings (the curse of a defensive ice hockey player). Today while at the gym he came up and said "you did pretty well on  your fitness test, but I could totally get you leaned out." I laughed at him and told him I ran a baking and dessert blog and that so wasn't going to happen. To which he dared to say "can't you switch it over to a healthy living blog, more people are interested in that anyway?"
These were the wrong things to say to me. I whipped around and out I spewed.
"First off people are interested in that because that is what society tells them to. I can assure you that brownies taste a hell of a lot better than celery, plain and simple.
I will never be one of those people sipping on MGD 64. I drink beer because I like how it tastes. If I want to get drunk I take two shots of vodka. I eat something sweet every day. If I go to Denny's at 1am and order seasoned fries, it's because I want them. I don't say, Ugh I feel fat after I eat them. I don't say I will work out harder tomorrow to burn these off. I just eat them. Because I like them. End of story.
I'm not one of these insecure size 4 girls who are convinced that their life will be better if they are a size zero. I've been smaller than this and I've been larger than this. My happiness does not depend on that. My happiness doesn't depend on where I live or what I drive either. So save your crap for some other girl. The key to happiness is surrounding yourself with people who like you for you and not the size of your jeans. My blood pressure last week at the doctor was 112/66. My cholesterol  was 117. And my blood sugar is in the normal range.
I'm pretty funny. I'm pretty smart. I'm pretty cute. I'm pretty awesome. And that's all the pretty I need to be."
 
He just stared blankly at me.  And then said, "wow, you are really sure of yourself aren't you?"
I replied, "you don't know the half of it" and walked away.
On my way out the door he stopped me and said, "I would still love to train someone with your moxie." I smiled and said, "I already have a trainer thanks, but feel free to join me for a beer sometime."
So in honor of the trainer who thinks I should change to a healthy living blog (ah, can you imagine…), I offer up French pastry. Which is about as fattening as you can get. Sweet dough. Fat. Pastry Cream. Way fat. Fruit. Hey that's healthy. Glaze. Not that bad. Streusel. Back to fat. Yeah, this is time consuming and over the top (I actually made it for the holidays) but figured this would be a perfect time to post it. 😛

Apple-Cranberry Tart with Apple Jack Pastry Cream Filling
Sugar Dough
6 TBSP cold, unsalted butter cut into 1/4 inch cubes
1 large egg
1/3 cup powdered sugar
1 1/4 cups pastry flour (all-purpose is OK, too)
1 1/2 TBSP baking powder
Put the cubed butter and egg in a mixing bowl and beat them with an electric mixer on medium speed until the butter is in little pieces and the mix looks like scrambled eggs. This will take about 2 minutes. Add the flour and baking powder and continue mixing until the dough comes together and starts to clump. Stop the mixer and dump the bowl onto the counter and knead by hand very gently until the dough holds together. You can use this dough right away or put it into the refrigerator until you're ready to use it.
The Custard Base
Pastry Cream
1 large egg
1 large egg yolk
62 grams granulated sugar (a bit more than 1/4 cup)
12 grams pastry flour ( 1 1/2 TBSP all-purpose will work OK)
12 grams cornstarch (1 TBSP)
250 grams whole milk (1 cup)
1 tsp. vanilla extract
3 TBSP Apple Jack or other Apple Brandy
Put the egg, yolk, sugar, flour, and cornstarch in a bowl and whisk until very well blended. You don't want any lumps. The mixture should be thick and homogenous.
Put the milk into a 2-quart saucepan and place over medium-high heat and bring to a boil.
Pour a small amount, about a quarter cup, of the hot milk into the egg/flour/sugar mixture while whisking constantly. You have to keep it moving or the heat from the hot milk will scramble the eggs and make a mess of the custard. When you get that mixed in pour in a little more and keep on whisking. Then pour the now-heated egg/flour/sugar/milk mixture back into the saucepan with the rest of the milk and return it to the heat. Keep on whisking and be sure to get into the corners so nothing will stick and burn on the bottom of the pan. As the mixture gets to the boiling point it will become very thick. Keep on whisking and let it boil for 2 minutes. Take it off the heat and add vanilla extract and Apple Jack. Scrape the pastry cream into a bowl. Put a piece of plastic wrap right on the surface of the cream and let it cool to room temperature.
The Fruit
3 Granny Smith apple, diced tiny
2/3 cup fresh cranberries
1 tsp. cinnamon
1/2 tsp. nutmeg
grated zest of one lemon
juice of 1/2 lemon
1/3 cup sugar (to taste, depending on the apples)
Put apples and cranberries in a bowl and add the rest of the ingredients. Mix and taste. Adjust the seasoning and sweetness to your taste. The flavor needs to lean to the strong side, but not overpowering and for sure not too sweet.
The Glaze
Apricot Glaze
1/4 cup apricot jelly
1 – 2 TBSP Cointreau, Grand Mariner, or orange juice
Heat the jelly over low heat until it melts and liquefies. Add the Cointreau and mix well. Use while still warm.
Streusel:
2 ounces butter
1/2 cup packed brown sugar
1/2 cup all-purpose flour
Prepare the topping by combining the butter, brown sugar, and flour. Cut in all ingredients with pastry cutter until pea-sized. Set aside,
Assembly
Preheat the oven to 350°F. Roll out the pastry and fit it into a tart pan (I used 2 mini (4-inch) ones). Spread a layer of pastry cream over the bottom so it comes about half way up the pan. Arrange the fruit . I use a lazy pile on top method, but feel free to get as fancy as you like. Sprinkle a little granulated sugar over the fruit. Sprinkle streusel topping around the sides of tart. Bake for 35 to 40 minutes (27-35 minutes for the mini), until the crust is nicely browned. Remove the tart from the oven and let it cool for just a few minutes. Brush the top with the glaze. Let it cool to almost room temperature before serving.
Adpated from An Amateur Baker in Sidney who adapted it from Dessert Circus by Jacque Tores