This Peppermint Brownie Pie is a super easy pie to make and is basically a giant fudge brownie with candy canes all in a pie shell.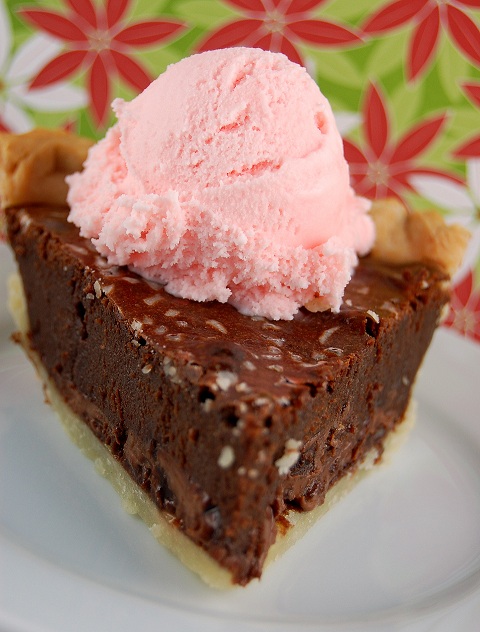 Cue Beyoncé's Single Ladies…
So besides the "I'm so sorry to hear that" (which is usually said while tilting head to the side…I have no idea why), the second thing that seems to come out of everyone's mouth is "have I got a guy for you".
Oh goodie.
People who can't pick out matching socks half the time (yes, I'm talking about guys on the hockey team) want to pick a guy for me to go out with, awesome. 🙂
I'm getting to the point of avoiding going out to the bar after the hockey games.
Because it usually goes "ah that's too bad…Hey have you met (your name here), he's from Canada and is also recently divorced".
And then the next thing you know I am listening to some guy go off about how his evil ex-wife is getting all the money and the house, etc…
Good times.
For the record, I am not bitter in the least about my ex.
He is a good guy, so there is no reason to.
I chose to focus on all the awesome things we had in our marriage and the ways it made me (hopefully) a better person.
But by far my favorite so far was the lunch time ambush.
I had a friend invite me out to lunch on her.
I'm all about the free lunch/dinner/beer right now on my tight budget.
So I went and sat.
And sat.
Sat some more.
Then, some guy comes up to me and says "are you Peabody?"
I was waiting for him to ask if I ran a food blog.
Because oddly that has happened more than once.
But no, no adoring fan wanting me to sign his butt (why do all the rock stars get the fun?).
No, this was a guy who was sent by my friend to meet me because she got called into a meeting.
Hmmm.
Interestingly enough this guy likes hockey.
In fact he is a season ticket holder to one of our junior hockey teams we have around these parts.
Brews his own beer.
And goes to the Herbfarm at least once a year.
Oh, and has a good job.
Which all sounds nice, but, can you say awkward.
Coming home from something bizarre as that needs to involve chocolate of some sort.
I had a folded up piece of paper I found a while back from a friend whose mom made brownie pie.
I had just made quiche and had an extra pie shell from that (yes, store bought, judge away).
It was simple and quick and well, chocolate.
About what I needed in this situation.
Plus I thought it would go great with my leftover peppermint ice cream (which it did).
This Peppermint Brownie Pie actually ends up being more like a flourless cake in a pie (only 3 TBSP of flour) which makes for a nice, dense, and yummy pie.
P.S. It's a great day to buy my cookbook Holy Sweet!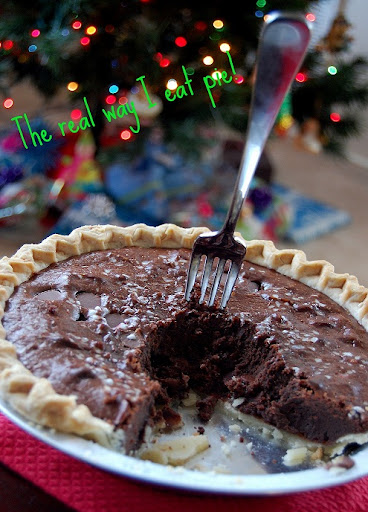 Want More Brownie Recipes?
Marshmallow Crunch Brownie Bars
Peppermint Brownie Pie
Ingredients
1 (14 oz.) can of sweetened condensed milk
¼  cup unsalted butter, cut into 8 pieces to make for quicker melting
½ cup unsweetened baking cocoa
3 eggs
3 TBSP all-purpose flour
1 tsp. vanilla flavoring
1/8 tsp. peppermint extract
1 cup milk chocolate chips
1/3 cup crushed candy cane pieces
1 pie shell (can make your own or use a store bought crust)
Instructions
Make the pie crust.
If you using a frozen crust, get it out and let it thaw.
Get a medium saucepan, over low heat, place milk, butter, and cocoa powder in the pan.
Mix everything together.
Stir occasionally so the mixture does not stick to the pan and scorch.
Remove from heat when all ingredients are melted and mixed together fully.
In a large bowl, lightly beat the eggs.Temper eggs by adding a small amount of the chocolate mixture, a couple spoonfuls at a time.
Do this three times.
Next, stir in the remaining chocolate into eggs.
Add flour, vanilla, and peppermint extract.
Fold in chocolate chips.
Spread half of the candy cane pieces at the bottom of the pie.
Pour brownie batter into pie shell.
Top with remaining candy cane pieces.
Bake at 350 degrees F for 40 minutes in a 9 inch pie pan.
Serve with ice cream or whipped cream.