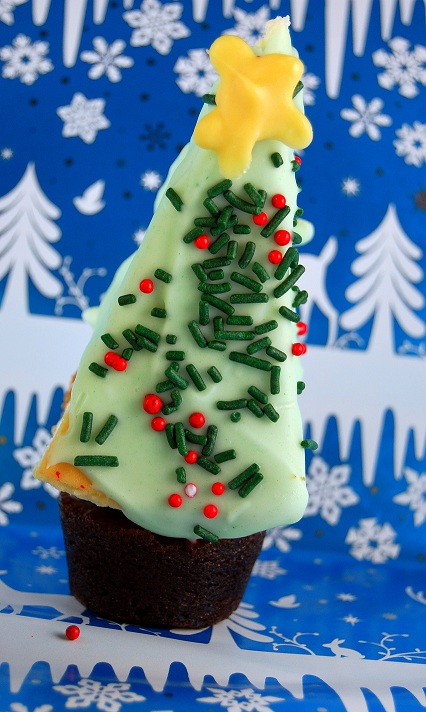 Most everything is still in boxes and very unorganized sadly. Most of my bake ware is still packed up (I know, I know) yet I still get asked to go to parties and bring things. Ahhh. I had a party to go to and even though they told me not to bring anything, I got a call later telling me that their kids wanted to know what Peabody was bringing. Otherwise known as guilt. Ugh.
So I turned to Sam's Club to help me out. And though they have a ton of  beautiful desserts already to go, I kind of wanted to make something a little fun for the kiddos. The minute I saw the brownie bites over in the bakery I had an idea form in my head. Cheesecake Christmas Trees, and the brownie bites could be the bottom. Lucky for me Sam's Club carries Cheesecake Factory Cheesecake in the frozen section. My Sam's had both a plain (or original as they like to call it) and a pumpkin cheesecake. I picked both. 😉 I also stopped by the baking section to pick up the Ghirardelli Chocolate Company Dipping & Candy-making Bar. It comes in both white and a double chocolate flavor. I chose to go with the white as I wanted to color my trees green.
So a cheesecake, some brownie bites, and a baking bar and I was basically in business. All I needed to add was some festive sprinkles and some food coloring. If you haven't had the brownie bites, they are super yummy. They make a nice, dense, fudgy brownie, just the way I like em. And the cheesecake is from the Cheesecake Factory, so really, need I say more. The baking bars are great, as they can even be microwaved, which considering the fact I don't have any pots right now (I do, they are just hiding somewhere), this made my life a lot easier. Just add a little green food coloring to the chocolate and you are good to go. And more importantly it took hardly anytime at all.
If you don't even have time to make these Sam's does offer up some wonderful desserts that you can simple just pick up and go like the Cheesecake Factory Red Velvet Cheesecake (yes, I know I mention this all the time…for a reason people!) Chudleigh's Caramel Apple Blossoms both found in the frozen dessert case, along with the two cheesecakes I purchased. Or the Bakery department has a Caramel Pecan Silk Pie, Harvest Orchard Pie, Cherry Pie, Chocolate Truffle Cake and Chocolate éclairs that are baked there and ready to serve at your next holiday gathering.
Also, be sure to join me on the Sam's Club page on December 20th and participate in a Holiday Meal Planning Discussion with me. 🙂
*As always, I was compensated for this post, was given a Sam's Club membership, and a gift card to purchase the food that is in the post, but opinions are that of my own.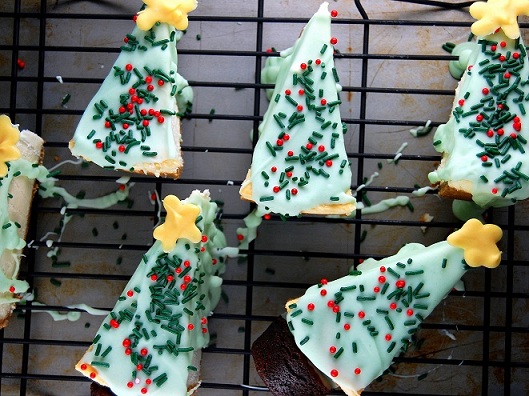 Cheesecake Christmas Trees
Makes 12 Trees
1 Cheesecake Factory Cheesecake
1 Ghirardelli Chocolate Company Dipping & Candy-making Bar, chopped up finely
1 container Brownie Bites (there will be extras…just eat them :P)
Festive sprinkles for decorating
Green and Yellow food coloring
Keep cheesecake frozen, this will help with the chocolate setting up quickly, as well as moving the cheesecake to wire rack. The cheesecake is pre-sliced (yay, because don't know where my good knives are right now). Remove each piece and place them on two wire racks with a cookie sheet underneath (to catch the extra chocolate drips).
Take out one cup of chopped up chocolate candy making bar and set aside. Microwave the rest according to the directions on the back. Add a couple of drops of green food coloring to it. When it is pourable, pour over the cheesecake tops, use a spatula to smooth out over top of cheesecake. Work quickly to add sprinkles as chocolate will start to harden.
With the leftover green chocolate adhere the brownie bite to the base of the cheesecake. Put into freezer or fridge if you have more time to firm up.
Prepare a cookie sheet or large plate with parchment paper. Microwave remaining chocolate but this time add a few drops of yellow food coloring. When smooth, add to a piping bag and make stars onto the parchment paper.  Place in freezer to firm up. Once firm add a little more melted chocolate to top of tree to adhere star. If the chocolate that you are using to adhere stars has hardened up, just reheat and use.
Place in an airtight container in the fridge. You can serve them upright if you want a more fun presentation.
If you want a non-tree shape, the pumpkin cheesecake just was covered in white chocolate and then chopped pecans. Those didn't photograph pretty though. 🙂