This Squash Harvest Loaf comes from a local bakery here in the Seattle area. It's perfect for a fall afternoon with a cup of tea.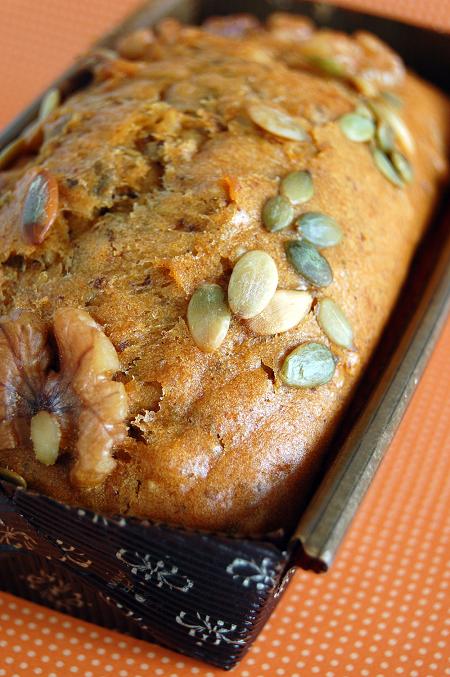 So the calender says Summer should be coming, but apparently Mother Nature didn't get the memo.
As I sit here and type this out I am wearing sweatpants and a long sleeve shirt and am seriously considering getting a sweatshirt to put on as well.
It's says it's 61 outside, but it's damp and cold.
We had down pouring-sideways rain when I got up early this morning to go to stick and puck (hockey) which I ended up ditching since there was down pouring-sideways rain…and it was 5am.
Though don't get me wrong, I am loving that Mother Nature is forgetting about Summer.
I'm all for it.
I just hope she doesn't make up for it by extending the Summer. 🙂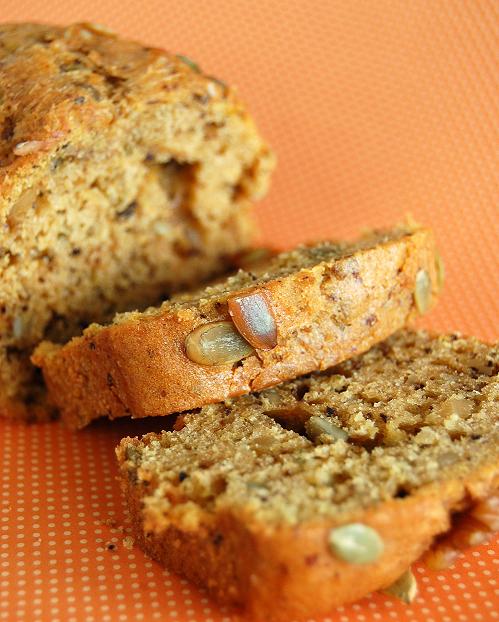 Now for a bit I tried to embrace the coming Summer.
I tried to make a more Summery based dessert and I had an epic fail.
I mean epic.
I've never even seen food have the texture I got with my baking fail.
And so I figured if Mother Nature wasn't ready to move on, then neither should I.
I should just pretend it is my favorite time of year, Fall, and make something that reminds me of that season.
So I did.
This Squash Harvest Loaf comes from Macrina which is a local bakery here in Seattle.
They wrote a cookbook.
It's my go to one for bread.
If you don't own it, I seriously recommend it for you.
It's in paperback now so it's cheap.
This bread calls for fresh butternut squash (which I used,) but you can use canned pumpkin if you would prefer for time saving purposes.
But as always, fresh is better.
The original also uses ½ cup of walnuts and ½ cup of pecans.
I'm out of pecans so I used a whole cup of walnuts.
I hope you all are getting the type of weather you are wanting…I know I am. 😀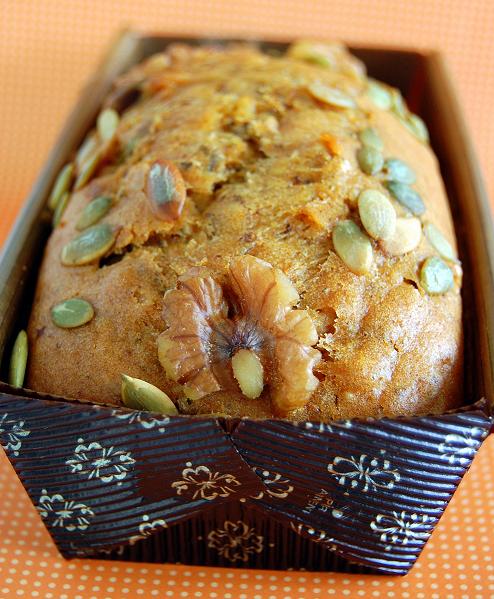 Want More Fall Recipes?
Glazed Pecan Butterscotch Apple Bundt Cake
Cinnamon Sugar Apple Babka Buns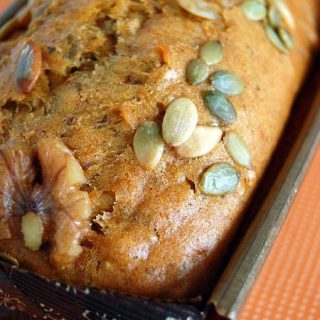 Squash Harvest Loaf
Ingredients
2 cups roasted butternut squash purée* (or canned pumpkin if you prefer)
1 cup walnut halves
1 cup pumpkin seeds
2 tsp baking soda
2 tsp baking powder
3 ½ cups all-purpose flour
1 ½ cups light brown sugar
1 ½ cups granulated sugar
4 eggs
½ tsp nutmeg
1 ½ tsp cinnamon
1 ½ tsp salt
1 cup canola oil
¾ cup buttermilk
*Use about 1 lb 1/2 for 2 cups of roasted butternut squash, a medium-sized squash.
Instructions
Roasting the butternut squash.
Wash and cut the squash in two halves, remove the seeds and place the halves in a rimmed baking sheet, face up, with 1 cup water in the pan. Cook in a preheated oven at 375 F for 1 hour minimum, until the flesh is fork tender.
Remove and let cool down before scooping the squash out.
Place in a food processor and mix smoothly.
Let cool down and use 2 cups for 2 loaves. Keep the rest in the fridge for 3 days max, or freeze it for future times.
Making the loaves
Place the nuts and seeds on a rimmed baking sheet and toast for 15 minutes (at 375F. If you roasted the squash your oven is already at this. If you used can pumpkin, you need to preheat to 375F). Remove from the oven and let cool down before grinding them, medium. Keep ¼ cup on the side, for the decoration.Turn the oven temperature down to 325 F.
Sift the flour, baking powder, baking soda, cinnamon, nutmeg and salt in a bowl.
Add the seeds, minus 1/4 cup. Mix with a wooden spoon.
In the bowl of a stand mixer, combine the oil and two types of sugar and use the paddle attachment to mix on medium speed, for 4 minutes.
Add the roasted butternut squash and continue to mix for 2 minutes.
Then, add one egg at a time.
Remove the bowl from the stand mixer and add the flour and the buttermilk alternatively, until the liquid is absorb each time.
Transfer the preparation in 2 oiled loaf pans measuring 9 x 5 x 3″, 2/3 to the top.
Sprinkle with the reserved seeds.
Bake in the oven for 1 hour, or until a skewer comes out dry once inserted in the loaf. Remove and let cool for 20 minutes before unmolding on a cooling rack.
Notes
Source: Macrina Bakery and Cafe Cookbook by Leslie Mackie