This Cinnamon Sugar Brioche Bread Pudding starts with making a cinnamon sugar brioche and then turning it into a yummy bread pudding.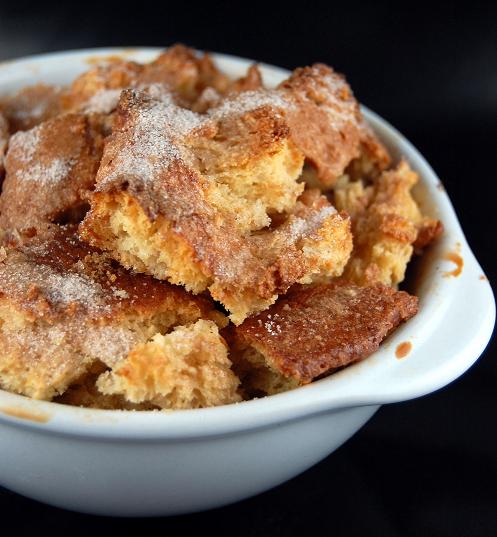 Some people have children.
I have a dog.
A rabbit.
And well, this blog.
Yes, in some ways your blog can be like your baby.
Especially, if you are like me and really care about what you put out there into the blog world.
Just like if I were to have a tantrum having toddler at a restaurant I would feel embarrassed, I get equally embarrassed when someone makes something on here and it doesn't turn out.
Even if it is the person making it's fault, I still feel bad that it didn't turn out for them.
I mean, a waste of ingredients is still a waste of ingredients.
Just like a child,  I have watched my blog grow over the years.
A journal of sorts of my life.
Sometimes late at night I like to go back and review what I have written throughout the years.
I've certainly evolved from my blurry, flashy overexposed photos to my signature up close photos that most people comment as "so close it makes me feel like I can reach in a grab it".
My writing has evolved from quick little quips to sharing (and sometimes over sharing) my slightly dull, definitely sarcastic outlook on life (but the good news is my crappy grammar has stayed the same…lucky you).
I've had weird email from people (still get that).
Sometimes I get fan mail.
And sometimes I get hate mail.
I get wonderful care packages from people (still warms my heart).
I "meet" lots of people.
I've been exposed to a variety of porn spam I never knew was possible.
But most of all I have received support.
I can tell right now that some of you may be panicking a bit.
This kind of sounds like a goodbye.
It is not.
See, Culinary Concoctions by Peabody turns 5 today.
That's right my baby is growing up.
Definitely hard to believe.
When I have been telling people lately the common response, is, "I can't believe it's been around that long." It has.
Though what they are really saying (because I feel that too) is "crap, I'm 5 years older". 😛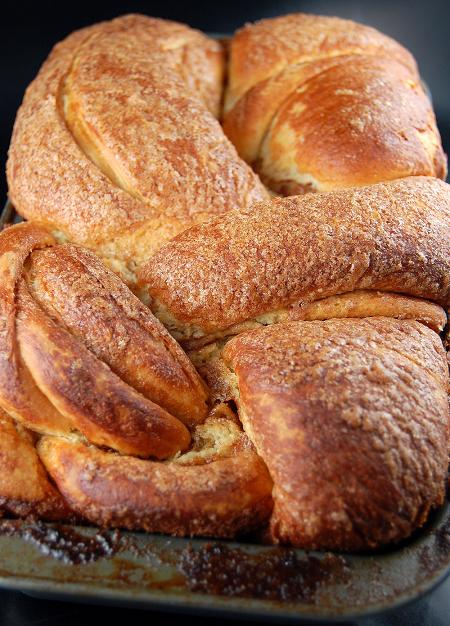 Nothing of course embodies my baking blog than that of bread pudding.
And since my blog is like my baby, it got me thinking about my mom.
Whenever I was sick my mom would make me cinnamon sugar toast (with the evil crust taken off…oh how dumb we are as kids).
It was just white toast with butter and a cinnamon sugar mixture sprinkled on it.
To this day if I don't feel well, that is what I want.
That and a 7-UP because that is what we had with it. 🙂
This bread pudding is tribute to that.
It's Macrina's Cinnamon Brioche, which I adapted to be more like my mom's comfort classic of cinnamon-sugar toast.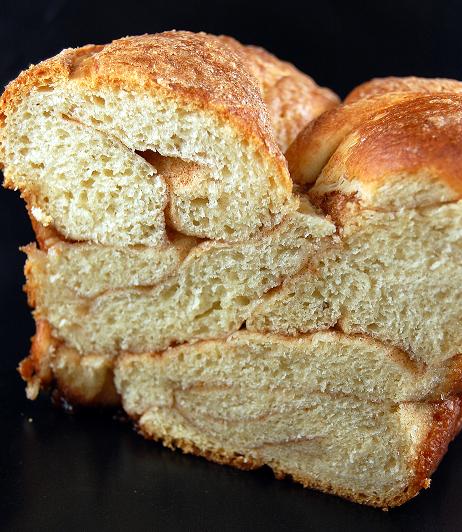 There is no sauce in the picture with it.
I didn't eat one with it.
Though a nice cinnamon anglaise sauce would probably go great
A special thanks to all the readers who have stuck around throughout the years.
And thanks to the food bloggers who constantly inspire me in one way or another.
Here's to many more….
Peabody
By the way, it's a great day to buy my cookbook !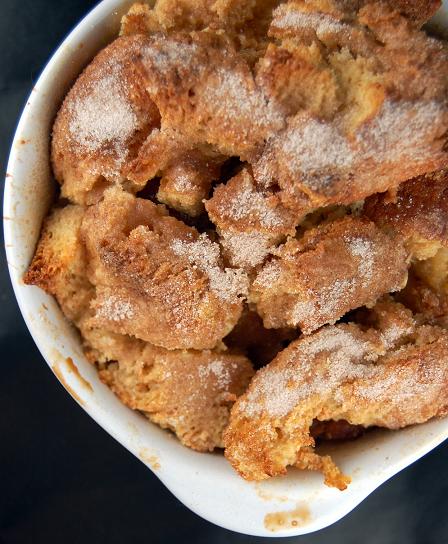 Want More Bread Pudding Recipes?
Apple Cider Donut Bread Pudding
Sticky Toffee Pudding Bread Pudding
Molasses Spice Orange Bread Pudding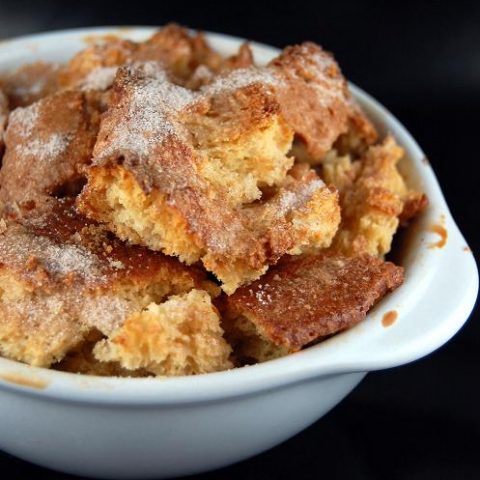 Cinnamon Sugar Brioche Bread Pudding
Ingredients
For the Cinnamon-Sugar Brioche:
¼ cup warm water
½ cup granulated sugar, divided
1 ½ tsp dry yeast
1 tsp pure vanilla extract
2 eggs
¾ cup whole milk
3 ½ cups all-purpose flour
1 tsp salt
8 TBSP (1 stick) unsalted butter, at room temperature
For the Cinnamon-Sugar Mixture:
½ cup granulated sugar
½ cup light brown sugar
1 TBSP cinnamon
½ tsp freshly ground nutmeg
4 TBSP unsalted butter, melted
For the Bread Pudding:
1 loaf Cinnamon-Sugar Brioche
1 ½ cups heavy cream
½ cup whole milk
3 egg yolks
2 eggs
1/3 cup granulated sugar
½ cup brown sugar
2 tsp cinnamon
1 ½ tsp vanilla extract
For the Cinnamon-Sugar Mixture:
½ cup granulated sugar
2 TBSP cinnamon
Instructions
Prepare Brioche dough:
Place warm water and 2 teaspoons of the sugar in the bowl of your stand mixer.
Sprinkle yeast on top and mix with a whisk until yeast is dissolved.
Let stand for 5 minutes while yeast blooms.
Add remaining sugar, vanilla extract, eggs, milk, flour, and salt.Using the hook attachment, mix on low speed for 3 minutes to start bringing dough together.Switch to medium speed and slowly drop pieces of butter into dough.
Mix for 10 to 12 minutes.
Dough will be wet and sticky and will have good elasticity when stretched. Let rest in the bowl for 5 minutes.
Pull dough from bowl onto a floured surface and flatten into a rectangle.
Starting with a narrow end, roll dough away from you into a log.
Fold ends underneath to form a loosely shaped ball. Place ball in an oiled, medium bowl and cover with plastic wrap.
Let proof in a warm room, 70 to 75°F (21-24°C), for approximately 2 1/2 hours. Dough will almost double in size.
For the Cinnamon Sugar Mixture:
Combine ingredients in a small bowl and mix well.
Line bottom and sides of a 9 x 5 x 4-inch loaf pan* with parchment paper and spread Cinnamon Sugar
Mixture evenly on a rimmed baking sheet.
Place dough on a floured work surface and pat it into a 6 x x 2-inch rectangle.
Divide dough into 3 equal pieces and roll each piece into a rope approximately 10 inches long.
Brush the strands of dough with melted butter, making sure they are thoroughly coated.
One at a time, roll the coated strands of dough in the cinnamon mixture.
Line the strands up side by side and, starting at either end, braid the pieces.
Pinch ends together to form a seal and fold ends underneath.
Lift braid into lined loaf pan. Brush with melted butter and sprinkle with remaining cinnamon sugar.
Cover with plastic wrap and let proof in a warm room for I hour, or until loaf rises to fill three-quarters of the pan.
While loaf is proofing, preheat oven to 360°F (180°C)
Remove plastic and place loaf on center rack of preheated oven.
Bake for about 45 minutes.
Top and sides of loaf will be dark golden brown.
The hot loaf will be very fragile, so let cool on wire rack for 20 minutes before removing from the pan.
After 20 minutes, lift loaf out of pan and continue cooling on a wire rack.
If needed, run a sharp knife around the sides of loaf and invert pan to remove it. (It's important to remove the loaf from the pan before the sugars cool and stick to the sides.)
For the Bread Pudding:
Preheat oven to 350F.
Make cinnamon-sugar mixture by simply mixing the two together until they are fully incorporated. Set aside.
The night before making the pudding. Cut the Cinnamon-Sugar loaf into rectangular pieces. Lay them out overnight on the counter uncovered, as to get stale.
In an greased but not floured 8-x-8-inch pan, sprinkle as many bread pieces as you can on the bottom.
Mix the egg yolks, sugars, vanilla extract and cinnamon together in a bowl.
Then stir in the heavy cream and milk.
Pour the custard over the bread first layer of bread.
Pour enough custard over the bread so that when you press down on the bread, the bread is soaked in custard.
Layer again with bread and again pour custard over and push down. Repeat until dish if full and bread pudding is to the top of the pan.
Depending on how stale your bread is you may likely will have extra custard.
Don't feel like you have to use all the custard.
Sprinkle top with cinnamon-sugar mixture.
Place pan into another pan that will hold a water bath.
Bake the bread pudding for 45 minutes to an hour until golden on top.
Cool 10 minutes and serve warm.