This Vanilla Bean Yogurt Cake with Clementine Fondant Glaze is a simple vanilla bean loaf cake covered in a thick orange glaze.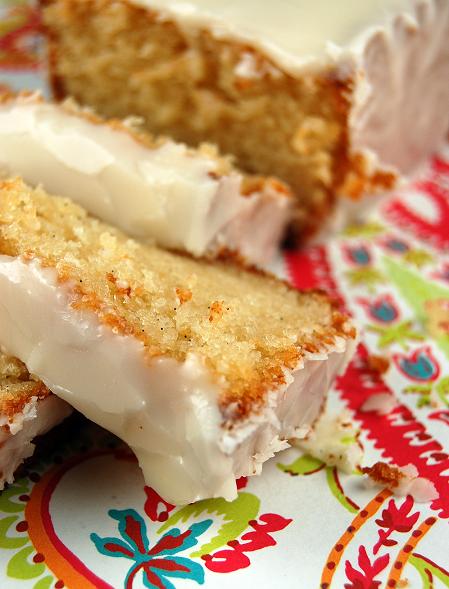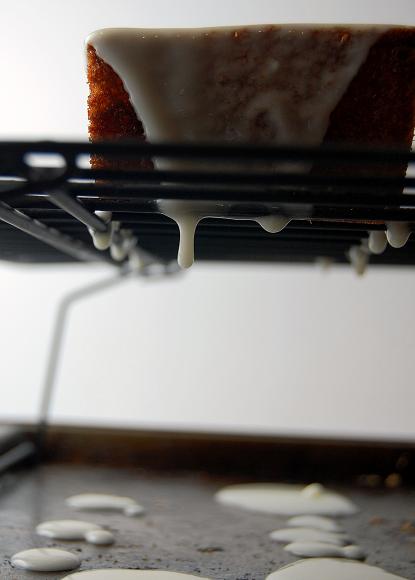 So I am doing my birthday weird this year.
See my birthday is in a month (and a day) but I already got my gift, but I don't get to use it until August.
This year it's a food gift of sorts.
See I'm going to the International Food Bloggers Conference.
It's in Seattle, so I don't have that far to travel. 🙂
You should come!
And though the conference offers a lot of great things, the one thing I must admit that tipped me over was the people who are going.
One in particular in fact.
That being Jen of Use Real Butter.
I all but jumped from my computer chair when I saw her name on a list of attendees.
There are just some bloggers that you have interacted with through the years that you have always wondered what they would be like in person.
And considering the fact that every food blogger that I have meet in person has been double awesome than even what they are on their blog.
I am sure that Jen (as she would say) is going to rock.
I'm a bit chocolate-d out right now.
And so I went searching for something in the opposite direction.
Which usually leads to either vanilla or citrus…today we are doing both.
You can never go wrong with a yogurt cake.
I have yet to make one that wasn't nice and moist and this one as you can see is no different.
You get a triple dose of vanilla in this cake with the use of the bean, the extract, and vanilla yogurt.
You don't have to use the vanilla bean, but with a cake this simple it really does help.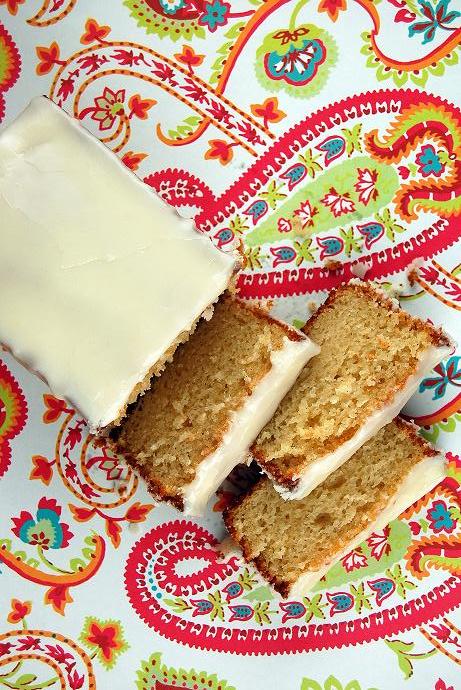 I added the clementine (orange) glaze in honour of the Philadelphia Flyers.
They made it to the Stanley Cup playoffs, but sadly are already down 0-2.
So I am trying to send them a little love and support in the form of cake.
I would really like to see my favorite player hold the cup up!
P.S. It's a great day to buy my cookbook Holy Sweet!
Want more Loaf Cakes?
Orange Chocolate Chip Yogurt Cake
Hummingbird Streusel Loaf Cake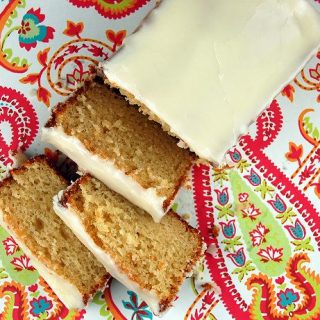 Vanilla Bean Yogurt Cake with Clementine Fondant Glaze
Ingredients
For the Cake:
1 cup all-purpose flour
½ cup almond flour
2 tsp baking powder
Pinch of salt
1 cup granulated sugar
1 vanilla bean, insides scraped, pod discarded
½ cup vanilla yogurt
3 large eggs
2 TBSP pure vanilla extract
½ cup vegetable oil
For the Clementine Fondant Glaze:
2 cups powdered sugar, sifted
4 TBSP freshly squeezed clementine or orange juice
Instructions
For the Cake:
Center a rack in the oven and preheat the oven to 350°F.
Generously butter an 8 1/2-x-4 1/2-inch loaf pan, place the pan on a lined baking sheet and set aside.
Whisk together the flours, baking powder and salt; set aside.
Whisk in the yogurt, eggs, sugar, vanilla beans, and vanilla.
When the mixture is well blended, gently whisk in the dry ingredients.
Switch to a spatula and fold in the oil. The batter will be thick and shiny.
Scrape it into the pan and smooth the top.
Bake the cake for 50 to 55 minutes, or until it is golden and starts to come away from the sides of the pan; a knife inserted into the center of the cake will come out clean.
Cool on a rack for 5 minutes, then run a knife between the cake and the sides of the pan.
Unmold and cool to room temperature right-side up
For the Clementine Fondant Glaze:
Combine the powdered sugar and the clementine juice in a bowl, mixing with a wire whisk until smooth.
Pour over the tops of the cakes and allow the glaze to drizzle down the sides.