Sometimes (well more than sometimes) being a grown up kind of sucks. And I'm not just talking the whole responsibility and pay your bills crap. You see my hockey team wants to get new jerseys. Except none of us really have any money for that. Half of us don't even really have the money to play hockey (it's not a cheap sport to play). Now we have jerseys. But they were given to us to use. We didn't pick them. And though we are super grateful (even if we don't sound it, I swear we are) that we got free jersey's to wear, they well, kinda suck.
First off they are cut very small. The average C level hockey player often is on the more out of shape end of the spectrum (sorry teammates). And so a jersey that tapers in, really isn't a good look for us. We joke that we should try and get sponsorship from Weight Watchers. Almost all the jerseys are in size large. Which after it goes over the hockey equipment that doesn't leave much room for the beer belly that stands in the way of the jersey from fitting properly.
Then there is our logo. Which actually is suppose to be a black sheep. But really looks more like the pagan goat symbol used in the movie Dragnet. I really want to get our goalie some sheep skin chaps to go over his pads to complete the look. In fact, people call us the Pagans as our team name. Not really what I was going for.
So I had this great idea to hold a bake sale. I have had many a person tell me they would by my baked goods, so I figured here is a way to use my talent and get money to buy new jerseys and help out the guys who can't afford to play. But I can't. Because I am an adult. Apparently little kids for things like T-ball and soccer can hold bake sales, but adults can't. Ummm, how fair is that. I was told time and time again it's because adults have jobs and can afford uniforms and what not. Ummm, does little Timmy live on the streets? I think not. I think little Timmy lives in a home. With parent(s) who also have jobs and should be able to afford uniforms. Unfair I tell you.
So if anyone out there lives in the Seattle area and wants to sponsor a hockey team just let me know, we will gladly wear your company name across our butts. I mean if I can play on a team sponsered by Hooters and a strip bar, I can be sponsored by just about anyone, my standards are that low! 😀
Okay enough whining, let's talk food. There has a been a lot of buzz lately about the Momofuku Compost Cookie. It's been on many a food blog site. I often don't jump on the food blogging bandwagons. I have yet to make the no-knead bread that everyone was gaga over about a year ago or so, but there was something about this cookie that made me want to make it.
Yet, the rebel (or black sheep, yes I can tie anything to food in this blog) in me didn't want to make just the compost cookie. I wanted to do it a little different.
The idea of the cookie is basically composting what you have leftover in your cupboard. The cookie at the restaurant uses pretzels, potato chips, coffee, oats, butterscotch, and chocolate chips. But you are in essence suppose to use 1 ½ cups of your favorite baking ingredient (like chocolate chips) and 1 ½ cups of your favorite salty snack ingredient (like pretzels).
So with that in mind I decided first to make it into a bar instead of the giant sized cookie that it makes. I also decided that the actual bar would be the only part that had the baking ingredients and that I would make a topping for the bar that would incorporate the salty snack ingredient. Thus giving it my own Peabody spin. I made the cookies the first time as a cookie just so I could compare them to the bars. They are different. But I like the bars better since the Pringles, Club Cracker, Pretzel Streusel is on the unexpected side of things. It also prevents the chips and whatnot from getting soggy like they were in the cookies.
*And since people keep asking me…the last set of jerseys I bought (meaning just my portion) including hockey socks was $200. So times that by 18…hockey jerseys cost about $2-3K depending on what you get.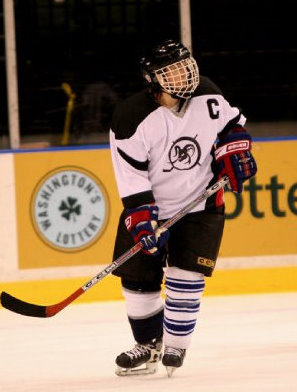 Yes, that's me. Keep in mind that for some reason my jersey is an XL (one of the few) and that I am one of the shorter and smaller people on the team.
Pagan Goat wanna be Black Sheep Compost Bars
 
Cookie Bar Batter:
1 cup unsalted butter, at room temperature
1 cup light brown sugar, packed
2/3 cup granulated sugar
1 TBSP corn sryup
2 large eggs
2 tsp vanilla extract
¼ tsp espresso powder
2 tsp salt
1 tsp baking powder
1 ¾ cup all-purpose flour
¼ cup powdered oatmeal (take your oatmeal and run it through a blender or food processor until powdered)
1 ½ cups your favorite baking ingredients (I used ½ cup milk chocolate chips, ½ cup peanut butter milk chocolate swirl chips, and ½ cup Trader Joe trail mix that had almonds, cashews, raisins, and walnuts…all unsalted)
Salty Snack Streusel Topping:
¾ cup all-purpose flour
¾ cup dark brown sugar
15 Pringles chips
12 Keebler Club Crackers (or something like Ritz)
1/3 cup pecans (salted)
handful of pretzel sticks (yes, that is an official measurement)
6 TBSP butter, still cold, cut into 6 pieces
Preheat oven to 350F.
Combine all the streusel ingredients except butter in a food processor. Blend until pulverized and looks like flour. Add butter, one TBSP at a time. Pulse until it is crumbly in texture. Set aside.
Spray a 9-by-13 inch pan with baking spray. Set aside.
Using a stand mixer with the paddle attachment, cream together the butter, corn syrup, and sugars until light and fluffy, about 3 minutes.
Add eggs and vanilla and beat until incorporated. Scrape down bowl. Beat another 30 seconds.
Add flour, oats, salt, espresso powder, and baking powder on low speed. Mix until all of the ingredients are combined but just moistened. Don't over mix.
Fold in the baking ingredients.
Spread batter into the prepared pan. You will probably have to press down on it, it will be thick. Sprinkle the streusel topping on top evenly.
Bake for 35-40 minutes or until the edges are brown and start to pull away from the sides. You should also be able to stick a knife in the center and have it come out clean.
Let cool for 15 minutes. Remove from pan.
Makes about 12- 16 squares depending on how you cut.