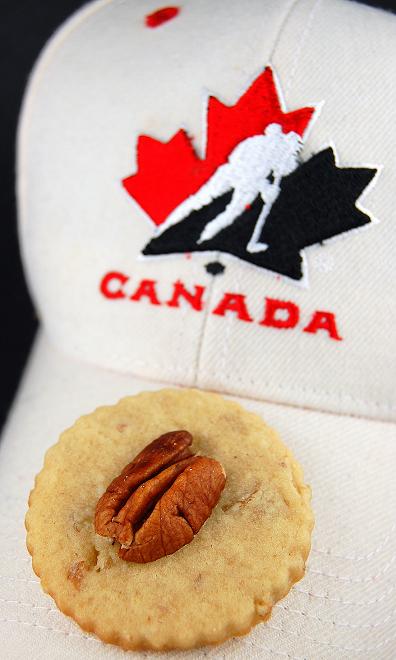 I had made these shortbread a couple of days ago in honour of Canada and the start of the Olympics. But things got busy and truthfully I could really think of anything but Go Canada to really write. Until today. When a lovely American citizen provided me with some fuel for my blog.
I was walking through the parking lot of Trader Joe's today. Now if you are not familiar with Trader Joe's, it's a little more on the hippie side of things so I was a little taken back with what was said to me. I was wearing jeans, a Flames sweatshirt, and a Team Canada hat (pictured above ironically). When all of a sudden I hear some guy shout, "Fuck Canada and your hockey team, USA all the way!" He was pointing to my hat. I stood there thinking for a few seconds, deciding if I had enough time in my day to waste by engaging in conversation with this man. There were lots of witnesses so I thought, what the heck.
I smiled politely at the man. I said, "I take it you are a Team USA fan?" In which I got a "hell yeah I am". So I followed up with "then who is your favorite player on the team?"
His reply? "Sidney Crosby"
My smile got even bigger. I told the guy that I hoped Sidney Crosby's team would win the gold as well and left. I went on my merry little way picking up my brown rice sushi, almond milk, and Black Toad beer (seriously good stuff)
Now if you are confused as to why I find this funny, then you don't know hockey. If you do know who Sidney Crosby is, then you probably are already laughing at this point in the story. See non-hockey following folks or those who live in non-hockey caves, Sidney Crosby plays for…wait for it….Team Canada.
I have several people ask me why I don't bake that much with maple syrup. Very simple answer. I eat it. These cookies are case in point. They were like little mini, melt in your mouth, maple goodness. I swear I ate 10 (more like 30 shhhhh) in the blink of an eye. I tried to freeze them to stop me from eating them. Only to learn, I like them even better when they are frozen (just like I do with Thin Mints). So I quickly pushed them off on as many people as I could think of. 🙂
They do make a nice snack while you watch that fine American, Sidney Crosby, oh wait….., play ice hockey.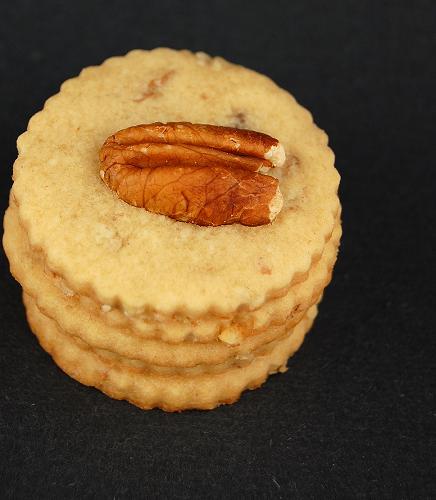 Go Team Canada Maple-Pecan Shortbread Rounds
2 ¼ cups all-purpose flour, plus more for work surface
½ cup cake flour (not self-rising)
½ tsp salt
½ cup pecan halves (about 2 ¼ ounces), finely chopped
1 cup (2 sticks) unsalted butter, at room temperature
½ cup granulated sugar
½ cup light brown sugar, loosely packed
¼ cup pure maple syrup, preferably grade B
1 large egg yolk
¼ tsp pure maple extract
1 large egg, lightly beaten
about 30 pecan halves to top cookies with (optional)
In a medium bowl, sift flours and salt. Whisk in chopped pecans, set aside.
In the bowl of an electric mixer fitted with the paddle attachment, cream butter, brown sugar, and granulated sugar on medium-high speed until smooth and light, about two minutes.
Add the maple syrup, egg yolk, and extract; beat on medium speed until well combined.
On low speed, gradually add flour mixture, beating until just combined.
Dough should be smooth and pliable. Flatten into a disk. Wrap in plastic; chill until firm, 1 ½ hours or overnight.
Preheat oven to 350 degrees. Line baking sheet with parchment paper.
On a lightly floured work surface, roll out dough to ¼ inch thick. Cut out rounds using a two-inch cookie cutter; place one inch apart on prepared baking sheet. Brush tops with beaten egg;  place a pecan half in the middle.
Bake cookies, rotating baking sheet halfway through, until golden around the edges, 10 to 12 minutes. Transfer to a wire rack to cool. Store in airtight containers at room temperature up to four days.
Adapted from Martha Stewart Cookies by Martha Stewart