These S'mores Pecan Brownie Bars have a thin graham cracker base, pecan brownie, topped with mini marshmallows.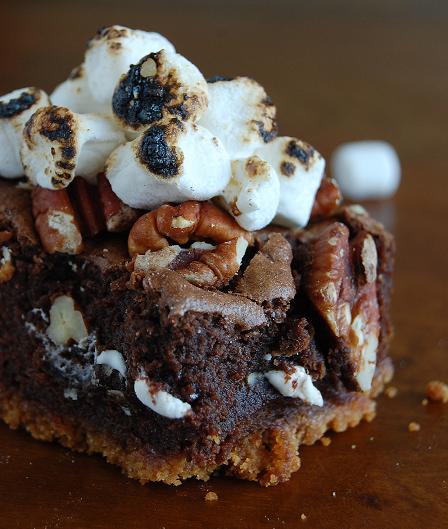 So I've got a few letters I feel I need to pass on to people.
No, these aren't crazy emails from the loons that write me from time to time.
These are ones I feel the need to write to others.
Dear Nordstroms,
Though I do enjoy your store (a little too much my husband and credit card may say), you might want to consider retraining your staff in tact.
For when trying on flats this last week (since I am injured in the ankle AGAIN and cannot wear heels) it was not the best move by your sales associate to point to my stomach.
And say "oh of course, with you this far along" to my statement of "it hard to get used to flats but I need to".
Let us keep in mind I was not wearing anything baggy and he was putting the shoe on the foot that is wrapped in tape.
He was however smart enough to ask if I wanted another sales associate.
Um, yeah.
If that was not bad enough, I then walked over to purses, only to have the belly pointed at again and a comment about me being a new mom.
Sincerely,
The very not pregnant Peabody
Dear Teenage Boy behind me in traffic,
Don't bother to rev up your faded black piece of crap Honda.
You really don't want to bring attention to that thing.
Girls like doors that don't have duct tape on them.
Sincerely,
Peabody (who drives a slightly better piece of crap than you, but is smart enough not to rev it)
Dear Husband,
Thanks so much for finally being able to locate the dishwasher.
I am beyond pleased that you have learned how to place your dishes on top of the dishwasher.
However, if you just look down, there is this thing called a door on it.
It opens.
You can actually place dishes inside it.
What a concept.
Love,
Your always wonderful and sexy (even in those green sweatpants) wife Peabody
P.S. Though please refrain from being helpful and putting the dishes away.
I never find them for weeks. 😉
Okay, I am sure I have a few more in me, but you people have lives (well, some of you 😛 ).
So awhile back when it was too hot to bake I made some no bake cookies from a cookbook called Cookie Swap: Creative Treats to Share Throughout the Year by Julia M. Usher.
I had planned to do more from it and never did because the weather wanted to reach the 100's.
From the cover of the book, I was a little scared.
Four beautifully decorated cookies.
I am not a good decorator.
Period. End of story.
So though it was lovely, I thought to myself, what on Earth am I going to make from this.
Lucky for me the those are on the cover for the mere fact that they are cute.
And once you open it up there is a myriad of cookies to choose from.
Some to be decorated and some not so much.
Some that are decorative, but not hard to do, like these really cute meringue ghost to make for Halloween (there is some really great Halloween stuff in it!).
Since Summer was coming to an end, I thought I would give on last hurrah from the Fun in the Sun section of the book.
There are things like Pina Colada Beach Balls, Lemonade Slices, and Chocolate-Chai Burgers on Sesame Seed Buns (they are macaroons). But what caught my eye were the S'mores Bars.
I was just about to top these babies with marshmallows when my husband came in and asked what they were. I told him.
He was all excited till he saw the marshmallows.
Then the frown came.
He doesn't like marshmallows.
I know.
He has issues.
So I made them without and just added the marshmallows for the photos.
That is why they are a little piled on top.
Plus, that way, I got to set them on fire other than putting them under the broiler.
It's always a good day when I get to set something on fire. 😉
These are like a nice thick brownie on top of graham cracker crust…so yeah, no brainer, they are good.
I would do the full recipe and use the marshmallows (which the whole recipe is here) though.
Unless of course, you  have a weird husband too.
If you are a cookie lover/baker you should give this book a look.
Oh, and I guess I should mention this is my 500th post!
Last but not least…it's a great time to order my cookbook.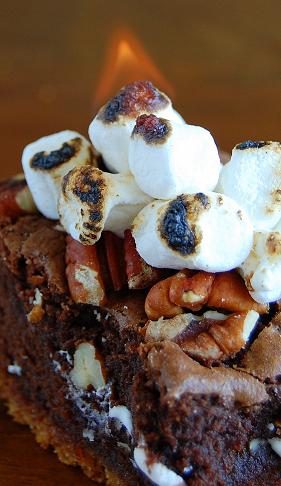 Want More Brownie Recipes?
Marshmallow Crunch Brownie Bars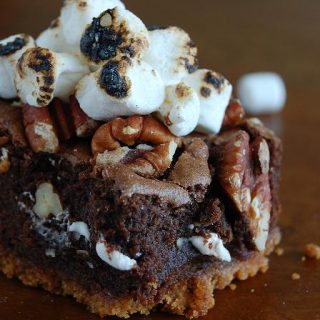 S'mores Pecan Brownie Bars
Ingredients
For the Base:
2 ¼ cups graham cracker crumbs (15-17 crackers)…I used 18
1/3 cup granulated sugar
¾ cup unsalted butter, melted
For the Fudge Brownie Filling:
6 ounce unsweetened chocolate, chopped
1 cup plus 2 TBSP unsalted butter, chopped into TBSP sized pieces
2 ½ cups granulated sugar
5 large eggs, lightly beaten
1 ½ tsp vanilla extract
1 ¾ cups all-purpose flour
1 ½ cups pecan halves, chopped
4 cups (packed) miniature marshmallows
Instructions
Line a 10 x 15x 2 inch glass baking dish with foil, leaving a 1-inch over hang around the top edge of the pan.
Smooth out any big wrinkles in the foils and then lightly coat the foil with nonstick cooking spray.
Preheat oven to 350F.
Combine the graham cracker crumbs and sugar in a small bowl.
Gradually add the melted butter until the crumbs just hold together when squeezed in your palm.
Press the mixture into an even ¼ inch layer on the bottom of th prepared pan.
Run a smooth bottomed measuring cup over the crust to pack and level it.
Combine the chocolate and butter in a large bowl that fists a double boiler.
Place the bowl over barely simmering water and stir as needed until the chocolate and butter are melted.
Remove from the heat and whisk in the sugar, followed by the beaten eggs and vanilla extract.
Stir in the flour, mixing until smooth.
Pour the batter on top of the graham cracker crust and level with a small offset spatula.
Scatter chopped nuts evenly over the batter.
Bake 30-35 minutes, or until cake tester inserted in brownie center comes out with dark, damp crumbs on it. Do not overbake.
Set on a wire rack and cool completely in the pan.
Distribute the marshmallows evenly over the brownie top.
Place the pan under the broiler in the top third of the oven for about 1 minute, or until he marshmallows are puffy and golden brown.
Watch carefully and rotate the pan regularly, as the marshmallow can easily burn.
Cool until the topping is firm and easily cut without sticking.
Remove the brownies from the pan in one block by gently pulling up on the foil overhang.
Place directly on a cutting board.
Remove all foil and cut into 2-inch squares.
For the neatest cuts, use a sharp knife, wiped clean with a warm, damp cloth between slices.