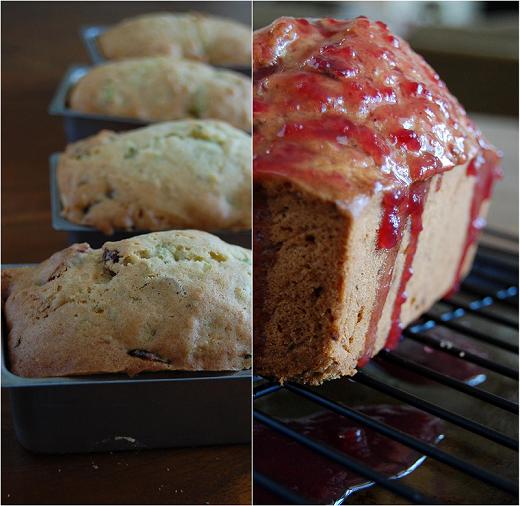 It's battle of the seasons right now. Summer is fighting bitterly to hang on while Fall is bullying itself right in. I of course, am pulling for the bully this time around. It's actually been quite nice. The mornings just have that hint of chill that let you know that Fall is on it's way. Patches of fog coat the ground until afternoon comes around and burns it off. Leaving behind a warm and sunny day.
To represent the clash of the seasons I made a Zucchini-Cranberry Bread. Using the last of my friends over abundant zucchini (well, the last that I am taking…I have had my full of zucchini) and a little face of Fall, the cranberry. Since it isn't Fall, you can't get fresh cranberries and I have used the frozen ones I had. So I used unsweetened ones (I got mine at Trader Joe's). If you can't find unsweetened, use sweetened, but reduce the amount of sugar in the bread.
The bread is nice and moist. You don't have to have the glaze, but I like that it adds a little tartness to the bread. The glaze calls for half a cup of sugar, but you can use any amount you want, just taste as you go along.
I'd like to give a big thanks to those who commented in the last post. It was nice to hear from you. I was just wondering where you all went. My readership has dropped…almost by half. And then my comments went from about 50-70 a post to 20-35. 🙁 I can't help it. I like comments. I liked getting a sticker on my papers when I was in elementary school and I like people commenting.
Some said they stopped commenting because I have so many. Um, I read them all, for real. I read the Pioneer Woman. And though she gets a TON of comments, usually in the thousands, if I really like something she made, I leave a comment and let her know. One more couldn't hurt.
So yes, I get more comments then some other blogs, but darn it all, I was getting used to a certain amount. It's like going to a job and getting paid $24 an hour. Then without warning they drop you down to $12 an hour…without telling you why. You just kind of want to know…ya know?
Enough rambling, point being. Thanks for commenting, I hope you will keep it up. 😉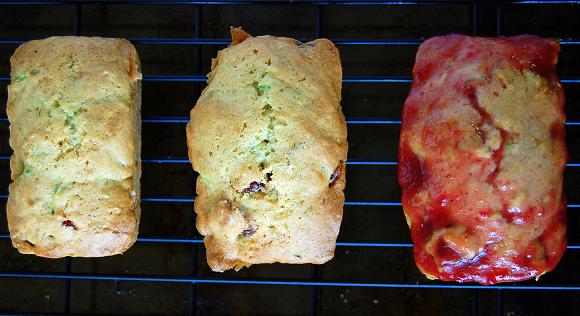 Zucchini-Cranberry Bread
3 eggs, at room temperature
1 cup vegetable oil
1/3 cup mascarpone cheese
2 tsp vanilla extract
zest of one orange
2 cups granulated sugar
2 cups grated zucchini
3 cups flour
1 tsp baking soda
½ tsp baking powder
1 tsp salt
1 tsp cinnamon
1 heaping cup dried unsweetened cranberries (soaked in hot water for 10 minutes, rinsed, pated dry)
Preheat oven to 350F.
Using a stand mixer with the paddle attachment, beat together the eggs, oil, mascarpone cheese, vanilla, zest, and sugar. Beat until mixtures turns a pale yellow, about 3 minutes.
Add zucchini and mix until incorporated.
Add the flour, baking powder, baking soda, salt, and cinnamon.  Mix until incorporated but don't over mix, treat this like you would muffins.
Fold in cranberries.
I used 4 super mini loaves (they are super tiny, only like 3 inches in length)  and two mini loaves. You can also use 2 standard sized loaf pans. Spray with baking spray or grease and flour.
Bake for 30 minutes for super mini, 45 for mini, and for 1 hour for standard size. As always, check by using a knife or wooden skewer to test for doness.
Remove from oven. Let cool on wire rack for 15 minutes. Remove from loaf pans and continue to let cool on wire rack. Glaze if desired.
Adapted from my Mom.
Cranberry-Orange Glaze
1/3 cup jelled cranberry sauce
juice of a large orange
½ cup powdered sugar, sifted
Mix together with a whisk. Pour or brush on bread.