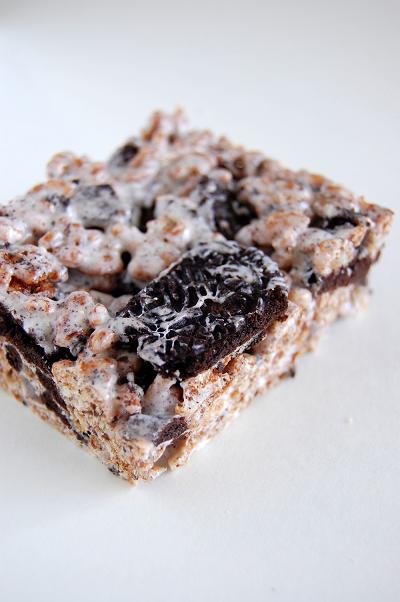 So I am lucky enough to be apart of this go around of the Edible Word. Co-  hosted by Cath of A Blithe Palate and Stephanie of Dispensing Happiness. Last time we reviewed a cookbook, which of course I loved, but this time the book was well, more book than recipes. Which I was so happy about. I am always looking for books to read. My buddy Cookie Baker Lynn keeps me in books from time to time, and of course, I was in a book (shameless self promotion), but I was running out of things to read.
Then along came "Confections of a Closet Master Baker" by Gesine Bullock-Prado. I puffy heart this book. It was a quick read and a good one. I think it is a must read for those who are considering a career change in life to the world of baking. This is Gesine's memoir of going from her mundane life in LA to becoming a baker in VT.
Now the idea was for us to create a recipe inspired by the book. I love this idea, seriously, what fun! There was a chapter that I identified with very much so in the book. Ironically, I identified in the opposite way of the author. She grew up in what one would call a uber healthy household. You know the house. You probably had one in your neighborhood. The one where they had no sugar in the house, and prunes were considered…nature's candy (no, that would be nature's laxative!). And even worse, they gave you raisins at Halloween (also nature's candy). The chapter was about her enjoying the contraband that her friend Stacy Coleman ( the enabler she is) introduced her to. The Coleman's pretty much were my family…in the food sense that is.
I lived in the house of contraband. The house of sugared cereals (that the neighborkid was not allowed to eat…my mom didn't know this though). House of candy (usually Brach's pick a mix), cookies (both homemade and store bought), cake, cinnamon rolls, chips, soda, etc…, every dentists nightmare. Now before my mother comes at yells at us, we did get healthy-ish meals for our main meals. But we did have the junk. Oh we had the junk.
Since the chapter is called Ode to the Oreo. It got me thinking about the contraband I grew up with. Now I know I am going a little Sandra Lee with this one and duh, these are not hard to make, but darn it all they are tasty. I always make Peanut Butter Captain Crunch Marshmallow Treats for when I go to book club. This time I decided to add two of the contraband items together. Cocoa Krispies and Oreo cookies. Um. Wow, who knew these would turn out soooo good.
So if you aspire to become a master baker, or just want a fun foodie read, this is your book.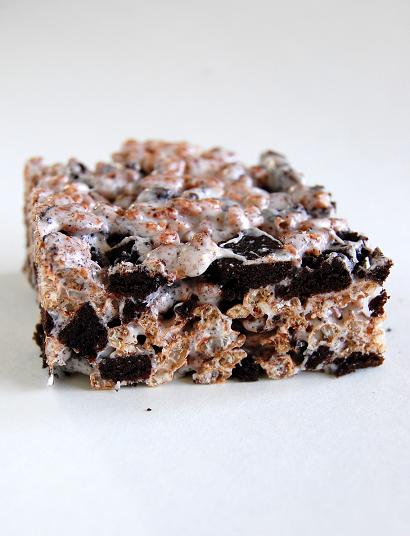 Oreo-Cocoa Krispies Treats
3 TBSP unsalted butter
10 ounces mini marshmallows (fresh, not the stale ones hiding in the back of your pantry that you forgot about)
4 cups Cocoa Krispies Cereal
3 cups roughly crushed but not pulverized Oreo cookies
Butter a 9-x-13-inch baking pan. Or be lazy like me and spray it with non-stick baking spray. Set aside.
Over low heat melt 3 TBSP in a large pot (I like to use my stock pot because I am a messy person).
Once butter has melted, add marshmallows. Continue to cook over low heat while they melt. It may take a little time. Don't turn up the heat to try and make it go quicker, you could end up with burned marshmallows or your treats could end up too hard once they firm up.
When most of the marshmallows have melted and they resemble marshmallow crème with a few lumps, remove from heat and add the cereal and cookies.
Using a wooden spoon, stir, stir, stir some more, until all the cereal is fully coated and other parts of the pot are not hogging all the marshmallows (so evenly coated).
Pour into prepared baking pan. Take a rubber spatula and either spray it with non-stick spray or simply get some water on it (I just put mine under the faucet real quick). Using the spatula, press the cereal/marshmallow mixture down into the pan, attempting to create a flat, even surface.
Cover with foil and let sit for a few hours to firm up.
Take foil off. Place wax paper down that is a little bit longer than the baking pan. Flip the pan over onto the wax paper. Cut into squares. Some would say 2-inch. But whatever size you would like works. You can also use cookie cutters to make them fun shaped.