This Chocolate Mint Grasshopper Tart has a chocolate tart shell, chocolate mint filling, and a mint marshmallow topping.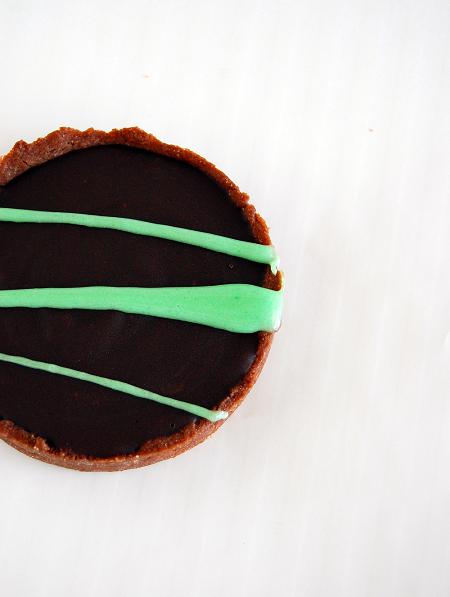 37.
It's not a birthday that the average person looks forward to.
Most people celebrate the 1st, the 16th, the 21st, the 30th, and all the 10 year ones from then on.
And yet I, I have been waiting most of my life for my 37th birthday.
For real.
You see growing up that birthday came to have a certain significance for me.
From as far back as I could remember, if ever there was something I wanted to do that my dad didn't really want me to do (because that meant I would be getting older and no longer his baby girl) he would give me the same answer to ever question.
That answer was, "when you are 37".
I wanted to wear makeup. 37.
I wanted to get my ears pierced. 37.
You see where this was going.
I had tried to outsmart him (shocking I know) by making my number on my sports teams be 37.
It was clever of me. 😉
I think he just always assumed that 37 would never come.
Not that he thought I would be dead by then (morbid thought).
I am sure when a 15 year old, whom you still see as 5 years old, is asking you to go out on a date with a boy (a boy who is a senior and you are only a sophomore. A boy with a car), the thought of me being 37 seems pretty far off.
And yet, here it is.
Well, not yet, but soon.
July 2nd for those of you wondering.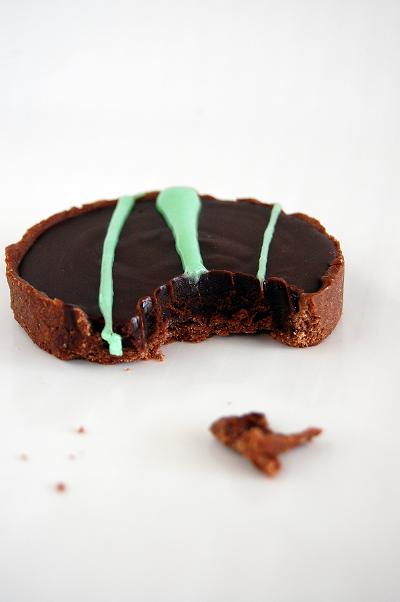 In order to gear up for the big 37, my father has been sending me random photos of my childhood.
And a check, each time for $37 (yes, my weirdness does come from my family, no denying that).
So sorry dad.
Time is up.
The birthday you always worried would come, is finally here.
I get to get my ears pierced.
I get to wear makeup.
Shave my legs.
Go on a date.
Kiss a boy.
Dye my hair some weird color.
Wear something that makes you shake your head.
Drive a car.
Go away to college.
Move out of the house.
I get to get married.
I get to (Dad close your eyes) have sex (ps. My husband is looking forward to this one 😛 ).
Now granted (again Dad, turn away), I've already done these things, but the year 37 has always stuck in my head.
The longest running joke if you will in our family.
Guess it is time for a new one.
To ease my father's pain I have made a grasshopper tart.
My Dad is a huge chocolate mint fan and so I figured if the big 37 was approaching, this might make it easier on him.
Hang in there Dad.
I may be turning 37, but I'm still your little girl.
P.S. It's a great day to buy my cookbook.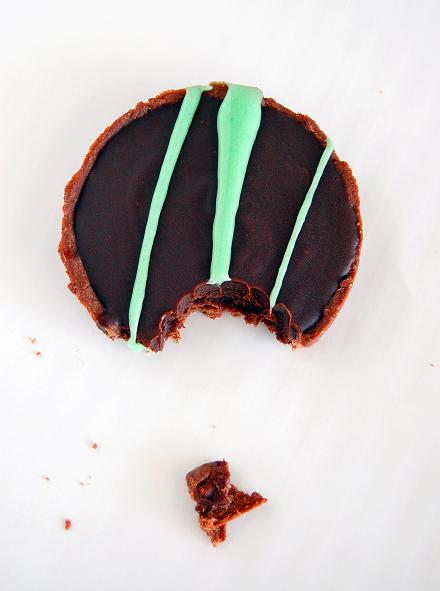 Want More Tart Recipes?
Mini Bailey's Irish Cream Mocha Cheesecake Tarts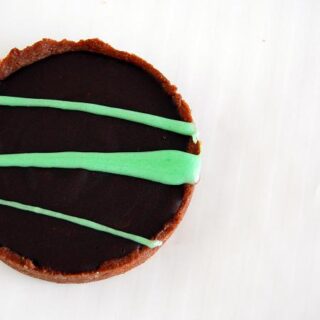 Chocolate Mint Grasshopper Tart
Ingredients
For the Chocolate Tart Shell:
1 ½ cups all-purpose flour
1/3 cup unsweetened cocoa powder (I like Green and Black's)
2/3 cup granulated sugar
pinch of salt
½ cup unsalted butter, chilled, diced into small pieces
2 large egg yolks
1 TBSP Crème de Mente (or 1 tsp peppermint extract)
1 TBSP whole milk
For the Filling:
8 ounces milk chocolate, finely chopped
5 TBSP unsalted butter
1 large egg yolk
¼ cup water
handful of mint leaves
For the Marshmallow Topping:
1 ½ cups marshmallows
1 TBSP Crème de Mente
1 TBSP whole milk
couple drops of green food coloring
Instructions
For the Chocolate Tart Shell:
Using a food processor, add the flour, cocoa powder, salt, and sugar.
Pulse for about 10 seconds until all ingredients are combined.
Add the butter.
Make sure to spread the pieces evenly throughout the bowl.
Pulse until the dough forms into pieces (about the size of couscous).
Add egg yolks, Crème de Mente, and milk.
Pulse until completely combined and it has formed into dough.
Divide in half.
Form into disc shape.
Wrap in plastic wrap and refrigerate for 30 minutes (or up to overnight).Remove from fridge and lightly flour a work surface.
Roll out and form into tart pan/tart rings.
Prick the dough with a fork.
Cover with parchment paper and use beans or pie weights to hold dough down.
Bake for 8 minutes on 350F. Remove from oven.
Carefully remove parchment paper and weights.
Place back into oven and bake for another 5 minutes.
Remove from oven and let cool on a wire rack.
For the Filling:
In a small saucepan bring 1 cup (but you will only be using ¼ cup of it) water and mint leaves to a boil.
Remove from heat. Let sit for 1 hour.
Strain out the mint leaves and set aside.
Using a double boiler, melt chocolate and butter together, just until smooth.
Set aside.
Bring ¼ cup of the mint water to a boil.
Whisk egg yolk in small heatproof bowl.
Gradually whisk in ¼ cup boiling mint water to temper the egg yolk.
Place bowl over a small saucepan that has shallow simmering water (or you can use another double boiler) until instant-read thermometer inserted into egg mixture registers 160°F, about 3 minutes.
Whisk egg mixture into chocolate mixture and whisk until smooth.
Pour chocolate filling into crust. Cover and chill overnight or up to 2 days.
Garnish with marshmallow topping in whatever patterns you would like.
Before serving, let tart soften slightly at room temperature.
For the Marshmallow:
Topping:In a small saucepan combine all ingredients and melt marshmallows down over low heat.
When marshmallows have melted and it looks sauce-like, remove from pan. Decorate tart.