Tiramisu Cupcakes: White cupcakes filled with espresso chocolate mouse and topped with mascarpone frosting and pieces of ladyfinger cookies.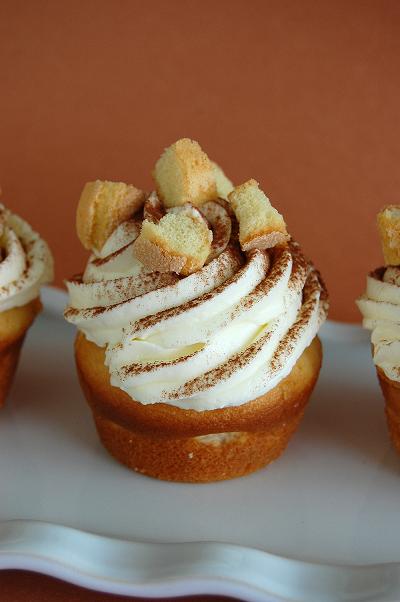 "I want to do yoga, it makes you thin," were the words spoken to me by my friend C.
She brought up a good point, you never see any fat people in yoga class (well, except when I go). But just like, which came first the chicken or the egg, I think the question that begs to be asked is what comes first, yoga getting you thin or being thin to do yoga?
I think the latter. As someone who has dragged her chunky butt (actually, my butt is pretty nice, it's more like my chunky tummy) to yoga several, several times, I think that those of use with more cushion of the pushing just aren't made for yoga.
When we are bending down and folding our bodies up like a suitcase, my body says, nope, not going to happen. It sticks my stomach in the way. I don't fold, I squish. And well, squishing doesn't feel all that good. I definitely miss out on the mind body connection yoga is suppose to bring. Mostly because I feel squashed all class and second because they have mirrors everywhere reminding me of what it looks like to be chunky in yoga class.
Why keep going back you ask? The hype. I have so many friends who love yoga. Who tell me to stick with it, it can change your life. Personally, if something is going to change my life, I'd really like it to be winning the lottery instead. 😉 But still I go and still each time I think, why am I here.
I will really be saying that next week, when my gym starts up Bikram yoga, or hot yoga. In case you don't know what it is, it's yoga for 90 minutes. Except in a room that is 105F and 40% humidity (sometimes more). I've done it twice. It sucked twice. And yet, I know somehow I will go. I just know one day the life altering something will happen. 😉
Until that life altering something happens, I will simply just alter my waistline with cupcakes. One of my favorite desserts is Tiramisu. I had leftover ladyfingers from my Key Lime-Raspberry Tiramisu and decided to use them up. I didn't have enough to really do anything with them, so they became garnish. I think the Espresso-Chocolate Mousse in the middle really makes these over the top yum.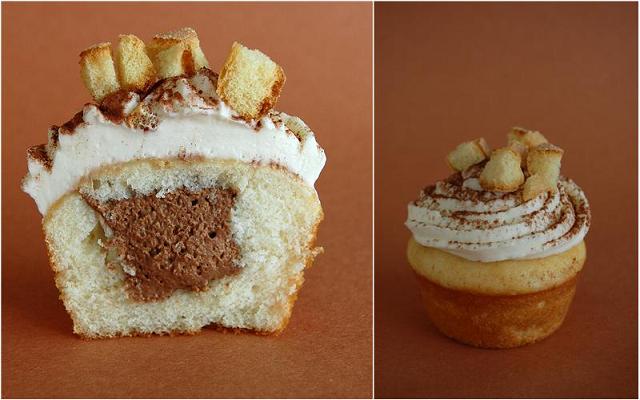 Tiramisu Cupcakes
white cupcakes (recipe follows)
espresso chocolate mousse (recipe follows)
1/4 cup coffee or espresso
mascarpone frosting (recipe follows)
cocoa powder for dusting
crushed ladyfingers for garnish
White Cupcakes
1 ½ cups all-purpose flour
1 cup cake flour (you can use all-purpose if you need)
1 TBSP. baking powder
1 tsp  salt
½  cup unsalted butter, at room temperature
¼ cup vegetable oil
1 ½ cups granulated sugar
1 tsp vanilla extract
1 cup whole milk
5 egg whites
Sift together flours, baking powder and salt in a medium bowl; set aside.
In a mixing bowl (if using a stand mixer use the paddle attachment), cream butter and sugar until light and fluffy, about 3 minutes.
Add vanilla extract and beat until incorporated.
In a liquid measuring cup, combing vegetable oil and milk.
Add flour mixture and milk/oil mixture alternatively to the mixing bowl. Beating on low speed after each addition.
Pour mixture into a large bowl. Scrape down to make sure you get all of the batter.
Clean out bowl and switch to whisk attachment.
Beat egg whites until stiff peaks form.
Fold 1/3 of the egg whites into the batter, to "lighten" the batter. Gently fold in the remaining egg whites.
Grease and lightly flour muffin pans. Fill each cup half full.
Bake at 375 degrees for 18 to 20 minutes or until done.
Cool on a wire rack.
Espresso Chocolate Mousse
2 cups chilled heavy cream
4 large egg yolks
4 TBSP sugar
2 tsp espresso powder
8 oz fine-quality semisweet chocolate, finely chopped
Heat ¾  cup cream in a 1-quart heavy saucepan until hot.
Whisk together yolks, sugar, espresso powder, and a pinch of salt in a metal bowl until combined well, then add hot cream in a slow stream, whisking until combined.
Transfer mixture to saucepan and cook over moderately low heat, stirring constantly, until it registers 160°F on thermometer. Pour custard through a fine-mesh sieve into a bowl.
Melt chocolate in a double boiler, stirring frequently. Whisk custard into chocolate until smooth, then cool.
Beat remaining 1 ¼  cups cream in a bowl with an electric mixer until it just holds stiff peaks. Whisk one fourth of cream into chocolate custard to lighten, then fold in remaining cream gently but thoroughly.
Mousse recipe adapted from Gourmet December 2002
Mascarpone Frosting
2 cups heavy whipping cream
8 ounces Mascarpone cheese, at room temperature
1 ½ cups powdered sugar
Using and electric mixer, whip the cream until stiff peaks form.
In a mixing bowl, fold 2/3 cups of the whipped cream into the Mascarpone cheese, along with the powdered sugar.
Add remaining cream. Blend until cream is fully incorporated.
Place in refrigerator until ready to frost.
Assemble:
Using the cone method, fill cupcakes with Espresso Chocolate Mousse filling. Place top back on top of cupcakes. Brush top of cupcake with coffee or espresso. Go light on this as they are fresh cupcakes, and not hard like most ladyfingers. You don't want to soak them.
Frost top with Mascarpone Frosting.
Sprinkle cocoa powder on top of cupcakes and garnish with crushed ladyfingers.