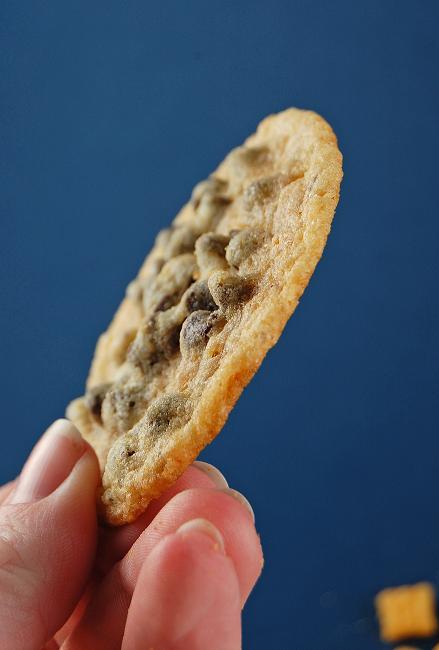 I'd first like to say Happy Birthday to my little food blog. CCBP turned 4 this last Thursday. In case you were wondering, I'm keeping it around, at least for a little while. The comments and emails were very nice, as was the fruit basket sent to me anonymously with just the message STAY on it. But ultimately it was my husband's question to me of what will be your creative outlet that made me realize I need to keep it around. Can't guarantee for how long, but for the foreseeable future it's here. And thanks again to the lurkers for coming out of hiding. I do hope you will stay out of hiding. 🙂 I will only be posting when I've got the time and have got the passion. So it could be quite random. I fear there will be much less in the Summer as turning on the oven is less than fun.
I'm so glad there are really crazy people out in the world, it makes me look so much better. 😉 Today I bring up Janine Sugawara. Who you ask? Why the woman who sued Captain Crunch cereal of course. And why sue you ask? Over crunchberries. You see, she was under the impression that the perfectly round, sugar ladened, pink (or purple, or green or that tealish color) thing in her cereal each day was in fact real fruit. Ummm. This is the part where I don't say anything because if you don't have anything nice to say, don't say it at all. 🙂
But let's think about this. If I were to sue Captain Crunch it certainly wouldn't be over the fact that I felt I was mislead to believe there was real fruit in there. Clearly I would sue for the fact that almost every time I eat it, the cereal practically rips the roof of my mouth right off. And yet I continue to eat it. Perhaps we should look into what they are putting in the cereal that makes it destroy my mouth and yet still want to shove it into my mouth???
I love to use either regular Captain Crunch or Peanut Butter Captain Crunch when I make Marshmallow Treats (you know them as Rice Krispy Treats…but since I am not using Rice Krispy's seems dumb to call them that). I make them now each time we have book club and they always go fast, so I thought…hmm, how else can I use this cereal. Why by putting it through the food processor and basically pulverizing it until it is in powder form…or Captain Crunch Flour as I am now calling it. I went simple, making a chocolate chip cookie using the powder. Normally I like a soft chocolate chip cookie, but seeing as it was the Captain Crunch version, I felt a little crunch was needed. So these are thin and crispy and down right addicting. I so plan on making these using Peanut Butter Captain Crunch.
Oh, and in case you are wondering what I am doing the rest of the weekend. Getting my lawsuit ready against Grape Nuts. No grapes. No nuts. Let's blow the roof of of that scam shall we???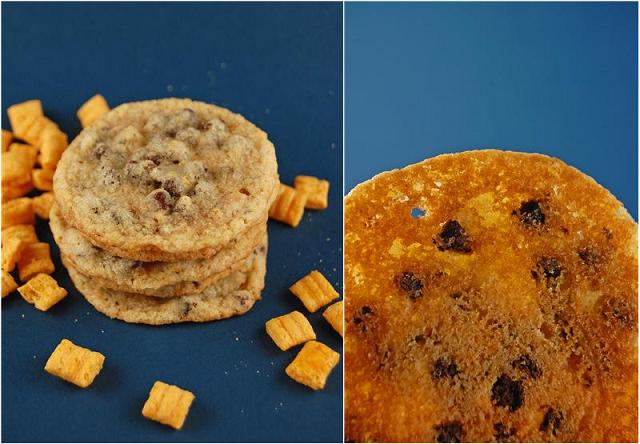 Captain Crunch Chocolate Chip Cookies
1 cup unsalted butter, at room temperature
2 cups granulated sugar
2 eggs
1 tsp vanilla extract
1 ¾ cups all-purpose flour
1 cup Captain Crunch Flour (pulverized Captain Crunch)*
1 tsp baking soda
1 tsp salt
1 cup mini chocolate chips
Using a stand mixer, combine the butter and sugar, and beat on medium-high for about 3 minutes.
Add eggs, one at a time, scraping down the bowl after each addition.
Add vanilla and beat for another 30 seconds.
Reduce to low speed and add the flour, Captain Crunch Flour, baking soda, and salt. Mix until  completely combined.
Add chocolate chips and mix until fully incorporated.
Spray baking sheets with baking spray (you will need it, they want to stick).
Bake at 375F for 7 minutes for mini cookies (using a TBSP as a scoop) or 9 minutes for regular size (using a cookie scoop).
Let cool at on sheet for 3 minutes, then move to rack to finish cooling.
*It takes about 2 ½ cups Captain Crunch cereal to make flour. Just place in food processor and pulse until it becomes powdery.