This Honey Mixed Nut Tart has a sweet pastry tart dough filled with a honey caramel and stuffed with mixed nuts.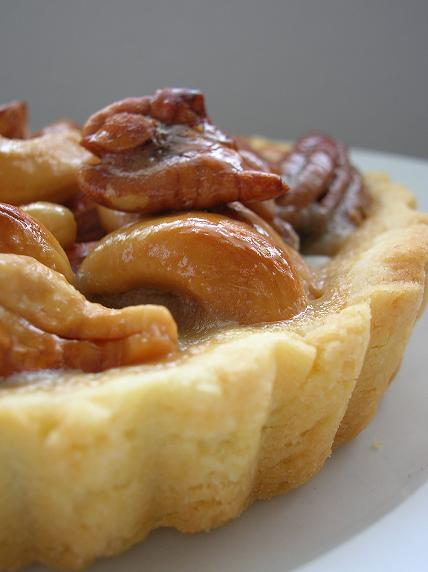 So last month Slashfood had candy day and somehow I was living in a cave and missed it.
This month they are featuring nuts, and I was determined to participate this time.
There are lots of foods that have nuts but I really wanted to do something where the main focus was the nuts.
I dragged out my Book of Tarts.
And sure enough there was a recipe for a nut tart….showcasing the nuts in all their nut glory.
I have to say that I have a love/hate relationship with this cookbook.
I love every recipe that I make from it, yet the directions are pretty vague in some areas(yet extreme detail in making tart dough) and some recipes don't even tell you what temperature to bake them at.
But I stick with it since it has simple flavors that always turn out lovely, this tart being no exception to that.
It is sweet, crunchy and buttery (they have good tart dough).
The Honey Mixed Nuts Tart recipe suggest using walnuts, peanuts and/or almonds.
I chose to use cashews(because I love them…they are right up there with bacon), almonds and pecans.
I really think you could use just about any nut your heart desired and this would turn out wonderful.
In writing this I can't help but think of my poor friend who is allergic to nuts. I can't even imagine.
My uncle developed an allergy to macadamia nuts, almost over night.
One of my biggest fears is the wake up one day, eat a nut and have to go to the ER.
Yikes.
I will just pray that never happens to me…or any of you.
And as always be sure to order my cookbook.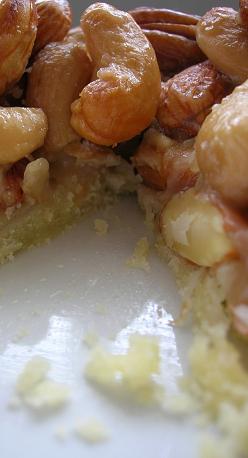 Want More Tart Recipes?
Pistachio Dried Cranberry Caramel Tart
Mini Bailey's Irish Cream Mocha Cheesecake Tarts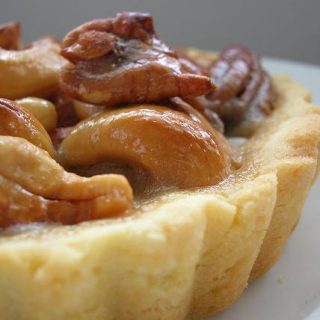 Honey Mixed Nuts Tart
Ingredients
For the Standard Tart Dough:
13 TBSP unsalted butter, cut into 13 pieces
1/3 cup powdered sugar
1 large egg yolk
1 1/2 cups all-purpose flour
1 TBSP heavy cream
For the Filling:
1 cup heavy cream
1/3 cup honey
1/4 cup granulated sugar
3 TBSP butter
3 cups assorted nuts
1/2 cup raisins(optional…I did not use)
Instructions
For the Tart Dough:
Let the butter sit at room temperature for 10-15 minutes.
Cream the butter and sugar together, until the sugar is no longer visible.
Scrape down the sides of the bowl again.
Add half the flour and beat until the dough becomes crumbly.
Stop mixing, add the remaining flour and then cream, and beat until the dough forms a sticky mass.
I chose not to roll out the tart dough and just press it into the mold so I did not refrigerate mine. If you want to roll it out you are going to want to chill for at least 2 hours.
Bake at 375F for 10 minutes for a partial bake.
They will continue to bake when filled.
For the Filling:
Combine the cream, honey, sugar, and butter in a small saucepan and bring just to a boil over medium heat.
Simmer, stirring gently, for exactly 1 minute.
Remove from the heat, add the nuts and raisins(if using), and stir to coat.
Divide the nut mixture evenly among the tart shells(recipe below), mounding it in the centers.
Bake for 20-25 minutes(I just had to assume at 375F), until the filling is caramelized and bubbling around the edges.
Remove from oven and let cool on a wire rack. Remove tart from tart pan.