This Raspberry Jam Mousse Tart has a vanilla bean tart shell filled with raspberry jam diplomat cream and fresh raspberries.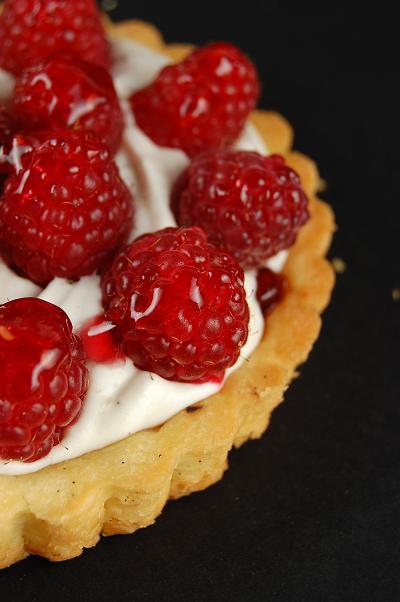 So for the longest time I was always a natural light girl for food photography.
But the reality is that I just don't live in a region that gets much light in the Winter and it was becoming a drag.
Plus I keep such odd hours, often baking at one or two in the morning.
I don't want to wait around until the next day to shoot, and sometimes I can't wait depending what it is.
Over at Steamy Kitchen , I had seen a great review about Lowel EGO lights.
I decided to put those on my Christmas list. Santa was nice and brought them to me.
I must say they have changed my life.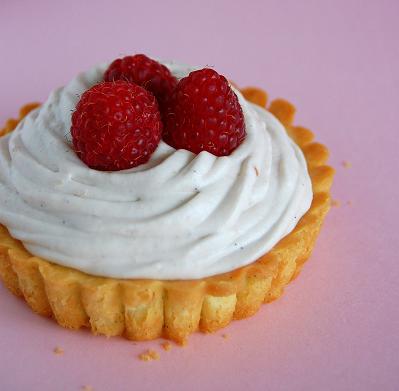 It's so wonderful to know that I can bake whenever I want because I can shoot whenever I want.
I got into a discussion on a food photography thread about using the lights.
Most people were opposed to using any lights of any sorts. Said it made a huge difference and didn't look right.
So as a experiment I took pictures of my tarts using both natural light and my EGO lights and if you would like to play along, go ahead and guess which pictures are in natural light and which are in artificial light.
My root canal went really well.
I love pill sedation much better than IV I have learned.
Plus my Endodontist kicks butt.
I still am eating soft foods and so I thought I would make myself a nice treat of mousse.
Whenever I want a mousse recipe I always skim through Helen's site, she is the mousse queen to me.
Not a bad thing to be the queen of if you ask me.
Anyway, this isn't really a mousse, it's a diplomat cream which is basically pastry cream with whipped cream added to it.
I liked her use of raspberry jam and dragged out a jar of my mom's homemade jam.
Yum.
For presentation reasons I went ahead and made some tart shells.
Top them with raspberries and you have some really lovely tarts.
Last but not least…it's a great time to order my cookbook.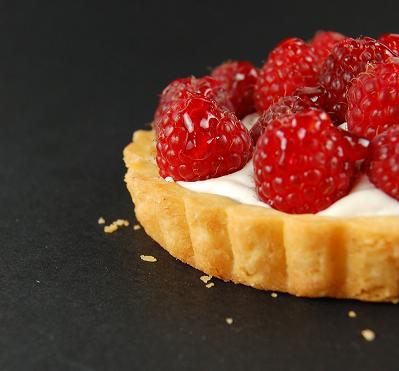 Want More Tart Recipes?
Pistachio Dried Cranberry Caramel Tart
Mini Bailey's Irish Cream Mocha Cheesecake Tarts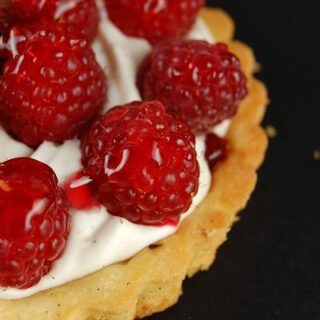 Raspberry Jam Mousse Tart
Ingredients
What's Needed for the Raspberry Jam Mousse Tart
Vanilla Bean Tart Shell (recipe follows)
Raspberry Jam Diplomat Cream Mousse (recipe follows)
pint of raspberries
For the Vanilla Bean Pastry Tart Shell:
Makes 1 (10 ½-inch) tart shell
1 1/3 cup all-purpose flour
pinch of salt
1 vanilla bean, cut in half and all bean scraped out (no vanilla beans? Use 1 tsp vanilla extract)
½ cup unsalted butter, cut into cubes and chilled
½ cup plus 2 TBSP powdered sugar
2 egg yolks
For the Raspberry Jam Diplomat Cream Mousse:
1 ½ tsp gelatin
1 TBSP cold water
1 cup whole milk
1/2 vanilla bean, split lengthwise and scraped (throw the seeds in the pot with the milk)
1 egg + 1 egg yolk
¼ cup sugar
2 TBSP cornstarch
1/3 cup raspberry jam
1 cup heavy cream
Instructions
For the Tart Shell:
Using a food processor, combine the flour and salt and pulse to mix.
Add butter and pulse until mixture resembles coarse bread crumbs.
Add sugar, vanilla beans, and egg yolks and pulse again, just until the mixture comes together and pulls aways from the sides of the bowl.
Transfer dough to a sheet of plastic wrap.
Form into a disc and wrap in plastic.
Refrigerate for at least 1 hours or overnight.
Prepare fluted tart pan by buttering pan, getting both the bottom and sides of the pan.
Roll pastry out on a lightly floured surface into a circle.
Fit dough into prepared tart pan, pressing evenly over the bottom and up the sides.
Line tart shell with parchment paper and fill with dried beans or pie weights.
Bake tart shell for 20 minutes (at 350F), or until edges are very light brown.
Remove parchment paper and weights.
Bake tart shell for 5-10 minutes more, or until lightly golden throughout..
Cool on a rack before filling.
For the Raspberry Jam Diplomat Cream Mousse:
In a small bowl, sprinkle the gelatin over the water and let stand until you prepare the cream.
In a medium bowl, whisk the sugar, egg and egg yolk together, add the cornstarch mixing until you get a smooth paste. Set aside.
Meanwhile in a saucepan combine the milk and vanilla bean on medium heat until boiling.
Remove from heat and add slowly to egg mixture, whisking constantly to prevent curdling, (pour through a strainer if this happens). Remove vanilla bean.
Place the egg mixture back into a medium saucepan and cook over medium heat until thick, stirring constantly.
Add the jam, cook another 30 seconds and remove from the heat.
Immediately add in the gelatin and stir until completely dissolved.
Place a piece of plastic wrap on the surface of the cream so that it does not develop a skin as it cools to room temperature.
Whip the heavy cream until stiff peaks form and gently fold it into the pastry cream.
Pipe or spoon the mousse immediately in the prepared tart shells. If you have any leftover, spoon into dessert dishes or glasses for quick snack.