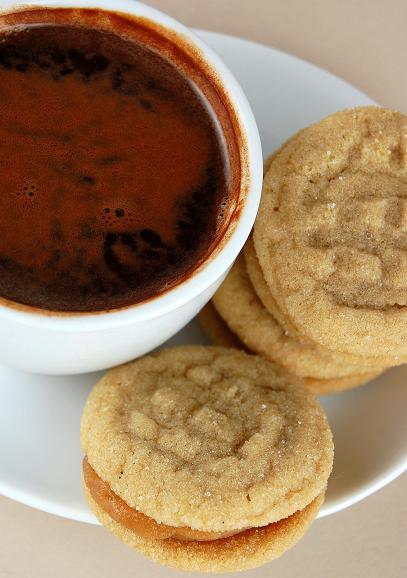 So there's a guy at my gym who comes almost every day in full hunting camouflage and I can't help but wonder, who is he hiding from? I totally get the wearing camouflage while hunting thing, you don't want the deer or whatever to see you. But who don't you want see you at the gym? Is it me? Because it is not working. Though I do love when he wears the whole outfit plus the NRA hat. Hot.
Speaking of hiding. I feel like I have been living in a cave as of late. My Google reader is busting out. My email is piling up…big time. I would love to say that some crazy wonderful things were happening, but they are not. It's just somehow my life got set on fast forward right now and I can't ever seem to get the things I need to get done.
I originally was just making peanut butter cookies for the hubby. But I discovered that I didn't have enough peanut butter (so odd, we are never out). So I ended up making more of a sugar cookie with a hint of peanut butter. My husband liked them all the same.
Today I went to Costco to buy more Jif. And you know what? Those (insert really bad swear word here) aren't carrying Jif Peanut Butter anymore. Oh the horror. They are now carrying Skippy. THEN when I complain about it the woman says, they are all the same, just eat the Skippy. Oh. No. She. Didn't. I went into great detail about what Jif was better. Sadly it fell on deaf ears. So I had to buy it full price at the store. Boo.
To add more peanut butter flavor to these I made a Nutter Flutter filling of basically just peanut butter and marshmallow. Made them extra yummy though. And to make things even more yummy I made a Peanut Butter Drinking Chocolate to go along with it.
I'm hoping to come out of hiding by the weekend…if not, I guess I will have to go buy some camouflage to wear.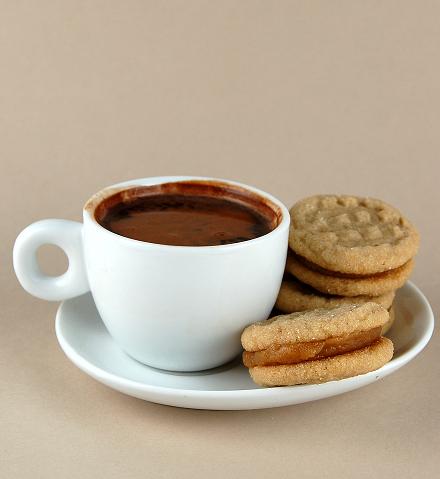 Brown Sugar Peanut Butter Nutter Fluffer Sandwich Cookies
Brown Sugar Peanut Butter Cookies
1 cup cold unsalted butter, diced
¾  cup granulated sugar
1 ½  cups lightly packed dark brown sugar
2/3 cup peanut butter
2 eggs
1 vanilla bean, split, seeds removed, pod discarded
3 cups all-purpose flour
2 tsp baking soda
½ tsp salt
Preheat oven to 350F.
Cream butter and sugars in a mixer on high speed, scraping down the sides of the bowl often.
Beat for about 3 minutes, until light and fluffy. With the mixer on low, add the eggs and vanilla beans, then add the peanut butter and mix well.
Add the flour, baking soda, and salt and mix on low speed until all the ingredients are incorporated. Increase the speed to medium and mix just until the dough is smooth.
Using a small ice cream scoop(or a tablespoon) form the dough into ½ inch balls and place on greased cookie sheet. Flatten cookies with a fork. Bake just until golden brown, about 10 minutes. Let cookies cool about 5 minutes and transfer to a rack to cool completely.
Adapted from Caprial's Desserts by Caprial Pence
Nutter Fluffer Filling
¾ cup marshmallow crème
¾ cup peanut butter
2 TBSP milk
Heat marshmallow crème over low heat in a small saucepan. Remove from heat and add peanut butter and milk. Whisk until fully incorporated. Let cool.
Pipe into center of cookie and place another cookie on top to form a sandwich.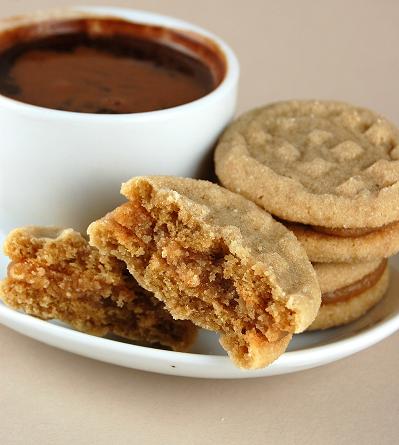 Peanut Butter Drinking Chocolate
Hot Chocolate Base:
1 cup cream
¼ cup milk
2 TBSP corn syrup
1 pound dark chocolate (Valrhona is what was used)
1 vanilla bean, split, seeds rendered, pod discarded (or ½ tsp vanilla extract)
Peanut Butter Milk
1/3 cup smooth peanut butter (I of course used Jif!)
1 quart whole milk
1/3 cup granulated sugar
In a small saucepan, bring cream, milk, and corn syrup to a boil.
Once the mixture has boiled, chill it over an ice bath. Strain cream into a large bowl and then return the strained cream mixture to a saucepan and bring it to a boil again.
Pour the hot cream over chocolate in thirds, mixing well before adding more. Add the vanilla beans to the mixture and allow to cool.
For peanut butter milk:
In a medium saucepan, bring the milk to a boil with the sugar.  Remove off heat and whisk in peanut butter. Allow to cool.
To assemble and serve:
For one cup, steam 2 heaping TBSP of the chocolate base with 1 ½ cups peanut butter milk with an espresso machine, or heat them together in a small saucepan. Serve immediately.
Adapted from Pastry Chef Karen DeMasco of Craft, Craftbar and ¢â¬ËœWichcraft ¢â¬â€œ New York, NY