These Chocolate Pecan Diamond Bars have a buttery pecan base topped with a chocolate pecan filling topped with more chocolate.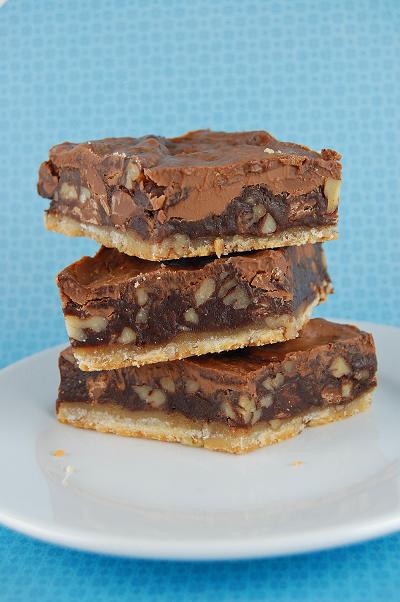 I was sent free product for this post but no other compensation. The opinions are all my own.
When I moved to Washington state I was so excited at all the produce that was available.
Arizona really has very little.
Citrus and chili peppers.
So imagine my surprise when I got an email asking me if I wanted a sample of pecans…from Arizona!
That was something I needed to try.
Up to this point I had only ever gotten my pecans from the south.
The Green Valley Pecans are smaller than my ones I get from Georgia, but seem to have more oil in them.
So when they are toasted they had super pecan flavor, it was great.
Which is why the recipe I chose to showcase them is so great, it calls for toasting the nuts.
I wish I had known they were in Arizona when I lived there!
And did you know that pecans have been found to lower cholesterol?
I did not.
So the good news is, these Chocolate Pecan Diamond Bars are actually good for you. 😉
The original recipe called for cashews and semisweet chocolate, but I was making it for the milk chocolate and pecan lover of the family for his lunches.
Be sure to use good chocolate for these as it will make a difference.
This might be the only post of the week.
The dreaded Root Canal is on Wednesday and I figure I might be out of commission for a few days, I know Wednesday for sure.
With the type of sedation medication I am going to be pretty out of it.
I plan on unplugging the computer to avoid any unnecessary online purchases. 🙂
P.S. It's a great day to buy my cookbook Holy Sweet!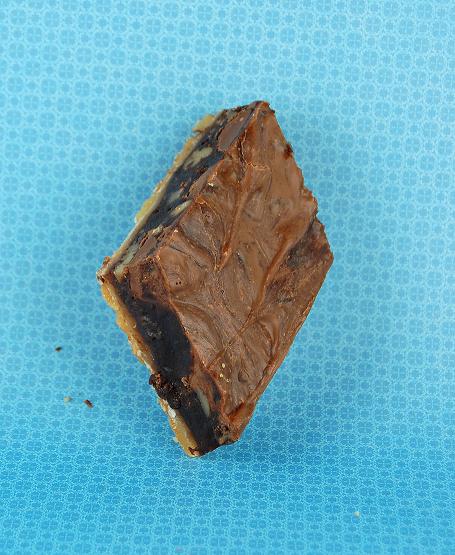 Want More Pecan Recipes?
Whiskey Pecan Upside Down Cake
Maple Whiskey Pecan Pound Cake
Whiskey Butterscotch Pecan Sticky Buns
Brown Butter Praline Pecan Cinnamon Chip Cookies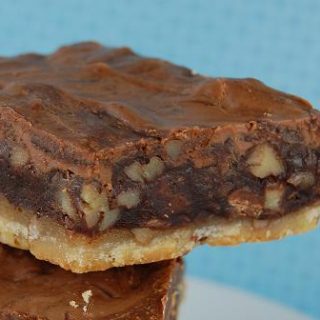 Chocolate Pecan Diamonds
Ingredients
For the Pecan Dough:
5 TBSP cold unsalted butter, cut into ½ -TBSP pieces, plus 1 TBSP melted to coat pan
1 cup all-purpose flour
2/3 cup powdered sugar
2 large egg yolks
½ cup unsalted pecans, toasted, and coarsely chopped
For the Pecan Chocolate Filling:
12 TBSP unsalted butter, cut into 1-TBSP pieces
2 cups dark brown sugar
¾ cup heavy cream
2/3 cup light corn syrup
4 ounces unsweetened baking chocolate, cut into ¼-ounce pieces
2 cups unsalted pecans, toasted, and coarsely chopped
2 cups milk chocolate chips
10 ounces milk chocolate baking chocolate (I like Lenotre), coarsely chopped
Instructions
To make the Pecan Dough:
Preheat oven to 325F.
Coat a 9-x-13-inch pan with the melted butter.
Sift together flour and sugar and place in the bowl of a stand mixer fitted with a paddle attachment.
Add the cold butter one piece at a time while mixing on low, until mealy in texture, about 2 minutes.
Add egg yolks and mix on low until the dough forms around the paddle, about 30 seconds.
Add the pecans and mix on low for 30 seconds.
Remove dough from the mixer and place it in prepared pan.
Use hands to flatten the dough uniformly to cover the bottom of the baking pan.
Bake on the center rack of oven for 15 minutes.
Remove from oven and set aside, leave the oven on.
To make the filling:
Bring butter, brown sugar, cream, and corn syrup to a boil in a large saucepan over medium-high heat, stirring to dissolve the brown sugar.
Boil for 3 minutes, until thickened, stirring constantly with a whisk.
Remove from heat.
Add the unsweetened chocolate and stir until the chocolate has melted.
Fold in the milk chocolate chips and pecans.
Pour filling onto baked dough.
Using a spatula, spread evenly.
Bake on center rack for 30 minutes.
Rotate the pan 180 degrees halfway through.
Remove from oven and immediately sprinkle the 10 ounces of milk chocolate over the surface.Place pan back in oven for 3 minutes.
Remove the pan from oven, and use a spatula to smooth the chocolate. I choose to make a marbled effect since the chocolates were different shades of brown.
Cool at room temperature for 30 minutes, then place in refrigerator for an hour.
To serve:
Remove from refrigerator.
Turn the pan over onto a clean, dry, cutting surface, then turn the contents chocolate side up.
Using a sharp serrated knife, cut away 1/4-inch of the edge from the two narrower ends, then divide widthwise into 4 strips.
Diagonally trim a 1/2-inch piece from each end of each strip, then cut the strip diagonally 3 times to form 4 uniformly sized diamonds form each strip.
The diamonds may be served immediately or kept at room temperature for 30 minutes.
Best served at room temperature.
Keep in a tightly sealed plastic container in the refrigerator for several days.